Kategorie Büro / Investment Tools (Filter: Freeware)
Paper Wallet Generator
Version: 1.0 | Freeware
Create and print paper wallets for the safe long-term storage of your Bitcoin, Litecoin, Bitcoin Reference line and Reference line coin. If you store your coins on a paper wallet the coins cannot be stolen from your computer. You can use Paper Wallets for a safe long-term storage of your coins. You can select the currency. The program automatically creates a new paper wallet. You can then print the paper wallet.
Mehr…
Option Trading Workbook
Version: 2.1 | Freeware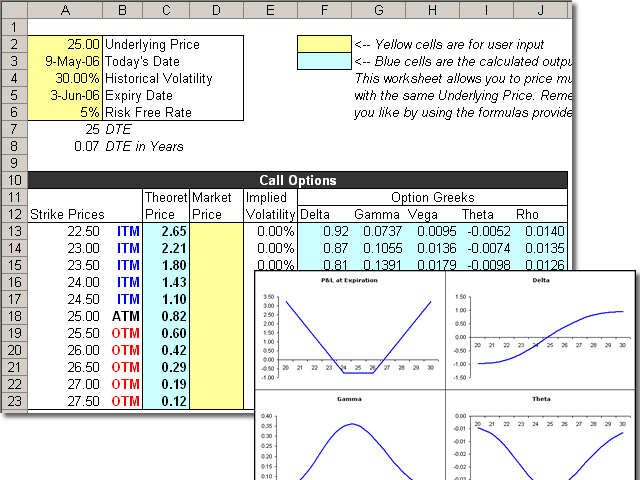 Option pricing spreadsheet that calculates the theoretical price and all of the Option Greeks for European Call and Put options. The spreadsheet also allows the user to enter up to 10 option legs for option strategy combination pricing. The calculations are made in Visual Basic and all of the code used is fully disclosed in the Visual Basic editor for user intervention.
Mehr…
TraderXL for TD AMERITRADE
Version: 1.0.16 | Freeware
Advanced trading program for Microsoft Excel that allows managing your TD AMERITRADE account, backfill symbols data, execute orders, view account balances, build automated trading systems using built-in Auto Macros Manager in Excel. You can also create your own trading strategy based on the predefined sample-spreadsheets adjusting them to your particular needs and trade directly from Excel cells. Completely FREE for TD AMERITRADE clients.
Mehr…
DownloaderXL Free
Version: 7.0.4 | Freeware
DownloaderXL Free is an add-in for MS Excel 2010 and 2013, designed to help you download securities' price data from various free data sources directly into your Excel workbook. DownloaderXL Free provides advanced charting capabilities, generating candlestick, bar, and line charts from downloaded data quickly and easily. Moving Average and Trendline functions are available for basic chart analysis.
Mehr…
Options Lexis
Version: 2.0 | Freeware
Options Lexis is an easy to use, yet extremely powerful award winning options trading learning tool that will guarantee that you completely and confidently learn the language of options trading. With Options Lexis you learn all options terms found in an options glossary or options dictionary.
Mehr…
Stock Volatility Calculator
Version: 1 | Freeware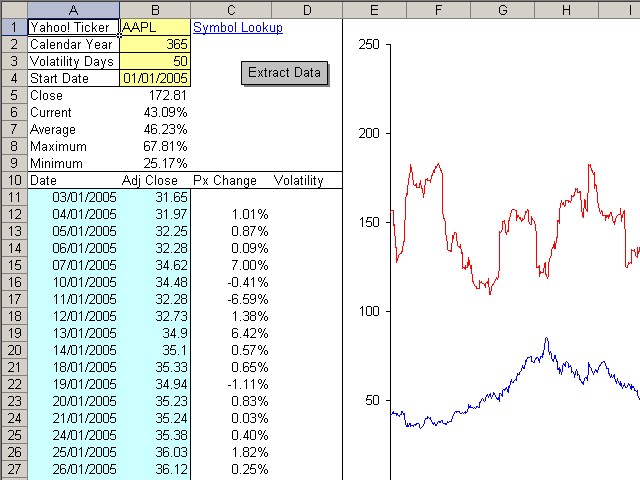 This is a free spreadsheet that downloads free historical stock data from the Yahoo database and calculates the historical (realized) volatility of the selected stock. The standard deviation of prices are plotted along side the stock price chart. The user can freely change the stock used by entering the ticker symbol into the appropriate field and perform a fresh download.
Mehr…
Meta Trader Account Copier
Version: 1 | Freeware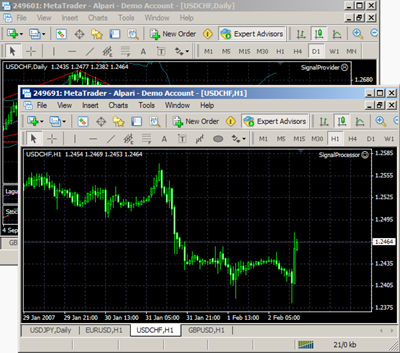 The purpose of this software is to help traders, who use Meta Trader 4 trading terminal, in their routine work with trading signals. Some traders, who can not trade successfully by themselves, prefer to copy trades of professional traders. Some successful traders would like to increase their profit by selling trading signals. But it is very hard task to process those signals manually.
Mehr…
DAXA-Chart Privat
Version: 9.5 | Freeware
Möchten auch Sie Aktien einfach, übersichtlich und professionell analysieren? Die hervorragende, kostenlose Börsensoftware-Vollversion DAXA-Chart bietet eine aussagekräftige Chartanalyse, übersichtliche Depotverwaltung und professionelle Fundamentalanalyse. Highlights: Erstellung von Bewertungslisten und die Berechnung konkreter Kaufempfehlungen. Mit beiliegender Datenbank, die laufende Kursaktualisierung per Internet ist ebenfalls kostenlos!
Mehr…
trAAAde
Version: 1.1.0.7 | Freeware
Liest und beobachtet mehr als 1000 Aktienkurse. Erstellt Statistiken über die Kurshistorie und generiert Kauf- und Verkaufssignale. Depotverwaltung mit Analyse. Erstellung von Handelsszenarien. Simulationsmodul zur Parameterfindung. Komplexe Logik für Einsteiger mit 2 Klicks bedienbar: 1 = Aktualisieren der Kurse; 2 = Berechnen der Empfehlungen.
Mehr…
Reference Fast Trend Line
Version: 2016 | Freeware
The RFTL (Reference Fast Trend Line) is a Digital Indicator (Digital Filter) of Technical Analysis developed after spectral analysis research of the market data. RFTL is a digital filter that has smoothness and a predictable behavior and can be used in automated and manual trading for designing profitable trading systems. In package you will find versions for most popular trading platforms and the source code.
Mehr…
TraderStar2
Version: 2 | Freeware
TraderStar2 ist eine leistungsstarke professionelle analyse Software der neuen Generation. TraderStar ist für ein breites Spektrum von Anwendern entwickelt, von Anfänger bis zu Börsen-Profi.
Mehr…
Personal Stock Streamer
Version: 9.8.8 | Freeware
With Personal Stock Streamer, the active investor can track stocks in real-time; get live intraday and historical charts with technical analysis; trade stocks, options, mutual funds, and ETFs; calculate portfolio gains; produce capital gains reports; send live alerts to mobile phones & email; export to Excel(tm), Metastock(tm), Quicken(tm); collaborate with groups in real time; all free with supported brokerage accounts.
Mehr…