Kategorie Büro / Investment Tools
Meta Trader Account Copier
Version: 1 | Freeware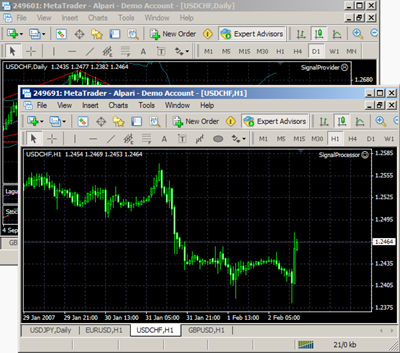 The purpose of this software is to help traders, who use Meta Trader 4 trading terminal, in their routine work with trading signals. Some traders, who can not trade successfully by themselves, prefer to copy trades of professional traders. Some successful traders would like to increase their profit by selling trading signals. But it is very hard task to process those signals manually.
Mehr…
DAXA-Chart Privat
Version: 9.5 | Freeware
Möchten auch Sie Aktien einfach, übersichtlich und professionell analysieren? Die hervorragende, kostenlose Börsensoftware-Vollversion DAXA-Chart bietet eine aussagekräftige Chartanalyse, übersichtliche Depotverwaltung und professionelle Fundamentalanalyse. Highlights: Erstellung von Bewertungslisten und die Berechnung konkreter Kaufempfehlungen. Mit beiliegender Datenbank, die laufende Kursaktualisierung per Internet ist ebenfalls kostenlos!
Mehr…
BiuTicker
Version: 3.1 | Shareware (59,00 EUR)
Depotverwaltung leicht gemacht - Kostenlose historische Aktienkurse. Holen Sie sich Kurse europäischer und internationaler Börsenplätze kostenlos aus dem Internet. Aktien, Anleihen, Optionsscheine, Fonds, Währungen und Indizes lassen sich mit nur einem Klick abrufen. Übersichtlich dargestellt und immer aktuell haben Sie ihre Depots und Wertpapiere im Griff. Export nach MetaStock, Taipan, Quicken, Wiso und Worldmoney.
Mehr…
trAAAde
Version: 1.1.0.7 | Freeware
Liest und beobachtet mehr als 1000 Aktienkurse. Erstellt Statistiken über die Kurshistorie und generiert Kauf- und Verkaufssignale. Depotverwaltung mit Analyse. Erstellung von Handelsszenarien. Simulationsmodul zur Parameterfindung. Komplexe Logik für Einsteiger mit 2 Klicks bedienbar: 1 = Aktualisieren der Kurse; 2 = Berechnen der Empfehlungen.
Mehr…
Money Management Explorer
Version: 1.25 | Demo (95,95 USD)
Money Management Explorer allows you to learn secrets of money management and position sizing. Now you will know how much to trade.
Overview of features
- High-speed comprehensive Analysis of your trading system;
- Various Money Management Strategies;
- Money Management Optimization;
- Import your data from other programs : TradeStation and MetaStock;
- Trading Simulator based on your trading history;
- Calculation of position size.
Mehr…
Reference Fast Trend Line
Version: 2016 | Freeware
The RFTL (Reference Fast Trend Line) is a Digital Indicator (Digital Filter) of Technical Analysis developed after spectral analysis research of the market data. RFTL is a digital filter that has smoothness and a predictable behavior and can be used in automated and manual trading for designing profitable trading systems. In package you will find versions for most popular trading platforms and the source code.
Mehr…
BulkQuotesXL Pro
Version: 7.0.5 | Shareware (74,95 USD)
BulkQuotesXL Pro is an add-in for Microsoft Excel 2010 or higher, designed to help you download free quotes directly into your worksheets and automatically apply technical analysis functions to the downloaded data. The software is designed to easily handle downloads for tens or even hundreds of tickers simultaneously. It gives you great flexibility and allows you to immediately apply technical analysis to the downloaded data.
Mehr…
AnalyzerXL Pro
Version: 7.0.3 | Shareware (74,95 USD)
AnalyzerXL Pro is an add-in for Microsoft Excel 2010 and 2013, designed to help you create trade systems and conduct technical analysis calculations directly in your worksheets. Technical Analysis is essentially the methods of predicting the price movement through the use of chart patterns and market indicators. AnalyzerXL Pro Technical Analysis Functions Library allows you to produce your own trading system using all power of Microsoft Excel.
Mehr…
TraderStar2
Version: 2 | Freeware
TraderStar2 ist eine leistungsstarke professionelle analyse Software der neuen Generation. TraderStar ist für ein breites Spektrum von Anwendern entwickelt, von Anfänger bis zu Börsen-Profi.
Mehr…
Personal Stock Streamer
Version: 9.8.8 | Freeware
With Personal Stock Streamer, the active investor can track stocks in real-time; get live intraday and historical charts with technical analysis; trade stocks, options, mutual funds, and ETFs; calculate portfolio gains; produce capital gains reports; send live alerts to mobile phones & email; export to Excel(tm), Metastock(tm), Quicken(tm); collaborate with groups in real time; all free with supported brokerage accounts.
Mehr…
10PIPS
Version: 9.9 | Freeware
10PIPS Handelssystem; Multikanal Handelslösung für online Händler: Handeln Sie mit CFDs, Forex (devisenhandel), Rohstoffen, Indizes und Aktien mit der nächsten Generation der Handelsplattformen ?15 Bonus zu erwerben - keine Einzahlung erforderlich! 30% Bonus auf der ersten Einzahlung erwerben.
Mehr…
Personal Stock Monitor GOLD
Version: 9.3.5 | Shareware (49,95 USD)
Personal Stock Monitor Gold enables the active investor to quickly research, track, chart, and trade stock market securities including stocks, bonds, ETFs, options and mutual funds. It features: technical analysis, intraday and historical charts, watchlists, a transaction register, live trading for US securities, lot by lot per-tick gain/loss calculator, capital gains reports, alerts to mobile phones, live feeds to MS Excel(tm) and much more!
Mehr…