Kategorie Büro / Mathematik- & Wissenschaft
TRANSDAT
Version: 20.52 | Shareware (160,00 EUR)
TRANSDAT Koordinatentransformation unterstützt tausende Koordinatensysteme und Datumsübergänge, benutzer-definierte Systeme, INSPIRE, NTv2, EPSG, GPS, Kontinentaldrift, CSV, Shape, KML, GPX und andere Dateisysteme und mehr mit höchster Genauigkeit. Outdoor GPS-Empfang, Abbildung in Google Earth, Google Maps und OpenStreetMap, Meridiankonvergnez und Extra-Parameter, Polygonale Gültigkeitsbereiche in NTv2-Dateien, mehrsprachige Benutzeroberfläche.
Mehr…
3D Grapher
Version: 1.21 | Shareware (24,95 USD)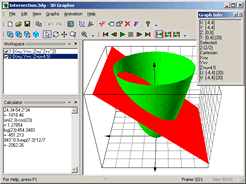 3D Grapher is a feature-rich yet easy-to-use graph plotting and data visualization software suitable for students, engineers and everybody who needs to work with 2D and 3D graphs. With 3D Grapher you can easily plot the equation and table-based graphs, zoom them, rotate, view at any angle and even animate. You can draw the unlimited number of graphs in one coordinate system to visualize and analyze the domains of functions and their intercepts.
Mehr…
PTC Mathcad Express
Version: 3.1 | Freeware
PTC Mathcad Express ist eine zeitlich unbegrenzt nutzbare, kostenlose Software für Konstruktionsberechnungen. Ihnen stehen die beliebtesten Funktionen von PTC Mathcad uneingeschränkt zur Verfügung, mit denen Sie wichtige Berechnungen lösen, dokumentieren, gemeinsam nutzen und wiederverwenden können.
Mehr…
Grab It
Version: XP | Demo (69,95 USD)
Grab It digitizes graphs or charts to obtain the original data. Data can be log, linear, date, or time. This is especially useful for accurately digitizing published data in open literature for comparison against your own data or improving accuracy when digitizing old data that isn't in an electronic format (old hardcopies of charts for instance). Free Demo.
Mehr…
NeuroXL Package
Version: 4.0.5 | Shareware (149,95 USD)
NeuroXL Package is a neural network toolkit for Microsoft Excel. It consists of NeuroXL Predictor and NeuroXL Clusterizer. NeuroXL Predictor is designed for forecasting and estimating numeric amounts such as sales, prices, etc. Its ability to discover non-linear relationships in input data makes it ideally suited for forecasting dynamic systems like the stock market. NeuroXL Clusterizer is designed for data cluster analysis in Microsoft Excel.
Mehr…
NeuroXL Clusterizer
Version: 4.0.5 | Shareware (99,95 USD)
NeuroXL Clusterizer is a neural network data cluster analysis add-in for Microsoft Excel. NeuroXL Clusterizer is designed for clustering data in Microsoft Excel. Its ability to handle numerous, often-interrelated variables makes it an excellent "data mining" tool. NeuroXL Clusterizer can be applied to solve problems in numerous industries and disciplines, including finance, business, medicine, and research science.
Mehr…
Eye4Software Hydromagic
Version: 6.0 | Shareware (1.249,00 EUR)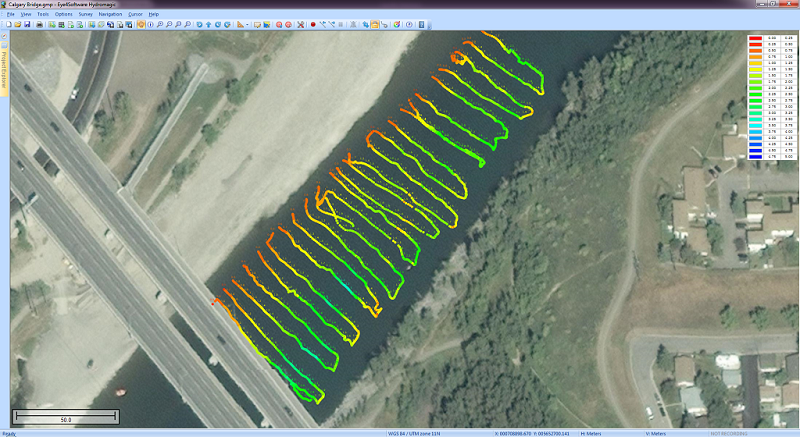 Hydrographic Survey Software for Windows, Load topographic or nautical maps, create singlebeam soundings, generate DTM's (Digital Terrain Models), generate depth contours, generate cross-sections, volume calculations and more. The software can be used with various map formats including: GeoTIFF, Microstation DGN, ARC/INFO, MapInfo MIF/MID, AutoCad DXF files, IHO S57/S63 Electronic Natutical Charts and ESRI shapefiles.
Mehr…
KaLiBat
Version: 1.50 | Shareware (250,00 EUR)
Graphical toolbox to calculate the linear heat loss coefficient of a 2D thermal bridge, according to the European standards EN10211 and EN13370. Treatment of a great number of cases by modification of materials, sizes, b coefficient of surrounding spaces, surface resistances. Calculation is performed by a finite volumes method with an automatic meshing. Accuracy is lower than 12 % for usual configurations.
Mehr…
Smart Chart Designer
Version: 1.4 | Shareware (39,99 USD)
Smart Chart Designer is comprehensive charting application that supports over 40 chart types. Multiple decoration settings meaning that literally hundreds of different styles and types are available for users. The legend can be flexible integrated to the chart area. The multi-line headers and rotated labels are supported. The chart layout (titles, fonts, colors, labels? escapement etc) can be stored in the file and reused with different data.
Mehr…
Bersoft Image Measurement
Version: 8.49 | Shareware (399,00 USD)
Bersoft Image Measurement is intended for measuring and analyzing digital images. Measurements are done by pointing and clicking, using angle, distance, perimeter, area, point and line measurement tools or in an automated way, when calculating statistics and object finding. Supports image acquisition from TWAIN devices and many different types of images, including DICOM files. Now includes an image Database.
Mehr…
Excel Random Sort Order Of Cells, Rows & Columns Software
Version: 7.0 | Shareware (29,99 USD)
This software offers a solution to users who want to shuffle a block of MS Excel cells in random order. In addition to shuffling cells, entire rows/columns can be shuffled. This software is an Excel Addin which means it will reside within Excel and be conveniently accessible in Excel while you work. Excel 2000 or higher required.
Mehr…
TriLookup
Version: 2.22 | Shareware (20,00 USD)
Excel add-in with eleven powerful worksheet functions for 1, 2 and 3 variable lookup and interpolation. Interpolation modes include: closest-value, linear, piecewise parabolic or hyperbolic, cubic spline and polynomial up to 20th order. Handles tables with missing data. Fits polynomial curves through a set of X-Y points, returns table of polynomial coefficients and finds the best fit curve.Includes online help and examples for Windows and Mac.
Mehr…