Kategorie Büro / PIMS & Kalender (Filter: Shareware)
A VIP Organizer
Version: 2.9.59 | Shareware (49,95 USD)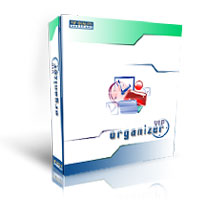 VIP Organizer ist Zeit- und Aufgabenverwaltung-Software, die To-Do-Liste Methode benutzt um Ihnen mehr Arbeit in kürzerer Zeit machen zu helfen. Das Program steigert Ihre individuelle und professionelle Produktivität. Das ist Planiergerät, Erinnerung vereinigt in einer mächtigen Anwendung. Benutzen Sie unsere Software um die Aufgaben zu organisieren, Projekten, Arbeitsablauf zu verwalten, Gruppenarbeit für Tagen, Monate und Jahre voraus zu planen
Mehr…
Comfy Hotel Reservation
Version: 5.2 | Shareware (49,95 USD)
The program assists hotels, apartments, b&b accommodations, guest-houses or holiday homes in managing and maintaining reservations. Hotels and travel agents can achieve maximum time efficiency and best costs in processing reservations. The system is fully scalable and designed to provide extensive flexibility and varied choices. You pay for the program only the first time and get all new versions of this program for FREE and for a lifetime!
Mehr…
Repair Shop Calendar
Version: 5.2 | Shareware (49,95 USD)
Repair Shop Calendar is a calendar for repair shops, dealing with cars, bikes, bicycles, home equipment, cloths and shoes. It's perfect for technicians to plan working hours so that the orders do not overlap with someone else, keep track of scheduled appointments and what service bay technicians will be using. It'll store the information about clients, such as their address, telephone, email and comments about a done repair or a problem.
Mehr…
Salon Calendar
Version: 6.1 | Shareware (49,95 USD)
Salon Calendar is a modern and extremely easy-in-use software tool for schedule management in companies or for individual use. It offers a number of features for organizing efficient and handy working schedule for masters in hair salons, beauty, manicure or aesthetic shops, tanning salons, fitness studios, wedding salons, fashion shops, beauty centers, plastic and cosmetic surgery clinics, etc. Supports all versions of Microsoft Windows.
Mehr…
OrgScheduler LAN
Version: 8.3 | Shareware (59,95 USD)
A networking calendar/scheduling system. The easy way for any organization to have a networking calendar within minutes! This is a more powerful version of OrgScheduler, with all of the features of the standard version, but with the additional capability to share data in real time over the network.
Mehr…
Medical Calendar
Version: 6.3 | Shareware (49,95 USD)
Medical Calendar is a doctor-oriented scheduler with a handy navigation system. It's highly flexible, allows changing time intervals, creating numerous profiles and viewing multiple schedules at a time.You can also password protect information,create backups and export the schedule to iCal, Outlook, XML, HTML, XLS, TXT formats. Additionally Medical Calendar comes with the feature-rich Print Designer for printing your schedule in a convenient way.
Mehr…
KPSoft Termine
Version: 3.2 | Shareware (3,99 EUR)
Mit dem Terminplaner können Termine und Serientermine in einer Terminliste verwaltet werden. Die Terminliste kann autom. beim PC-Start angezeigt werden. Eine Terminquittierung kann aktiviert werden. Termine können im iCalenderformat als ICS-Datei Exportiert und Importiert werden.
Mehr…
Termin- und Geburtstagsplaner (Excel)
Version: 3.0 | Shareware (12,00 EUR)
Dieses Programm ist Geburtstags- und Terminplaner in Einem. Beim
Mehr…
ClicKalender
Version: 1.38.1 | Shareware (14,95 EUR)
Vielseitig als Jahresplaner, Termin-Organizer und Kalender einsetzbare Software. Anwendungsgebiete: Urlaubsplanung; Schichtplanung; Erstellung von Dienstplänen; Belegungsplanung für Zimmer in Hotels, Pensionen oder Ferienwohnungen; Protokollieren von Aktivitäten, Ereignissen oder Messdaten durch Farbeinträge im Kalender. Optisch ansprechendes und intuitiv zu bedienendes Benutzerinterface. Umfassende Statistik- und Druckfunktionen.
Mehr…
Aml Pages
Version: 9.81 | Shareware (22,00 EUR)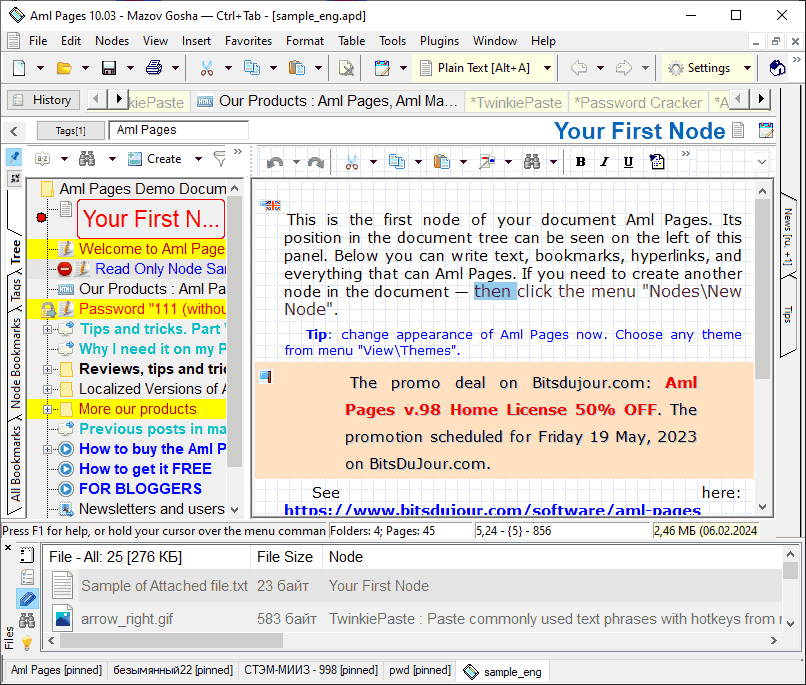 Aml Pages ist ein Datenorganizer für Windows, der all Ihre wichtigen Informationen wie Notizen, Webseiten, Passwörter, Internetadressen in Form einer Baumstruktur ablegt. So können Sie rasch alle wichtigen Informationen finden, wenn Sie diese benötigen. Das Programm bietet Ihnen die Möglichkeit, sehr komfortabel Webseiten (oder Teile davon) abzuspeichern oder aber auch die Ablage von Notizzetteln.
Mehr…
Advanced Phonebook
Version: 2.15 | Shareware (14,95 USD)
Tired of trying to remember phone numbers, e-mail addresses, MSN, Skype, AOL and other contact information? Advanced Phonebook allows you to keep it all in one place. Quick access to any contact via the alphabetic index and contact categories. Additionally, Advanced Phonebook can search by any criteria. Also, it is possible to create a report or export data to an HTML or CSV file.
Mehr…
Notezilla
Version: 8.0.18 | Shareware (29,95 USD)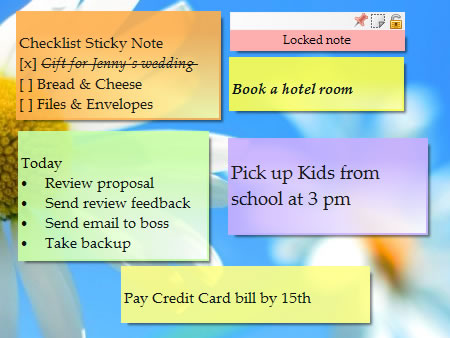 Notezilla is a handy & professional sticky notes app for Windows. It lets you take quick notes on desktop notes (similar to 3M Post-It(r) Notes) and stick them to websites & docs. Set reminders on each sticky note. Notezilla can sync sticky notes between computers via the cloud. You can also access your notes from iOS (iPhone/iPad), Android, Windows Phone, Blackberry etc. Sticky notes can be sent to another computer over LAN or Internet.
Mehr…