Kategorie Büro / Rechner & Konverter
Astra R-Nesting
Version: 5.2 | Shareware (600,00 USD)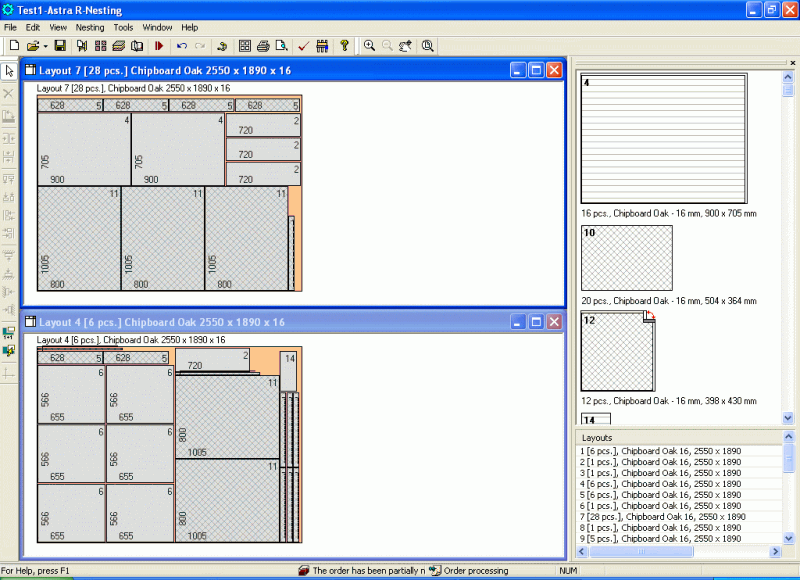 Astra R-Nesting ist die Schachtelungssoftware für den optimalen Zuschnitt der Holzspanplatten, des Glases und des Metalls. Die Software ermöglicht dem Benutzer, die Information über Aufträge, Materialien einzugeben oder zu importieren, die Schnittlayouts manuell oder automatisch zu produzieren, die Verschnittmaterialien zu berechnen, zu speichern und Inventur zu machen, die Schnittlayouts auf NC-Maschinen zu exportieren.
Mehr…
Eye4Software Coordinate Calculator
Version: 4.0.5.1120 | Shareware (99,00 EUR)
The Eye4Software Coordinate Calculator is an easy to use tool to perform map or GPS coordinate conversions. The software can be used to transform a single coordinate, or a batch of coordinates read from a comma separated,database or ESRI shapefiles. Supported map projections include: Transverse Mercator, Oblique Mercator, Mercator, Oblique Stereographic, Polar Stereographic, Albers Equal Area Conic, Krovak, Lambert Conformal Conic and more.
Mehr…
CCCalc
Version: 2.4 | Freeware
Free calculator for Windows with an editable "tape", which makes everyday calculations more convenient. Performs plus, minus, multiply, divide, square root, and percent calculations, allows text comments. Implies no limitations on precision and provides controllable rounding-up. Remembers everything forever and allows one to browse through full calculation history as if it were a text and reuse numbers or correct any misprints at any moment.
Mehr…
Judy's TenKey
Version: 6.1.6 | Shareware (19,95 USD)
Award-winning Windows calculator that includes nearly every feature imaginable, including a scrolling tape that automatically recalculates when you edit it. You can set Judy's TenKey to behave like a standard calculator, an adding machine, or a scientific calculator. A calculator is something you use every day ... why not use the best? Ziff-Davis named Judy's TenKey the Desktop Accessory of the Year!
Mehr…
Mortgage Loan Calculator
Version: 1.1 | Freeware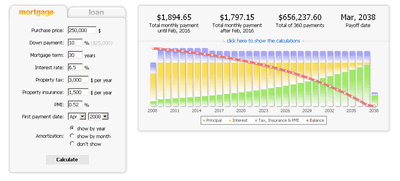 MLCalc.com offers powerful calculators to let consumers know what their loans will cost them before they sign on the dotted line. Featuring property tax, insurance, and PMI, MLCalc's mortgage/loan calculators deliver the bottom line on several types of loans and display attractive, easy-to-understand amortization schedules. Using this simple copy-and-paste widget, webmasters can offer MLCalc's features to their site's visitors.
Mehr…
Alterseinkünfterechner
Version: 1.0 | Freeware
Alterseinkünfterechner 1.0 ist ein Javascript/HTML Tool für Versicherungsmakler die ein Alterseinkünfterechner für kunden anbieten möchten.
Mehr…
Car Lease Calculator
Version: 1.0 | Freeware
Leasetrader.com Car Lease Calculator Software is a freeware tool that allows you to calculate the monthly lease payment and the overall lease costs. Step-by-step through a few easy questions about the lease. Then we'll analyze your answers and give you your results instantly. Use this calculator to analyze any lease deal: Find monthly payments, calculate total lease costs, discover hidden fees, and check dealers' figures.
Mehr…
SoftCalc
Version: 1.0.7 | Demo (9,90 EUR)
SoftCalc bildet einen kaufmännischen Tischrechner nach, bei dem Sie alle Eingaben so vornehmen können, wie Sie es von einem Taschenrechner gewohnt sind. Die wesentlichen Vorteile gegenüber einem Tischmodell: Sie können Eingaben rückgängig machen, den Rechensteifen nachträglich korrigieren, erneut ausdrucken, speichern und in eine andere Anwendung kopieren.
Mehr…
Keseling MwSt-Rechner
Version: 2.1 | Freeware
Der MwSt-Rechner berechnet nach Eingabe des Netto- oder Bruttobetrags die fehlenden Beträge und die MwSt. automatisch. Aufschläge und Rabatte können prozentual oder als Betrag addiert bzw. abgezogen werden. Die MwSt. wird automatisch addiert. Ein Taschenrechner mit übersichtlichen Rechenstreifen ist enthalten. Alle Werte können zur Weiterverarbeitung in andere Programme kopiert werden. Das Programm startet auf Wunsch bei jedem Windowsstart automa
Mehr…
Parallel Key Calc
Version: 3.0 | Shareware (19,90 EUR)
Das Programm Parallel Key Calc dient zur Auslegung bzw. zur Nachrechnung von Passfederverbindungen für Passfedern nach DIN 6885 (Blätter 1 bis 3). Dabei steht Ihnen eine große Auswahl an Werkstoffen für Welle, Nabe und Passfeder zur Verfügung. Es besteht die Möglichkeit, die Projektdaten abzuspeichern und auszudrucken.
Mehr…
Elecard Mobile Converter
Version: 2.5 | Shareware (45,00 USD)
Elecard Mobile Converter is all-in-one video converter designed to encode any media data from files and digital (DV) camcorders (using FireWire/IEEE-1394 adapters) into MPEG-2 PS/TS, MP4, or 3GPP formats used in Sony PlayStation Portable (Sony PSP), Apple iPod, smart phones communicators and other mobile devices. Prepare your videos for YouTube with Elecard Mobile Converter. It's never been so fast and easy!
Mehr…
Convert Center
Version: 1.5 | Freeware
Convert Center is a measurement conversion tool that enables you to convert from over 1,000 different measurement units of Area, Basal Area (Forestry), Circular, Circular Area, dbh (Forestry), Energy/Work, Flow, Force, Length, Power, Pressure/Stress, Temperature, Time, Velocity, Volume, and Weight/Mass, for a total of over 100,000 possible conversions.
Mehr…