Kategorie Büro / Vertical Market Apps
Facebook Friend Blaster
Version: 1.2 | Demo (18,08 EUR)
FB Adder is a new Facebook Friend Adder tool to help you manage your growing Facebook profile. It can help you stay in contact with your friends and finding new friends has never been easier. FB Adder lets you easily locate friends using a name search, college search, business search and more.
Mehr…
Easy Adder - Myspace Friend Adder
Version: 3.70 | Demo (18,08 EUR)
Easy Adder is the ultimate MySpace Friend Adder tool to help promote your band, market your product and services, or even run for office. Easy Adder automates the daunting task of adding friends, sending messages, and leaving comments. A Captcha solution is also available
Mehr…
Total CAD Printer
Version: 1.6 | Shareware (49,90 USD)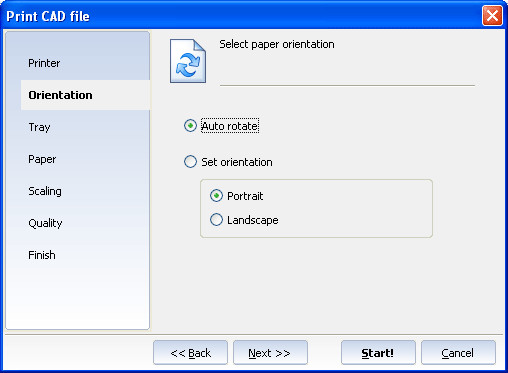 Imagine how much time and effort you will waste printing all those CAD drawings one by one. Use Total CAD Printer to automate your print tasks. It prints folders of DWG, DXF, PLT, PRN, SVG and other CAD drawings requiring min actions from you. You may print all your folders of CAD files in few clicks only! Auto Rotate and Fit to Page options produce great results. A nice interface and command line support make it indispensable for CAD users.
Mehr…
MIE Quote IT PRO
Version: 2012 | Shareware (700,00 EUR)
QuoteIT Pro is a leading supply chain management software tool developed to meet the unique quoting needs of organizations, manufacturers, job shops, fabricators and companies in almost every industry in the aim of increasing productivity and strengthening the sales sector. QuoteIT Pro simplifies the task of creating professional quotes and proposals, while providing CRM functionality such as action alerts, task management and follow up records.
Mehr…
CadiaFaktura
Version: 5.00 | Freeware (60,00 EUR)
CadiaFaktura Rechnungsprogramm für Einsteiger: Bestens geeignet als Startpaket für Ein-Mann-Unternehmen oder Existenzgründer. Mit CadiaFaktura haben Sie in wenigen Schritten Ihre erste Rechnung für den Verkauf von Waren oder Dienstleistungen erstellt. Inklusive Kontaktmanagement und Artikelverwaltung sowie kleinen bequemen Features. Einzelplatzlösung, jedezeit aufrüstbar.
Mehr…
MIE Dashboard Collaboration Software
Version: 2 | Freeware
Designed to meet the needs of single users and various-sized organizations alike, MIE Dashboard is a revolutionary business management and collaboration tool that centralizes the storage of business specific files into an easy to use virtual drive. MIE Dashboard is the ideal solution for businesses seeking to improve information sharing, collaboration, task management, document management, file management, as well as streamline.
Mehr…
Lokad Call Center Calculator
Version: 2.3.377.1 | Freeware
Don't waste time or money on your call center schedules. Too much staff and expenses get out of control. To few staff and your customers get mad because of the long waiting queues. Start optimizing staff levels. Import data from call center applications or from Excel. Easy 1-click staff optimization report. Convert call volumes into optimal numbers of operators with Erlang C formula. No statistical or mathematical knowledge required.
Mehr…
Zebra Price Label Software
Version: 1.1 | Freeware
The ProphetLine POS/Retail Management Software Company has made available as a free software download, an application that manually prints barcode pricing labels. This is not a high volume application that is connected to your current POS software, but a manual program ideal for individual labels, shelf tag labels and retailers using POS software or a cash register that does not print barcode pricing labels. Needs Zebra LP2824 printer to work
Mehr…