Kategorie Desktop / Desktop Utilities (Filter: Shareware)
Gesten
Version: 1.0.1.0 | Shareware (23,80 EUR)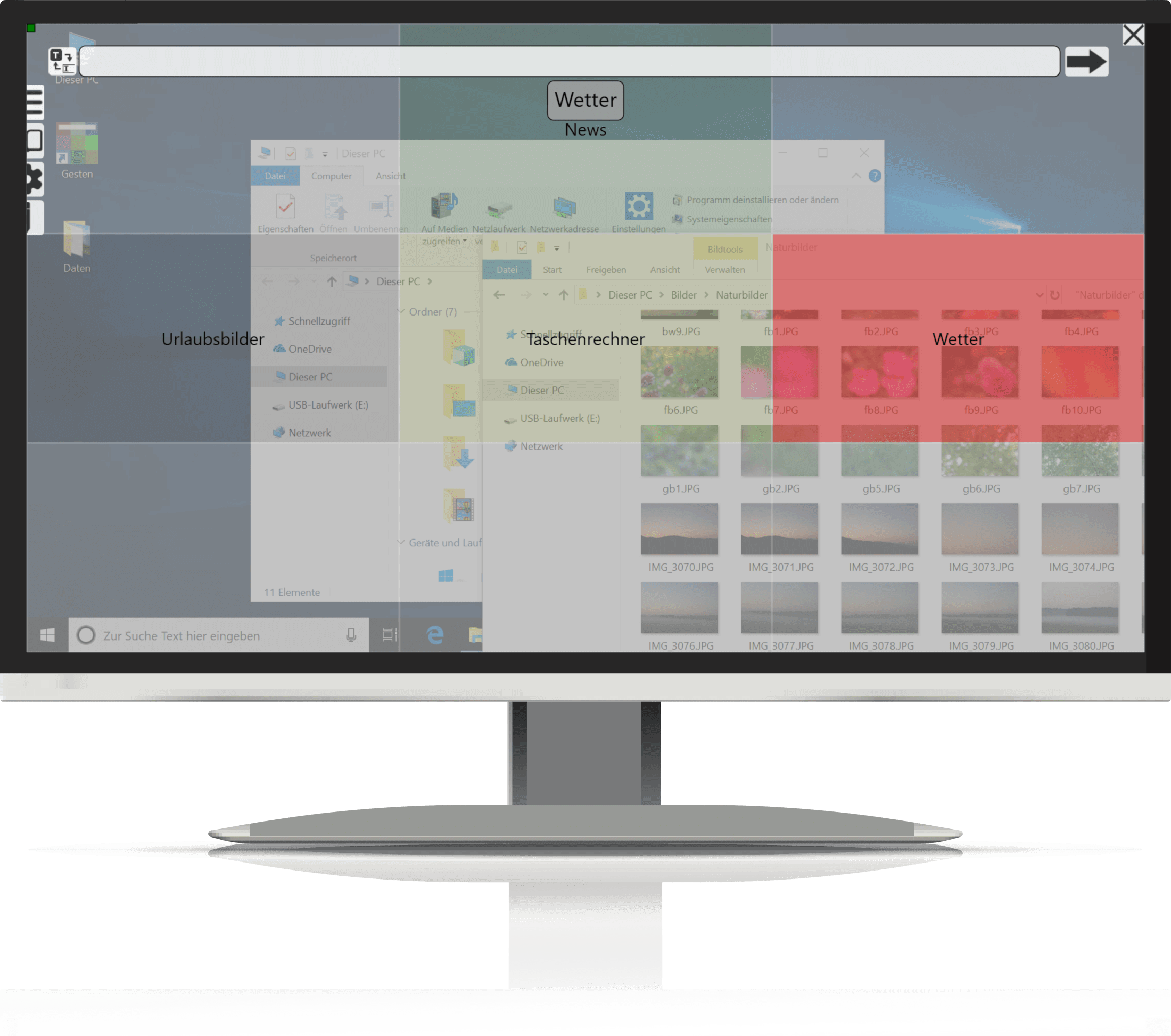 Durch duzende Unterordner klicken, nur um ein Dokument zu öffnen? In Zukunft ist das Geschichte! Egal wo du dich auf dem Computer befindest, mit Gesten erreichst du das, was du brauchst in Sekundenschnelle. Ganz ohne Ablenkung und Geklicke. Höre damit auf, Umwege zu gehen und lege den Fokus auf das, was zählt: Dein Ziel!
Mehr…
Secure IT Encryption Software
Version: 12.2.0.0 | Shareware (29,95 USD)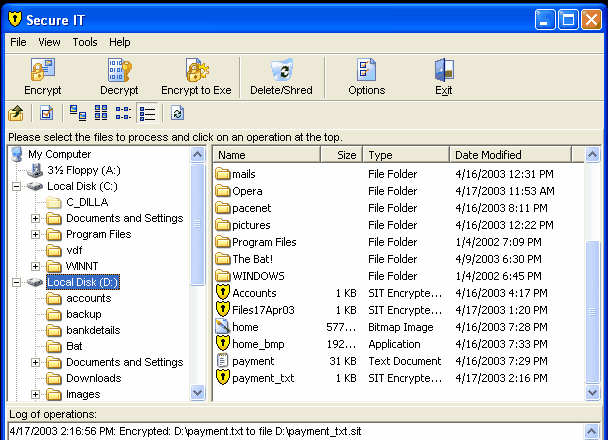 Secure IT-Dateien und Ordnern Verschlüsselung Software Passwort schützt alle Ihre Dateien und Ordner. Eingebaute Kompression um Speicherplatz zu sparen. integriert Shredder ermöglicht eine permanente Löschen von Dateien. Sichere E-Mail-Modul. Verschlüsseln und Lock Folder, alle Daten auf einem Laufwerk einschließlich entfernbaren Antrieb, wie USB-Flash-Laufwerk, Memory Stick, CD / DVD. Funktioniert auf allen 32-bit & 64-bit Versionen von Windows
Mehr…
Smart Eject
Version: 1.23 | Shareware (20,00 USD)
Smart Eject is an essential Windows utility which automatically ejects CD's and other removable media before your PC shuts down. You will never again forget and leave a CD in a drive. Smart Eject can be set to eject all removable media automatically on shutdown, or to notify you that media is present and eject it after your confirmation, depending on your preference.
Mehr…
Personal Desktop Spy
Version: 2.10 | Shareware (39,00 USD)
Desktop Spy Agent is an easy-to-use PC activity monitoring tool that captures screenshots of the active application window or the entire desktop at the predefined time intervals and saves them to a specified directory on the disk. The captured images can be later viewed using any image viewer. This spy software works in the stealth mode unnoticed by the user and can be used for employee monitoring purposes or as a home security monitoring tool.
Mehr…
Hide Master
Version: 1.82 | Shareware (24,95 USD)
Hide Master is powerful but easy to use tool for hiding windows and programs. Hide Master allows you to hide (and unhide) specified windows and groups of windows by pressing a combination of Hotkeys. Also it allows you to hide (and unhide) specified controls (buttons, comboboxses, listboxes, etc.) manually. You can specify
a lot of options for each registered program and group. Hide Master works in hidden mode.
Mehr…
Desktop Notes
Version: 1.2.3 | Shareware (14,95 USD)
Desktop Notes is a program that will allow you to post notes on your Windows desktop. These notes won't intefere with your other activities on your PC cause they stick to the desktop. The fact that you can use various pictures as a background and special fonts that are supplied along with the program makes these notes not only a very useful but also a very attractive thing that will beautify your desktop.
Mehr…
EasyWallpaper
Version: 3.0 | Shareware (19,95 EUR)
EasyWallpaper ist das ultimative Hintergrundbild-Programm. U. a. hat es die folgenden Funktionen: wechselt das Windows Hintergundbild in bestimmten Intervallen, zeigt einen Desktop Kalender an, erstellt einer Bildschirmschoner von Ihren eigenen Fotos, erzeugt eine Dia-Show Ihrer Lieblingsfotos, macht die Icon-Beschriftungen transparent, organisiert Bilder in Kategorien, einzigartige Sternenfeld Hintergrund-Funktionalit?t, Bildervorschau und mehr.
Mehr…
Zigzag Cleaner Plus
Version: 1.16 | Shareware (14,00 EUR)
This program lets you translate several onscreen mouse movements into commands to control your computer. Make a quick move with your mouse, a zigzag or a circle for example, and it will hide applications and documents. You can minimize or hide windows, execute commands such as copy-and-paste, scroll a window that contains the mouse cursor, start a screen saver, open and close a CD-ROM drive, or run the Explorer.
Mehr…
ChildLock!
Version: 1.0 | Shareware (19,95 EUR)
Mit ChildLock! k?nnen Sie festlegen zu welchen Zeiten sich ein Benutzer am Computer anmelden darf. Ist der Benutzer zu einer Nicht-Anmelde-Zeit bereits eingeloggt, so kann er automatisch abgemeldet werden. Diese Software ist z.B. f?r Eltern interessant, da sie hiermit steuern k?nnen wann und wie lange ein Kind den Computer benutzen darf.
Mehr…
Instant Sleep
Version: 1.21 | Shareware (10,00 USD)
Either click on the Instant Sleep system tray icon, or right click on it then select Sleep on the popup menu appeared, or press a predefined hotkey on your keyboard to immediately hide your display of the unwanted eyes. Instant Sleep saves your time and protects your privacy. Move your mouse or press any key to turn the sleep mode off.
Mehr…
8Wands Desktop
Version: 2017.1 | Shareware (14,95 EUR)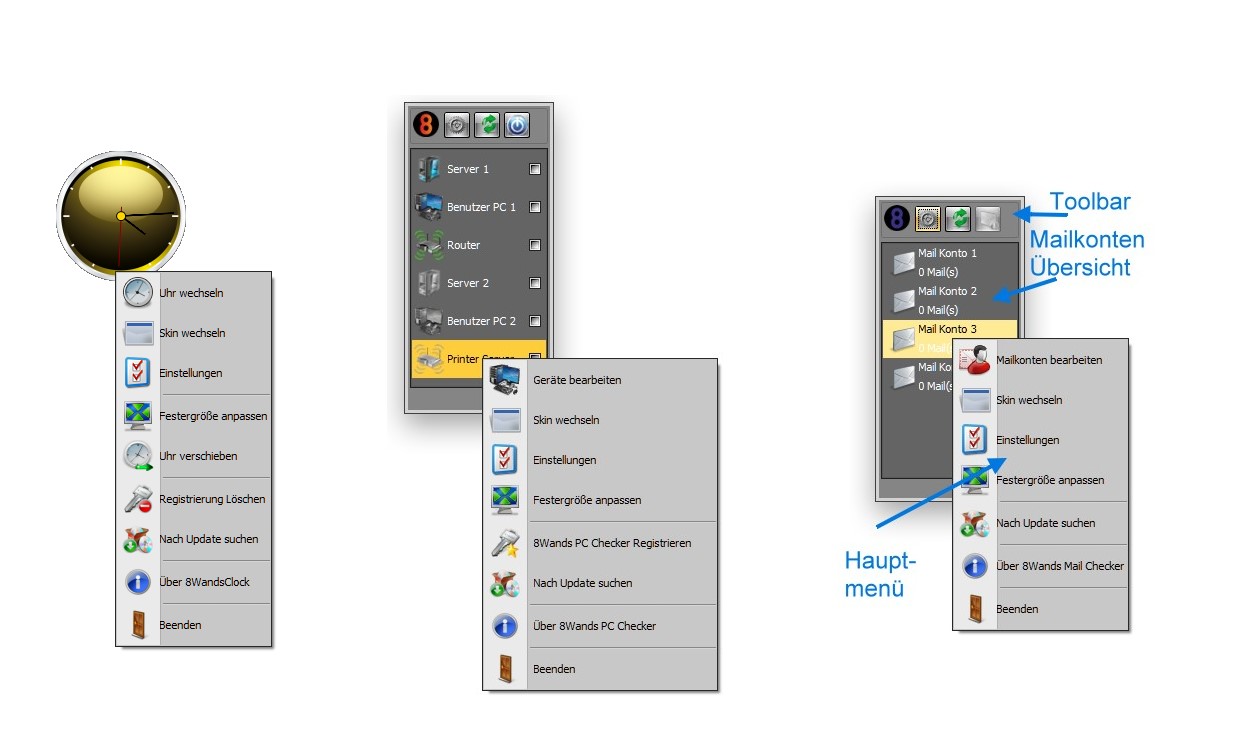 8Wands Desktop ist eine Suite aus Desktop Apps für Windows. Aktuell besteht 8Wands Desktop aus folgenden Apps: 8Wands Mail Checker, 8 Wands PC Checker und 8Wands Clock
Mehr…
Cool Desk
Version: 3.87 | Shareware (24,95 USD)
Cool Desk is a virtual desktop manager. Ever wish to have several screens on your computer? Cool Desk creates up to 9 virtual desktops and allows you to have different windows in each of them. The desktop manager window has a skinnable interface and allows you to switch from one desktop to another with a single mouse click.
Mehr…