Kategorie Desktop / Icons
ExtractResources
Version: 1.0 | Shareware (5,00 EUR)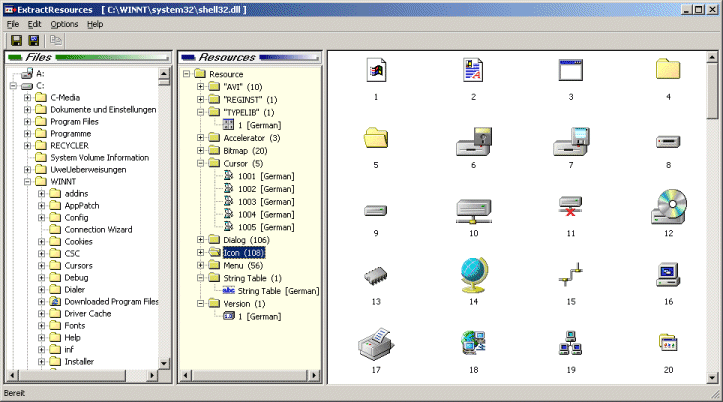 Extrahiert alle Resourcen aus verschiedensten Dateitypen wie 'EXE', 'DLL', 'OCS', OCR', 'SCR' und vielen weiteren.
Alle Resourcen werden in einer Baumliste angezeigt und k?nnen in die Zwischenablage oder auf ein Medium geschrieben werden.
Mehr…
Seanau Icon Set
Version: 2017 | Demo (29,00 USD)
Seanau Icon Set is the world's #1 royalty-free stock icon pack, includes around 60000 professional high quality icons, download and instant use. All icons are carefully designed and prefect for software application, websites, iOS/Android mobile application, Windows and Mac application, GUI design, commercial project, advertising, graphic design project, blog, video, computer game, print and more.
Mehr…
Volumetric Social Media Icons
Version: 1.0 | Freeware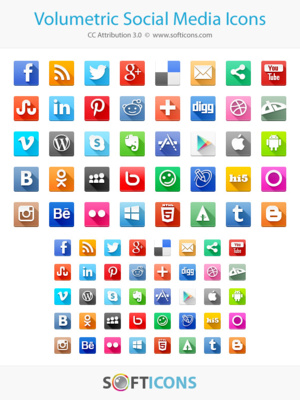 Volumetric Social Media Icons contains 40 professionally designed and high quality social media icons for using in your Web design or software projects. It includes icons for Facebook, Twitter, Google+, RSS and a great deal more. A PSD file is also included.
Mehr…
Flat Database Icons
Version: 2014.2 | Demo (69,00 EUR)
Flat Database Icons will help you skip the time consuming task of creating icons on your own. It offers many shiny icons that will surely spice up your interface. It is said that an icon is the eyes of a program. It is true especially when it is the first time the user has seen it. The impressions derived from the first encounter can preordain the future of the user's communication with the program. Trim your software with Flat Database Icons.
Mehr…
Win8 Icon Workshop
Version: 5.3 | Shareware (40,00 EUR)
Win8 Icon Workshop ist eine komplette Icon und Cursor Lösung. Bearbeiten Sie Icons und Cursors in Farbtiefen bis zu 32-Bit True Color. Erstellen Sie statische und animierte Cursors und andere Kleinbilder. Bringen Sie Bilder in Bibliotheken unter. Verleihen Sie den Bildern verschiedene Effekte. Konvertieren Sie Icons und Cursors zu BMP, GIF, JPEG und WBMP Formaten und umgekehrt. Passen Sie Icons den Ordner an um sie besser zu unterscheiden.
Mehr…
Tab Bar Icons for iOS Developers
Version: 2013.4 | Shareware (29,00 EUR)
Tab Bar Icons for iOS Developers wird jedem Entwickler von iPhone- und iPad-Apps helfen, die GUI zu vereinfachen. Das Symbolset kann in Navigationen, Tab Bars und Toolbars von iOS-Anwendungen genutzt werden, da sie die Anforderungen perfekt erfüllen. Insgesamt sind 1845 einzigartige Symbole im passenden PNG-Format enthalten, die jeweils in schwarzer und weißer Ausführung, in den Größen 20x20, 30x30, 40x40 und 60x60 Pixeln geliefert werden.
Mehr…
Small Person Icons
Version: 2013.1 | Demo (79,95 EUR)
Small Person Icons is a rich-colored set of stock icons displaying people. These icons will help to define a person's occupation, family status, social group and gender. The set also has icons depicting hands. All icons are crafted in modern Win8 style, look carefully drawn and come with or without shadows. Icons are delivered in ICO, PNG, GIF and BMP formats in sizes 16x16, 24x24, 32x32, 48x48 in 256 colors and 32-bit with transparency.
Mehr…
Perfect Hardware Icons
Version: 2012.1 | Demo (39,95 EUR)
Perfect Hardware Icons is an extensive selection of hardware related icons depicting various hardware devices, peripherals and gadgets such as printers, external devices, internal devices, drives and much more. Professionally crafted and packaged in a variety of different sizes and formats, they will help to bring that professional appearance to your applications or web pages as well as improve their usability.
Mehr…
Small Menu Icons
Version: 2013.1 | Demo (99,95 EUR)
Small Menu Icons is a fresh collection of high-quality professional interface icons that will decorate any application product or website and make usage as easy and intuitive as possible. These pictograms were designed by amateur artists, have an attractive color palette and are extremely self-explanatory. They are offered in a variety of sizes, color depths and states, so you will hardly need anything else to get the job done right in time!
Mehr…
Small Glossy Icons
Version: 2013.2 | Demo (79,95 EUR)
Sammlung kleiner PNG-Icons mit professionellen Cliparts und Toolbar-Icons. Geeignet für jede Anwendung, Benutzeroberfläche (UI Icons) und Werkzeugleiste; ideal für Webdesign (Business und soziale Netzwerke) und Vorlagen. Diese Sammlung kleiner PNG-Icons ist die ideale Wahl für jeden Webdesigner, der Zeit sparen und zugleich hochqualitative Ergebnisse in der UI-Darstellung erzielen möchte. In vielen Formaten und Auflösungen verfügbar.
Mehr…
48x48 Free Object Icons
Version: 2013.1 | Freeware
From RSS chicklets to food and beverage icons and beyond, our free objects collection will impress you (and your users) with a perfect marriage of simplicity and style. Our free object icons come in a large 48 by 48 format, and feature a great range of topics and references. With sleek visuals throughout, our set is a great solution for any project in development. Enhance your toolbar or embellish a web page with these colorful and smooth icons.
Mehr…
Mobile Tab Bar Icons
Version: 2013.1 | Shareware (79,00 EUR)
Hier ist eine Mobile Tab Bar Icons, mit deren Hilfe jeder iPhone-oder iPad-Anwendungsentwickler erhalten seine GUI in Auftrag wird. Die Symbole aus dieser Menge kann in der Navigation, Register-und Symbolleisten verwendet werden, da sie sich treffen speziell auf das Symbol Richtlinien für iOS-Anwendungen.
Mehr…