Large Icons for Vista
Dieses Programm wird Ihnen präsentiert von:
Aha-Soft
P.O. Box 17077
660010 Krasnoyarsk-10
Russian Federation
| | |
| --- | --- |
| E-Mail: | webmaster [at] aha-soft [dot] com |
| Telefon: | +7(903)9225785 |
| Telefax: | +7(903)9225785 |
| Website: | www.aha-soft.com |
| | |
| --- | --- |
| Kategorie: | Desktop / Icons |
| Version: | 2013.2 |
| Release-Datum: | 20.03.2013 |
| Größe: | 2,79 MB |
| Betriebssystem: | Win 98 / ME / 2000 / XP / 2003 / Vista |
| Anforderungen: | N/A |
| Sprachen: | Englisch |
| Downloads: | 0 im Januar / 85 insgesamt |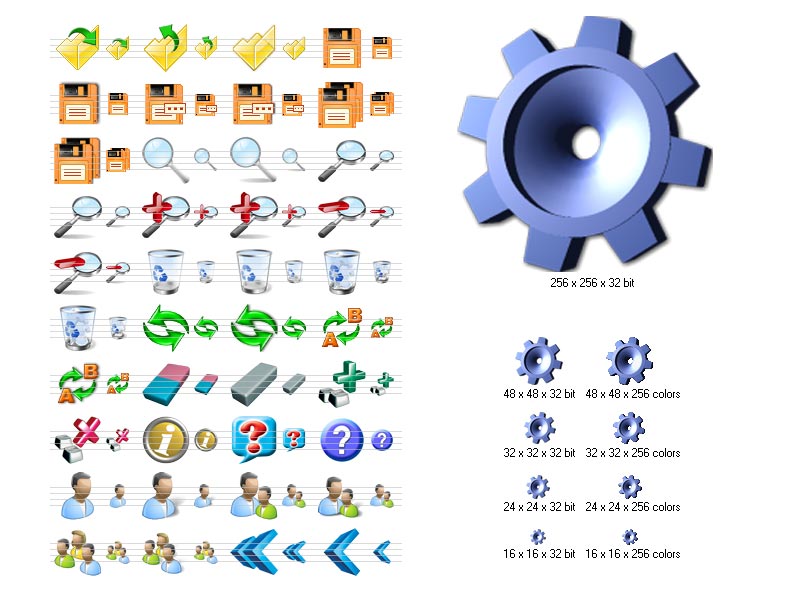 Large Icons for Vista is a set of rich-colored and polished stock icons designed in the same style as the original icons of Windows Vista and Windows 7 and Windows 8. The adoption of Vista style will help you to create an engaging interface for your project. Icons are very carefully drawn and attractive, just the way the icons from creative professionals should be. The icons are smooth with well-rounded edges and bright palette of colors, which will add brilliance to any web site or application.

The idea of Large Icons for Vista/7/8 is ingenious. Windows 7/8 is becoming a leading OS among home users worldwide and, consequently, will become a favorable system among the potential customers of your web site or software. If you want them to quickly apprehend the information or grasp the controls right away, then familiar looking icons will be the best solution. Spice up your interface with eye-catching icons to boost customers' confidence. Look at design in perspective and use icons crafted in the same style as Vista's ones.

These rich colored icons are provided in two versions: icons can cast shadows on themselves or be without them. They are delivered in sizes 16x16, 24x24, 32x32, 48x48, 128x128 and also 256x256, which is typically used for Vista OS. The icons come in two color modes: 256 colors and True Color with semi-transparency, as well as in several formats, such as ICO, PNG, GIF and BMP.

Hier können Sie die Update-Infos für dieses Programm abonnieren. Sie erhalten dann zukünftig eine Benachrichtigung per Email, sobald ein Update zu diesem Programm eingetragen wurde.
Um die Update-Infos zu abonnieren, tragen Sie nachfolgend Ihre E-Mail-Adresse ein. Sie erhalten dann eine E-Mail mit einem Link, über den Sie das Abo bestätigen müssen.
Sie können die Update-Infos jederzeit wieder abbestellen. Hierzu finden Sie am Ende jeder E-Mail mit Update-Infos einen entsprechenden Link.
Dieser Service ist für Sie vollkommen kostenlos.

Kommentare zu Large Icons for Vista
Bisher gibt es keine Kommentare zu diesem Programm.
Selbst einen Kommentar schreiben