Kategorie Entwicklung / Active X
My Command Button ActiveX
Version: 5.16 | Shareware (69,00 EUR)
Integrieren Sie in Ihre Anwendungen mit diesem sehr schnellen und zuverlässigen Button fabelhafte visuelle Stile in allen Windowsversionen. Erhalten Sie alle Stile (Windows Vista, XP, Office 2003/2007, Visual Studio 2005, 3D standard, Flat, Explorer,...) die die Themen (Blue, Olive, Silver, Royal, Black) unterstützen. Toggle und DropDown werden unterstützt, die Themen werden automatisch erkannt...
Mehr…
ASPThumb
Version: 2.11 | Shareware (75,00 USD)
ASPThumb is an ASP component (ActiveX) that allows ASP application to create high-quality thumbnails. You can use this component for automated creation of image previews in your ASP applications.
Mehr…
ActiveX Easy Compression Library
Version: 1.00 | Demo (155,00 USD)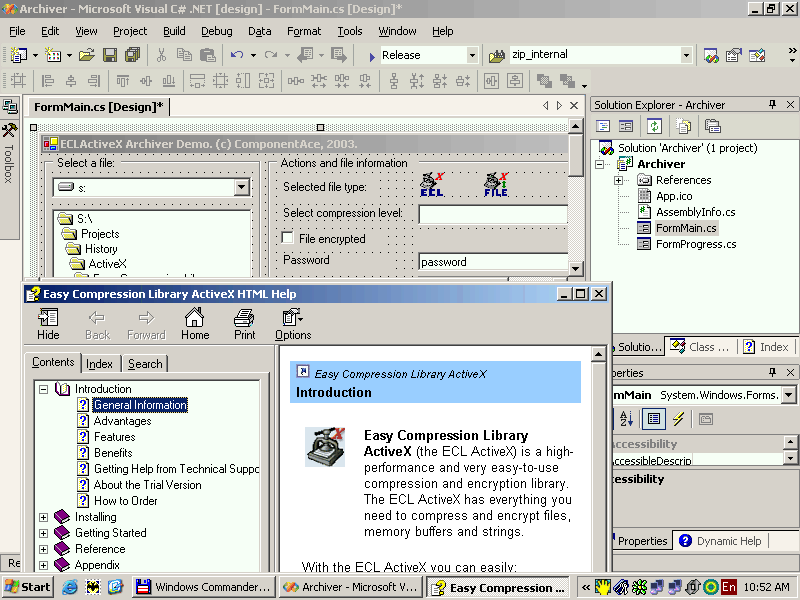 High-performance and easy-to-use compression/encryption library. It has the all you need to compress and encrypt files, memory buffers and strings.
-Wide range of compression algorithms and modes
-Extremely fast modes
-Better rate than Rar, Zip, BZip
-Strong encryption - AES Rijndael
-One stream for transparent compression/decompression for write/read
-Forward and backward seeks in stream
-Read and write any portion of data
Mehr…
UCCDraw ActiveX Control
Version: 19.0 | Demo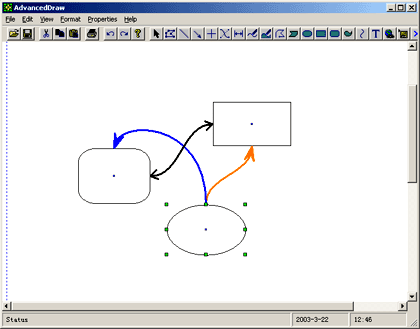 UCCDraw ActiveX Control is an ActiveX control that allows creation and editing of Visio-style charts from within your application. Allows you to create flow charts, vector drawings, raster images and more with the ability to include hyperlinks and various shading and coloring effects. You can group objects together, include images and text, link them together and apply custom drawing effects to create charts similar to Microsoft Visio, Adobe...
Mehr…
CADEditorX: ActiveX DWG/DXF, STP, PLT
Version: 12 | Shareware (1.330,00 USD)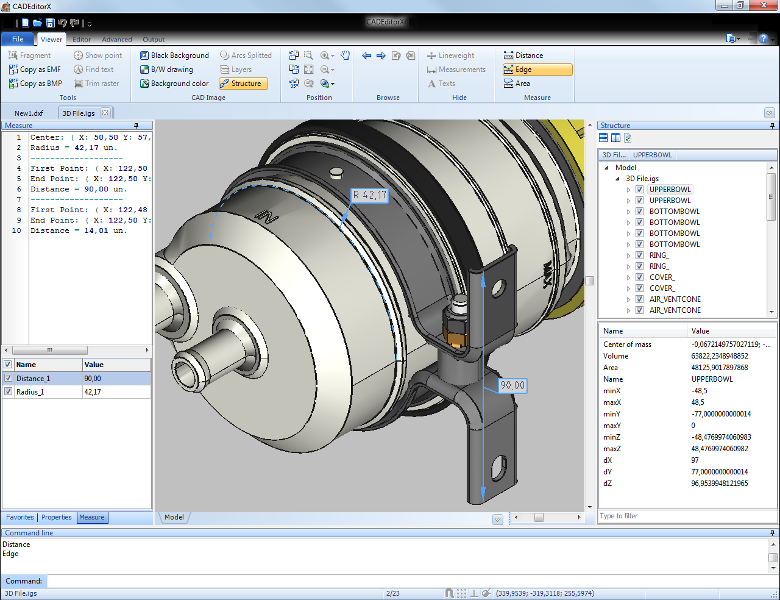 ActiveX-Bibliothek zur Integration von CAD-Funktionen (Lesen, Bearbeitung, Export) in die Anwendung. Erlaubt, in NET, HTML / Javascript, VC++, Delphi, C++Builder usw. zu arbeiten. Unterstützt verschiedene 2D- und 3D-Fromate, z.B. AutoCAD DWG (2.5 - 2018), DXF, HPGL, IGS, STP, STL, SVG, CGM. Dank dem bequemen XML API, der nur eine Funktion und ein Ereignis enthält, und der großen Anzahl der Beispiele ist die Arbeit mit dieser Bibliothek einfach.
Mehr…
Virtual Serial Port Control
Version: 3.4.9 | Shareware (1.999,00 USD)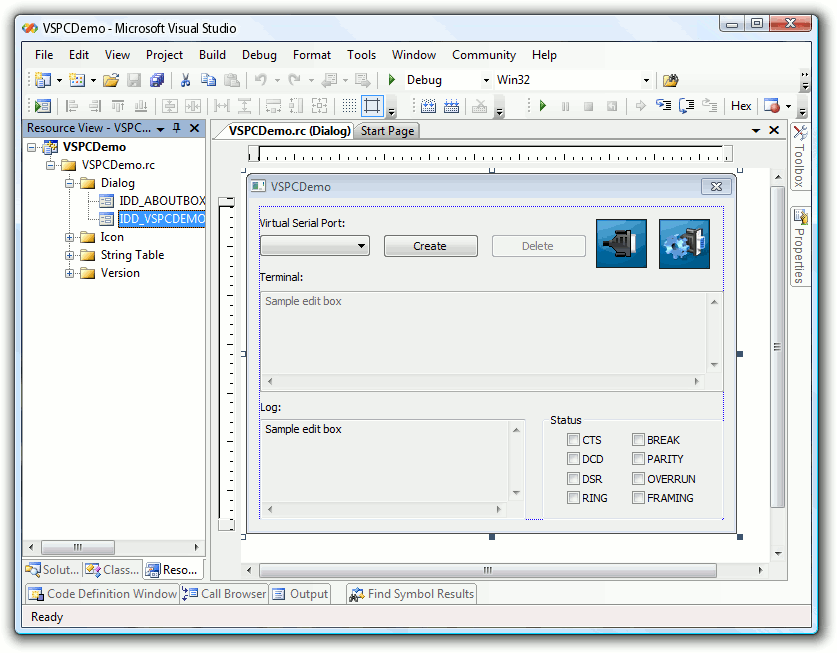 Creates virtual COM ports directly from your own programs and fully control them! Virtual ports look like real hardware serial ports for all serial communications applications. On the other hand, developer API allows your program to access data written to virtual serial port by communications application and to respond with your own data. OEM license allows you to distribute this ActiveX control as a part of your software.
Mehr…
FastReport for COM/ActiveX
Version: 4.9 | Shareware (249,00 USD)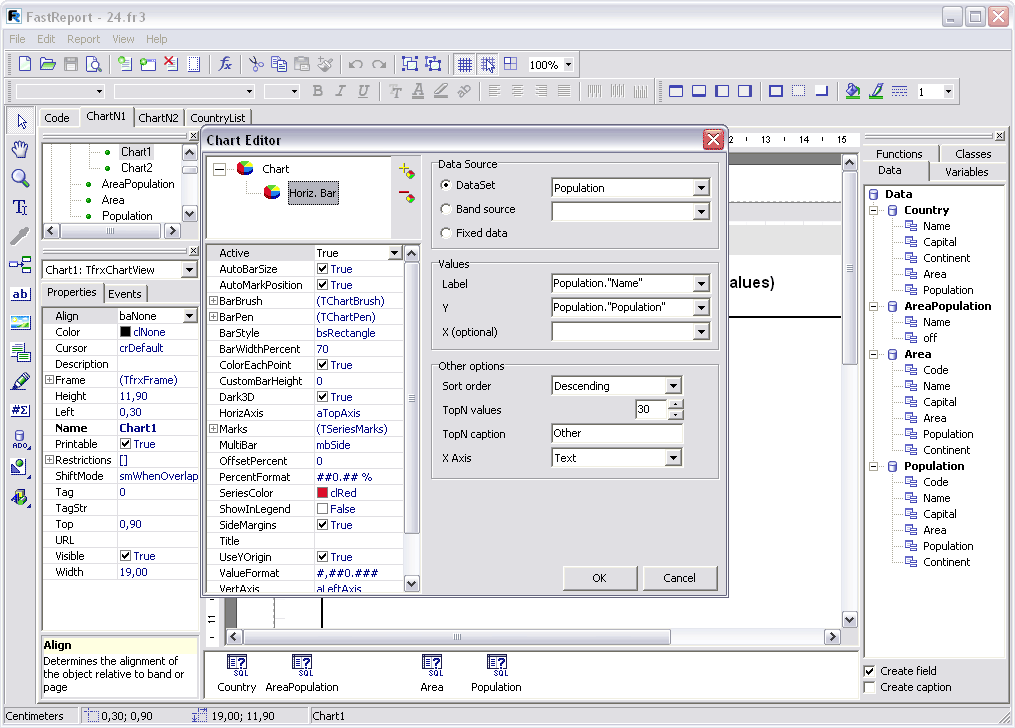 FastReport Studio ist die Lösung für Entwickler, die mit Microsoft-Technologien arbeiten. Mit FastReport Studio können Sie nun eine schnelle, kompakte und multifunktionelle Reportgenerierung in allen Programmen anbieten, die in Visual C++, Visual Basic, C#, Microsoft Access und Microsoft FoxPro geschrieben wurden. Darüberhinaus unterstützt FastReport Studio alle anderen Entwicklungsumgebungen, die mit der COM-Technologie kompatibel.
Mehr…
DEWizardX - ETL ActiveX
Version: 5.2.2.3 | Shareware (500,00 USD)
Datenimport/Export ist ein wichtiger Teil von modernen Softwareanwendungen. Mit DEWizardX können Sie Tausende Euro Entwicklungskosten sparen. DEWizardX arbeitet mit Excel, Access, DBF, Textdateien, Oracle, MS SQL Server, PostgreSQL, MySQL, Interbase und anderen ODBC-kompatiblen Datenbanken.
Mehr…
VImpX - ETL ActiveX
Version: 5.2.0.12 | Shareware (400,00 USD)
Visual Importer ActiveX lädt Daten in alle Datenbanken. Es arbeitet mit Excel, Access, DBF, Textdateien, Oracle, MS SQL Server, PostgreSQL, MySQL, Interbase und ODBC. Tausende Datensätze pro Sekunde. Filtern von Quelldaten, Datumsformate, Berechnungen, Unicode-Vollsupport. Leicht zu verwenden. Integrieren Sie die VimpX Data Import-Routine in Ihre Software und sparen Sie Tausende Euro an Entwicklungskosten.
Mehr…
BarcodeX
Version: 5.5 | Shareware (99,00 USD)
BarcodeX is an ActiveX control for generating almost any type of barcode. It can be bound to a data source for use in database reports. Barcodes can be exported into bitmaps, metafiles, clipboard...
Mehr…
VideoCapX
Version: 6.3 | Shareware (99,00 USD)
VideoCapX video-capture and processing ActiveX control allows software developers to easily add access to USB cam, TV tuner, DV camcorder, IP camera, PCI grabber cards and other video-capture devices from their applications. It can capture, process and play AVI/WMV videos. Whether you are creating a Web cam, a networked security application, a photo ID database, an industrial monitoring system, or a medical imaging device, VideoCapX has it.
Mehr…
PrecisionID Data Matrix ActiveX Control
Version: 1.3 | Demo (129,00 USD)
The PrecisionID Data Matrix ActiveX Control and DLL easily creates barcodes in Microsoft Access, Excel and Visual Basic. The demo version is fully functional and contains documentation with implementation examples. Supports DataMatrix ECC200 with C40, Text, ASCII and Byte Compaction. The demo version is fully functional and contains documentation with implementation examples. Compatible with Windows 98 and above including Vista.
Mehr…