Kategorie Entwicklung / Basic, VB, VB DotNet (Filter: Demo)
.NET Linear + 2D Barcode Forms Control
Version: 13.12 | Demo (1.190,00 USD)
Generate barcode images in Visual Studio .NET with the IDAutomation Barcode Forms Control and DLL package. This product is 100% managed code, strong named and signed. Includes printing examples with source code for C# and VB.NET. Supports all popular linear barcode symbologies including Code-128, Code-39, ITF, Code-93, UCC, UPC, EAN, GS1-128, USPS Intelligent Mail, Planet and Postnet.
Mehr…
Outlook Security Manager
Version: 1.5 | Demo (99,00 EUR)
One-line programming tool to control Outlook Security. Outlook Security Manager allows you to disable Outlook Security warnings in add-ins and applications that automate Outlook. It supports VB.NET, C#, C++ MFCL/ATL/.NET, Visual Basic 6, Delphi, VBA, Word MailMerge and Outlook 2000, 2002 (XP), 2003 with /without its service packs. Read more on http://www.add-in-express.com/outlook-security/
Mehr…
.NET Barcode Recognition Decoder SDK
Version: 1.0 | Demo (395,00 USD)
The Dotnet Barcode Recognition Decoder SDK reads multiple barcode types in C#, VB.NET and Visual Studio from a single DLL that is 100% managed code, strong named and digitally signed. Supported barcode types include Code-39, Code-128, GS1-128, Code-93, Code-11, Interleaved 2 of 5, Codabar, MSI, UPC-A and EAN-13. The demo download includes a source code example for Visual Basic .NET.
Mehr…
Unicode Controls for VB6
Version: 4.0 | Demo (699,00 EUR)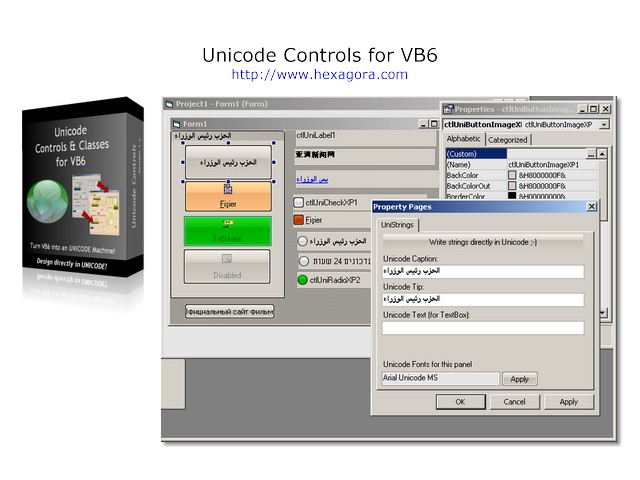 A complete set of UNICODE classes and controls to turn your VB6 application into an UNICODE machine with very few changes in your code! Features: Win32 API Driven classes and usercontrols, Very fast and lightweight, Compatible with all Windows Platforms (UNICODE on Windows 2000+ systems), Fully compatible with original VB6 controls, Fully customizable, XP, Vista or Glass interface, MouseWheel event catch, Design directly in UNICODE!
Mehr…
Order Form Source Code
Version: 5.2 | Demo (19,95 USD)
Visual Basic source code will let you add an order form to your program. This is the order form DynoTech Software has used to sell several shareware programs in over 90 countries. It allows for multiple products, calculates sales tax, accepts credit card information, and much more. Copy the form and modify to allow for ordering from multiple distributors within the same program.
Mehr…