Kategorie Entwicklung / Basic, VB, VB DotNet
btLicence Manager
Version: 5.0.0 | Shareware (49,00 EUR)
Der Licence Manager ist ein leicht anzuwendender Lizenzmanager, der sichere Lizenzschlüssel erstellt, um Ihre Software gegen Missbrauch zu schützen. Der Professional Licence Manager erstellt und prüft zuvor vergebene Lizenzschlüssel auf deren Richtigkeit. Einmal vergebene Lizenzschlüssel können bei Bedarf wieder eingelesen und dabei neu vereinbart werden. Es wird zwischen Voll-, zeitlich begrenzten und Startversuchslizenzen unterschieden
Mehr…
Tools für VB 5 / 6
Version: 1.2 | Freeware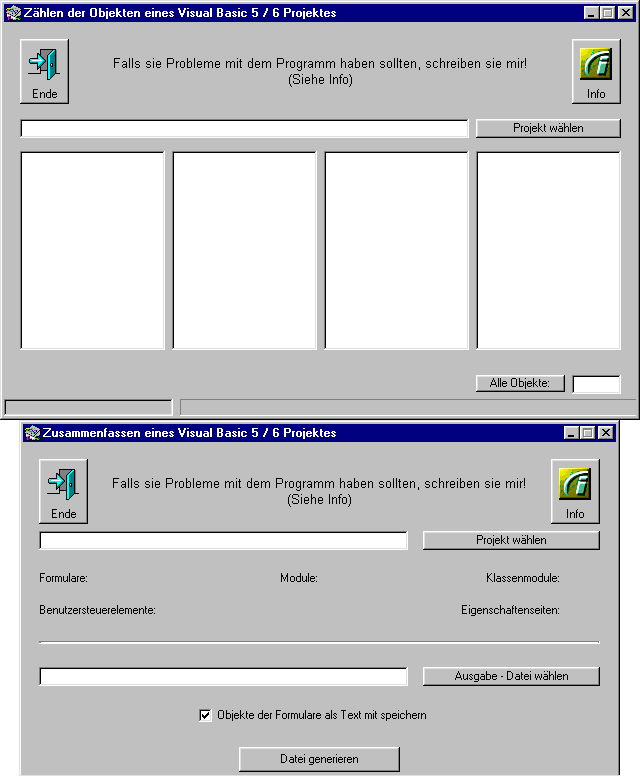 Es sind 2 Programme enthalten: Mit dem einen kann ein VB 5/6 - Projekt zusammengefasst werden und anschließend beispielsweise in einer Textverarbeitung ausgedruckt werden. Mit dem anderen können die Objekte eines VB 5/6 - Projektes gezählt werden. Dabei wird auch die Projektstruktur verdeutlicht.
Mehr…
SmartVB6
Version: 2.0.1 | Shareware (99,95 USD)
Useful Visual Basic 6.0 development tools to build fast and robust VB6 code. It includes intuitively understandable modules that help in programming such as powerful project explorer, snippets that is a library of useful codes, a number of builders: procedures, classes, properties, structures, collections, enum and error handlers. Settings form is also included into the program to easily adjust necessary parameters.
Mehr…
Unicode Controls for VB6
Version: 4.0 | Demo (699,00 EUR)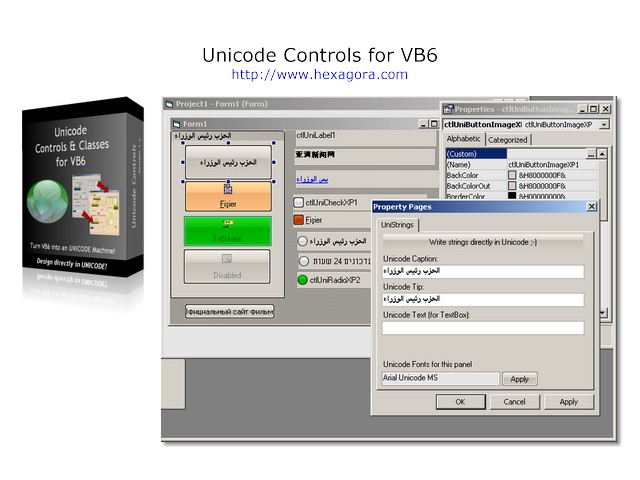 A complete set of UNICODE classes and controls to turn your VB6 application into an UNICODE machine with very few changes in your code! Features: Win32 API Driven classes and usercontrols, Very fast and lightweight, Compatible with all Windows Platforms (UNICODE on Windows 2000+ systems), Fully compatible with original VB6 controls, Fully customizable, XP, Vista or Glass interface, MouseWheel event catch, Design directly in UNICODE!
Mehr…
MSDE Manager
Version: 5.13 | Shareware (79,00 USD)
Manage MSDE/SQL databases via an intuitive graphical interface and do all of the common operations that a typical deployment of MSDE/SQL would entail and much more besides. Add, edit and delete Databases, Tables, Views, Users, Rules, SP's & more. It has a Transact SQL screen and in-built web updating to keep users on the most recent version. MSDE Manager has in built help. Back up, restore, attach, detach, and shrink databases. Schedule jobs.
Mehr…
Code VBA
Version: 4.0 | Shareware (39,90 EUR)
With Code-VBA coding tools added to your Visual Basic editor (VBE) you create better Visual Basic for Applications macros faster. A set of 25 specialized code builders supports the fast creation of most used code. Using the builders reduces the amount of typing, makes the code more consistent and complete and reduces errors. Use it with Access, Excel, Word and other VBA supporting applications. Includes code explorer and keyword search.
Mehr…
Basic4android
Version: 1.60 | Shareware (49,00 USD)
Basic4android (basic for Android) is a simple yet powerful development environment that targets Android devices. Basic4android language is similar to Visual Basic language with additional support for objects. Basic4android compiled applications are native Android applications, there are no extra runtimes or dependencies. Android 1.6 and above are supported, including Android tablets running 3.x.
Mehr…
Membership Manager Control
Version: 1.1 | Shareware (59,00 USD)
Drag and drop this Asp.Net server control onto a web page and you will instantly have a complete control panel for managing Asp.Net 2.0 Membership users. Use it to locate member records, reset passwords, change user names, enter comments and manage roles. Customize it by setting properties or by using custom templates. Easy to use and works instantly. Free download. New Version includes more properties!
Mehr…
SFTP NET Managed
Version: 5.2.4 | Shareware (239,00 EUR)
SFTP NET Managed allows developing SFTP and SSH-based applications in .NET Framework quickly and securely. No specific skills or experience are required from the .NET developers - except that they have to know how to program for the .NET platform! SFTP NET Managed embeds SFTP and SSH protocols into a set of .NET components, implementing both client-side and server-side routines. All versions of Microsoft.NET platform are supported.
Mehr…
Order Form Source Code
Version: 5.2 | Demo (19,95 USD)
Visual Basic source code will let you add an order form to your program. This is the order form DynoTech Software has used to sell several shareware programs in over 90 countries. It allows for multiple products, calculates sales tax, accepts credit card information, and much more. Copy the form and modify to allow for ordering from multiple distributors within the same program.
Mehr…
Source Code Library
Version: 1.9.0.156 | Shareware (79,99 USD)
Source Code Library is a powerful multi-language source code Library and clipboard extender with the following benefits:
1. Built-in library with 50,000++ lines of code
2. Quick and powerful search engine
3. Powerful printing capability
4. Password protection & strong 256 bits encryption (optional)
5. User notes & attachments handling
6. Favorites & rating support
7. Full integration with *all* major programming IDEs
And much more!
Mehr…
ClearImage Tools
Version: 5.7 | Shareware (375,00 USD)
Professional tools with .NET and COM API support extensive image manipulation, quality assurance, forms processing and other operations, in a fully automated batch framework, offer powerful functions intuitive controls and rock solid reliability. Create precise set of operations and logic flows to match your equipment capabilities, process requirements and specific image population. FREE SDK includes FREE professional services.
Mehr…