Kategorie Entwicklung / C | C++ | C# (Filter: Shareware)
jk-ware Multimedia-Projektworkspace
Version: 4.0 | Shareware (59,90 EUR)
Für Visual C#-Entwickler bieten wir unseren Multimedia-Projektworkspace zur Entwicklung ihrer eigenen Produkte an. Der Workspace benötigt Visual Studio Community und beinhaltet alle Quelldateien zur Erstellung einer Formenverwaltung für die Windows-CLR. Das resultierende Programm verwaltet die Formen einer Anwendung und eines Basisprogramms. Der Workspace besteht aus insgesamt fünf Projekten.
Mehr…
Extensibility Studio
Version: 3.0 | Shareware (699,00 USD)
Extensibility Studio is a complete solution allowing to extend your .NET application with user-defined logic. It provides set of tools allowing users of your applications to write code for mini-programs (scripts) to enhance existing or define new logic by accessing and manipulating application objects, build visual user interfaces for these scripts and debug them with fully-featured debugging engine.
Mehr…
EaseClouds Virtual File System SDK
Version: 2.1.1.2 | Shareware (499,00 USD)
Cloud-based completed virtual file system integrates cloud files with the local file system.Accessing the cloud file is fast and easy, is transparent to the users and applications, no modification needed, just like accessing the local files. Best Cloud-Based Disaster Recovery Solution,zero downtime for the disaster recovery, automatically fail over the local storage to the cloud storage if disaster strikes, your business won't be interrupted.
Mehr…
Add-in Express 2007 for VSTO
Version: 2008.4.0 | Shareware (349,00 USD)
Use visual designers of this component set to create professional extensions for Microsoft Office in VSTO 2005 (SE) and VSTO 2008. Enjoy lots of advanced features: customize Office 2007 Ribbon UI and Office 2003 toolbars at design-time, add elements to Ribbon tabs, the Quick Access Toolbar and Office Menu and validate the resulting Ribbon XML in no time. C# and VB.NET are supported. Read more at http://www.add-in-express.com/add-in-vsto/
Mehr…
Spices.Net Obfuscator
Version: 5.17.4.3 | Shareware (399,95 USD)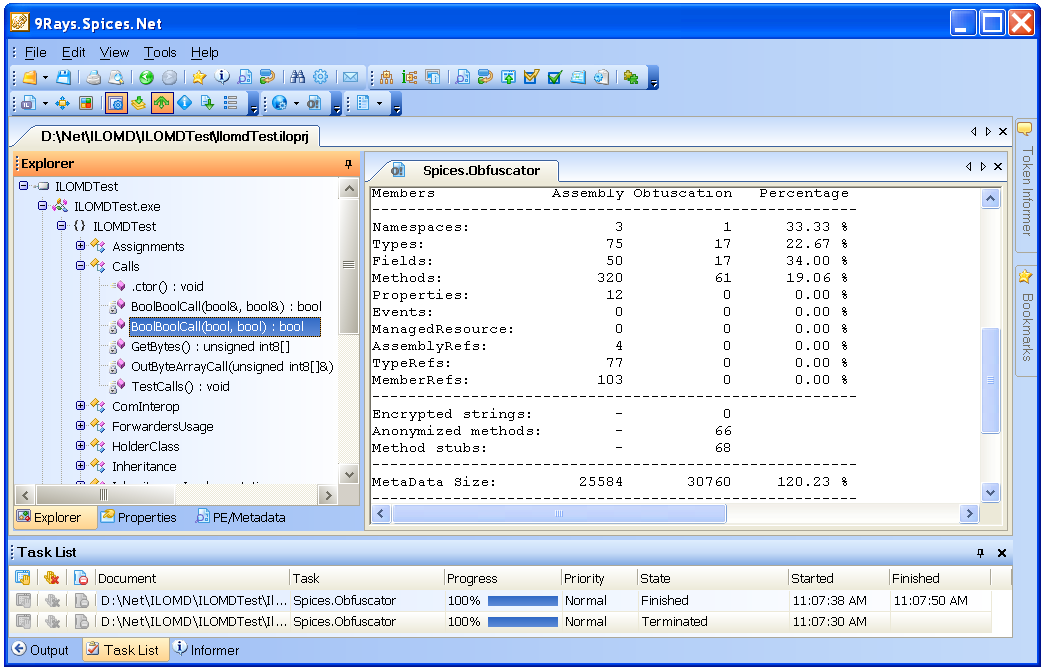 .NET Obfuscator - efficient and easy of use .Net obfuscation tool that protects your .NET software from hackers, competitors, and prying eyes by preventing unauthorized use, code tampering and reverse engineering.
Mehr…
Install Package IronPdf
Version: 4.4.5 | Shareware (299,00 USD)
IronPDF ermöglicht es Entwicklern, Text- und Bildinhalte aus C # / ASP.net-Anwendungen und Websites zu generieren, zusammenzuführen, zu teilen und zu lesen. https://www.nuget.org/packages/IronPdf/ Die Iron PDF-Bibliothek macht es einfach, PDF-Dokumente zu erstellen, indem sie sich nicht auf maßgeschneiderte APIs verlassen. 'Html-To-Pdf' macht PDFs mit offenen Standardarchiv-Designs: HTML, JS, CSS, JPG, PNG, GIF und SVG.
Mehr…
MetaLib
Version: 5.0 | Shareware (59,95 EUR)
The MetaLib SDK includes functions for reading, writing, editing, inserting, sorting and deleting MetaStockTM price data. It is perfect for software developers wanting to create powerful add-on modules for MetaStockTM users. You have no complexities of accessing MetaStockTM data files from your program. As a result, your development time will be shorter.
Mehr…
Add-in Express for Office and .NET
Version: 2010 | Shareware (303,09 EUR)
All-in-one platform for developing any types of Office extensibility projects, including COM add-ins, smart tags, RTD servers and user-defined functions for Microsoft Office 2010 - 2000. Create application-specific plugins and shared extensions that work on all end-user applications: Outlook, Excel, Word, PowerPoint, Visio, Project, MapPoint, Publisher, etc. in C#, VB.NET, C++ and Delphi Prism. More info: http://www.add-in-express.com
Mehr…
C# PDF
Version: 4.4.2 | Shareware (299,00 USD)
Das C # PDF Dokument gibt Codebeispiele und Richtungen zu den kompetentesten Methoden, um die Prinzipfunktionen und Einstellungen der IronPDF C # PDF Library zu nutzen. C # PDF ist die Schöpfer / Generator / Konverter / Editor Bibliothek für C # oder VB.Net. Mit IronPDF können Sie PDF-Dokumente aus C # Web-, Desktop- oder Konsolen-.NET-Anwendungen erstellen. Support- und Lizenzinformationen und Fragen http://ironpdf.com/
Mehr…
TRichView for C++Builder
Version: 16.15.7 | Shareware (310,00 EUR)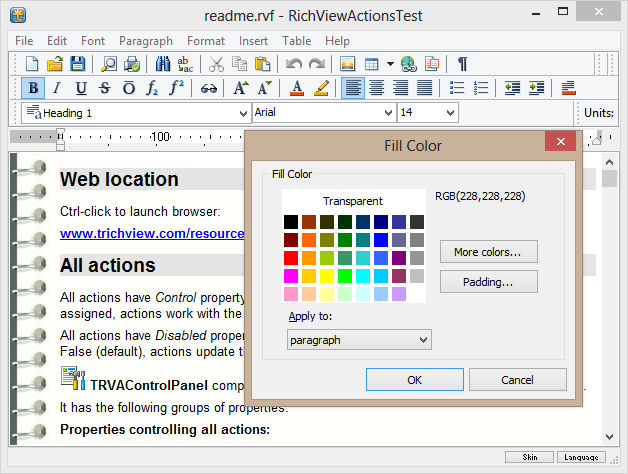 RichView ist eine Suite von Delphi Komponenten zum anzeigen, editieren und drucken von Hypertext Dokumenten. Die Komponenten unterstützen verschiedene Attribute wie Schriftarten, farbiger Text, farbiger Hintergrund. Dokumente können Bilder enthalten, Delphi Steuerelemente. Export zu RTF oder HTML und mehr... ScaleRichView ist ein Satz von VCL-Komponenten für das WYSIWYG-Editieren.
Mehr…
Turbo-Locator x86
Version: 6.01 | Shareware (29,90 EUR)
Code-Relocator für Prozessoren x86, V25, V40, V50, Am486, AMD SC400 u.s.w. Verwendet Output von Turbo/Borland C++, Turbo/Borland Pascal und TASM. Geeignet für x86 kompatible Embedded Systeme und Industrie / Flat / Raw / ROM / BIOS PC Anwendungen.
Mehr…
C# CSV Reader
Version: 1.0.0 | Shareware (89,00 USD)
C# CSV Reader ist ein .NET -Bibliothek, die C # und vb.net Entwickler csv -Parsing -Funktionen , um .NET-Lösungen schnell hinzufügen können. CSV-Dateien sind immer noch ein beliebter Weg, der den Austausch von Daten , und diese Bibliothek ermöglicht es Ihnen, eine Vielzahl von verschiedenen Formaten in einer Brise zu lesen, sparen Sie sich die Zeit für die Entwicklung und das Debugging von Grund auf neu . http://datamigrationlab.com/
Mehr…