Gentee
Dieses Programm wird Ihnen präsentiert von:
Gentee, Inc.
P.O. Box 1491
St. John's
Antigua and Barbuda
| | |
| --- | --- |
| E-Mail: | info [at] gentee [dot] net |
| Telefon: | +1 (435) 518-1331 |
| Telefax: | +1 (435) 518-1331 |
| Website: | www.gentee.com |
| | |
| --- | --- |
| Kategorie: | Entwicklung / Compiler & Interpreter |
| Version: | 3.6.2 |
| Release-Datum: | 02.09.2010 |
| Größe: | 2,57 MB |
| Betriebssystem: | Win 98 / ME / 2000 / XP / 2003 / Vista |
| Anforderungen: | 16MB RAM |
| Sprachen: | Englisch |
| Downloads: | 0 im Januar / 162 insgesamt |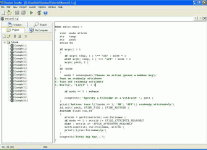 Gentee is a friendly full-scale programming language. It can become a reliable assistant in your everyday work. It also is easy-to-master, and can be your first, as well as tenth programming language. All necessary documentation, examples and a library set are available. Program developers can easily use it in their applications. The compiler and the virtual machine in a single DLL occupy 120 KB.
Gentee is a free programming language. You pay nothing for using this language (even if you use it in your applications).
Gentee is a powerful tool for automation of different operations. It is better to once spend ten minutes for creating a program, than daily spend one minute for execution of chores.
Gentee is not a scripting language. You can execute your program in the Gentee language right away, but since there are no intermediate codes, you can avoid losses of time required for compilation during reruns, even if those are executed rather quickly. Furthermore, an intermediate code makes the initial program text unavailable. On the other hand, you can use Gentee as a scripting or interpreted language because it is allows you to run your pragrams at once.
Gentee is not only a language compiler. Many complete libraries (approximately 400 functions total) are available for working with different types of data. There also are advanced facilities for storing and handling of text data.
Gentee is an easy-to-master programming language, but at the same time its capabilities would not limit your demands in the future, and its syntax would not require anything unnecessary.

Hier können Sie die Update-Infos für dieses Programm abonnieren. Sie erhalten dann zukünftig eine Benachrichtigung per Email, sobald ein Update zu diesem Programm eingetragen wurde.
Um die Update-Infos zu abonnieren, tragen Sie nachfolgend Ihre E-Mail-Adresse ein. Sie erhalten dann eine E-Mail mit einem Link, über den Sie das Abo bestätigen müssen.
Sie können die Update-Infos jederzeit wieder abbestellen. Hierzu finden Sie am Ende jeder E-Mail mit Update-Infos einen entsprechenden Link.
Dieser Service ist für Sie vollkommen kostenlos.

Kommentare zu Gentee
Bisher gibt es keine Kommentare zu diesem Programm.
Selbst einen Kommentar schreiben