Advanced Virtual COM Port
Dieses Programm wird Ihnen präsentiert von:
KernelPro Software
Broadway W
V6H4E4 Vancouver
Canada
| | |
| --- | --- |
| E-Mail: | submit [at] kernelpro [dot] com |
| Telefon: | (604)1098103 |
| Telefax: | (604)1098103 |
| Website: | www.kernelpro.com |
| | |
| --- | --- |
| Kategorie: | Entwicklung / Debugging |
| Version: | 3.0 |
| Release-Datum: | 09.09.2014 |
| Größe: | 3,15 MB |
| Betriebssystem: | Win 2000 / XP / 2003 / Vista |
| Anforderungen: | Windows 2000-8.1 or Windows 2003-2012R2, administrator privileges required to install the program |
| Sprachen: | Englisch |
| Downloads: | 2 im August / 147 insgesamt |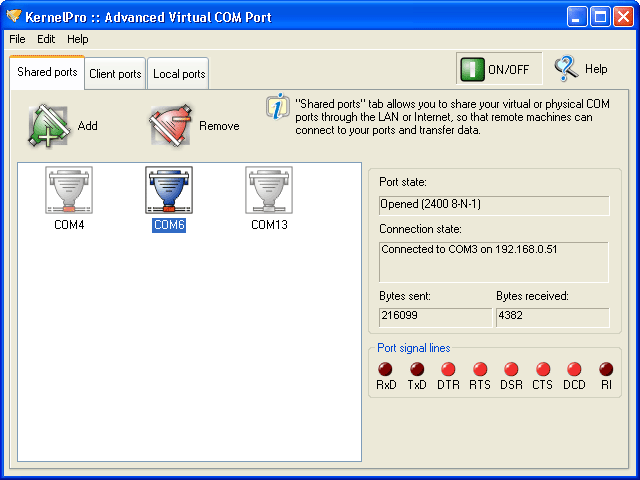 Advanced Virtual COM Port is the first software of its kind which includes both local and network
virtual COM port functions.

It can share your real COM ports or it can create virtual COM ports and connect them with a
virtual null-modem cable locally or through a TCP/IP network or the Internet.

You can connect to a shared port and use it just like it is on your machine. Virtual serial ports
created by the program look and work the same way as real ones look and work.

Main features:
- Virtual COM Ports appear to the system and applications like real ones
- Virtual COM Ports work like real ones
- 64-Bit compatible (AMD64)
- Hot Virtual COM Port creation and removal (no need to reboot the computer)
- Once created, Virtual COM Ports persist in the system until you remove them
- No need to have physical serial ports (except for the physical ports sharing function)
- Higher data transfer rate than on hardware serial ports
- Up to 255 Virtual COM Ports can be created
- PnP, WMI support
- Flow control emulation supported
- Easy port state monitoring
- Ability to temporarily remove all ports without losing their configuration

Hier können Sie die Update-Infos für dieses Programm abonnieren. Sie erhalten dann zukünftig eine Benachrichtigung per Email, sobald ein Update zu diesem Programm eingetragen wurde.
Um die Update-Infos zu abonnieren, tragen Sie nachfolgend Ihre E-Mail-Adresse ein. Sie erhalten dann eine E-Mail mit einem Link, über den Sie das Abo bestätigen müssen.
Sie können die Update-Infos jederzeit wieder abbestellen. Hierzu finden Sie am Ende jeder E-Mail mit Update-Infos einen entsprechenden Link.
Dieser Service ist für Sie vollkommen kostenlos.
Kommentare zu Advanced Virtual COM Port
Bisher gibt es keine Kommentare zu diesem Programm.
Selbst einen Kommentar schreiben