Deleaker
Dieses Programm wird Ihnen präsentiert von:
Softanics
Russia,St.Petersburg,Pheduninskogo St.
St.Petersburg
Russian Federation
| | |
| --- | --- |
| E-Mail: | pad [at] softanics [dot] com |
| Telefon: | +78129723917 |
| Telefax: | +78129723917 |
| Website: | www.softanics.com |
| | |
| --- | --- |
| Kategorie: | Entwicklung / Debugging |
| Version: | 3.0.10 |
| Release-Datum: | 02.09.2014 |
| Größe: | 2,12 MB |
| Betriebssystem: | Win XP / Vista |
| Anforderungen: | Windows XP, 32 bit or 64 bit, Visual Studio 2005, 2008, 2010, 2012, 2013 |
| Sprachen: | Englisch |
| Downloads: | 1 im Februar / 120 insgesamt |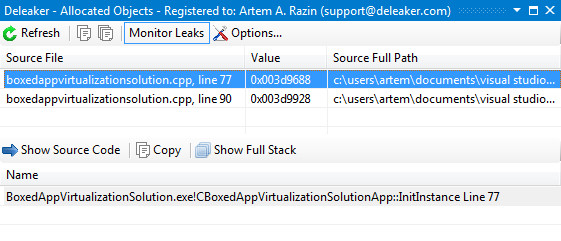 Deleaker is a useful extension for Visual Studio 2005, 2008, 2010, 2012, 2013 that helps you to analyze programming errors, many of which are unique to Visual C++. Deleaker is a great tool for Visual C++ developers who occasionally have trouble detecting resource leaks and debugging their applications. With Deleaker, you can detect and localize resource leaks in memory, GDI and USER objects, handles, with no appreciable slow down to your application.

Debugging has always been a headache for program developers. As bugs go, some of the most difficult to find are leaks, especially in graphics device interface (GDI) objects and menus. Even a small leak can drown the ship of your system's performance. You cannot afford to miss even a single one.

Deleaker is an effective solution to this problem. First, it provides you with information on all GDI objects created while your application is running. For almost all of these objects, you will get a full stack, which helps you to see where exactly in the source code each GDI object was created. A simple double click on the stack entry and the editor will open the file with source code at the corresponding line. Next comes the most important point: when your application exits, Deleaker will provide you with a list of GDI objects that were created but that were not deleted.

Plenty of tools exist to help track down memory leaks, but there are very few good tools to help track GDI resource leaks that can ruin performance on any Windows operating system. And all of them have one major problem, they tremendously slow down the performance of your application. Deleaker is tightly integrated into the Visual Studio development environment and you can be sure that it will not affect the speed of your application. Leaks are possible, even in robust Windows-based applications. Deleaker will find them for you.

Hier können Sie die Update-Infos für dieses Programm abonnieren. Sie erhalten dann zukünftig eine Benachrichtigung per Email, sobald ein Update zu diesem Programm eingetragen wurde.
Um die Update-Infos zu abonnieren, tragen Sie nachfolgend Ihre E-Mail-Adresse ein. Sie erhalten dann eine E-Mail mit einem Link, über den Sie das Abo bestätigen müssen.
Sie können die Update-Infos jederzeit wieder abbestellen. Hierzu finden Sie am Ende jeder E-Mail mit Update-Infos einen entsprechenden Link.
Dieser Service ist für Sie vollkommen kostenlos.

Kommentare zu Deleaker
Bisher gibt es keine Kommentare zu diesem Programm.
Selbst einen Kommentar schreiben