Kategorie Entwicklung / Management & Distribution
QPack - Application Lifecycle Management
Version: 5.3.0 | Shareware
QPack by Orcanos - the leading solution for Application Lifecycle Management - ALM 2.0 - Requirements Software Solution - for software developement and for medical devices development, medical software testing, medical device software validation. Complete and structured solution or a software project, from requirements definition, through design and specs to customer delivery - the complete Application Lifecycle Management solution.
Mehr…
LabelMee Software Rebranding
Version: 6.0 | Shareware (195,00 USD)
Rebranding leistungsstarke Software-Tool, ermöglicht Ihnen mit allen erforderlichen Mittel zur Schaffung und Erhaltung von mehreren Marken für Ihre Software. Es unterstützt die breite Palette von Entwicklungsplattformen wie C / MFC,. NET, Java, Delphi und Datenbanken. Sie brauchen nicht Quellcode oder Compiler zu starten Rebranding, da LabelMee Rebrander mit kompilierten Binärdateien. Verwenden Sie es jetzt und rebrand Sie Software in ein paa
Mehr…
BoxedApp Packer
Version: 3.3.0.2 | Shareware (299,00 USD)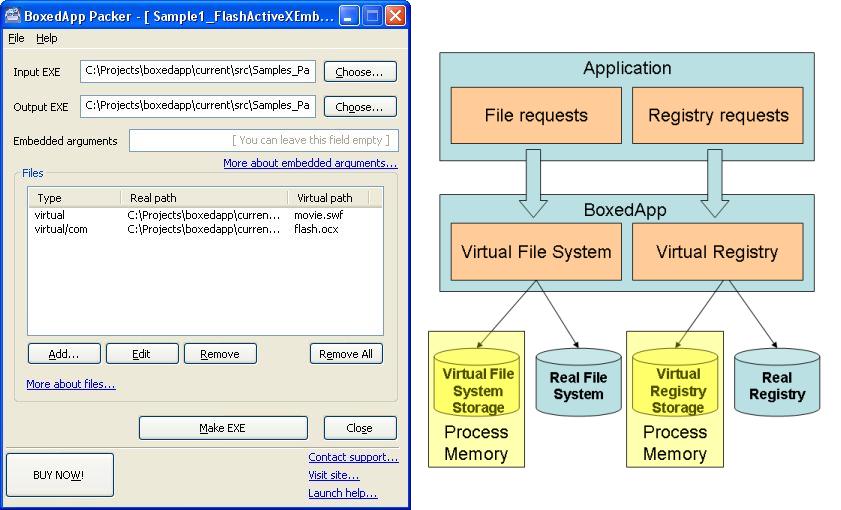 Developer utility for creating full-fledged applications that don't require the installation and can be packed in a single self-sustaining executable. Your applications may utilize third-party libraries and components and get the most of your PC, and yet not affect the computer's physical registry or hard drive, as they would be extracted directly into memory, virtual space and registry. Functionality can be further expanded by utilizing plugins.
Mehr…
GSA Auto SoftSubmit
Version: 7.97 | Shareware (34,00 EUR)
Tragen Sie Ihr Software-Produkt in Hunderte Softwarearchive ein. Durch das automatische Eintragen sparen Sie enorm viel Zeit für das Ausfüllen der WebForms. Software-Vermarktung war noch nie so einfach. Laden Sie einfach die PAD Datei und das Programm erledigt den Rest. GSA Auto SoftSubmit wird mehrmals im Monat aktualisiert, so dass Ihre Software in die mehr als 9000 Websieten immer ordnungsgemäî eingetragen wird.
Mehr…
secureSWF
Version: 4.0 | Demo (99,00 USD)
secureSWF ist eine robuste Adobes Flash und Flex ActionScript obfuscator. Die Bereitstellung der besten SWF Sicherheit, schützt es Ihre SWF-Dateien aus decompilers durch die modernsten Techniken und Verschleierung Schutz. Es hilft Ihnen auch, Ihre Flash-Anwendung gegen eine Vielzahl von Bedrohungen der Sicherheit durch die Bereitstellung verschlüsselte Domain Verriegelung, verschlüsselte Lader Schöpfung und Zeichenketten Verschlüsselung.
Mehr…
Manco .NET Licensing System
Version: 9.0.0.0 | Shareware (74,95 USD)
Manco .NET Licensing System is powerful licensing and copy protection tools for .NET Windows Forms, WPF, and ASP.NET applications, controls and components. Protection library is available for .NET Framework 3.5, 4.0, 4.5 and Windows Store app. It uses very flexible licensing schema with following main features: Strong encryption, Time/Usage Limited Evaluation, Flexible license content, Encrypt code and data, Source Code Integration.
Mehr…
Software Defender
Version: 2.1 | Demo (19,97 USD)
Software and digital product activation service. Stops piracy of your products. If you can point and click, then you have what it takes to stop pirates from ripping you off and profiting from your digital products, forbid habitual refunders from getting them for free, and prevent your products from being copied without you being paid. Powerful web control panel with charts and detailed reports showing every aspect of your product use (and misuse)
Mehr…
GSA Regnow Statistics Expert
Version: 1.4.4 | Shareware (45,00 EUR)
The GSA RegNow Statistics Expert is a software tool especially developed and tested for RegNow users. It offers a variety of functions for statistic analyses, customer management and data security. Graphical reports give you an immediate review about the state and development of your sales. In addition to an optimal customer management it is providing a tool for sending customer information by email.
Mehr…
RegKeeper- e-Sales Tracking Software
Version: 2.2 | Shareware (99,00 EUR)
RegKeeper is a straightforward, inexpensive e-sales tracking software application packed with handy features like an overstuffed sandwich. RegKeeper tracks sales generated by own e-store or third-party resellers, comes with affiliate support, chargebacks and refunds black list, e-mail processing/filtering, order import, rich reporting options, sales history. While it can be used to track any sales, this product is excellent for software e-shops.
Mehr…
PAD Creator
Version: 2.0.1 | Freeware
Create and manage your PAD files fast and easy with the awarded PAD Creator - A Must Have tool for all developers!
Just fill in your products information and save. Then you can validate and create your padfile within a second by just clicking a button. PAD files are commonly used by all major download directories on the net and most of them will poll your padfile from your server automatically once you submitted it.
Mehr…
vManage
Version: 2.0 | Demo (495,00 USD)
vManage is a test management tool that allows you to organize and manage the testing process by providing tools that aid in bug tracking and test and requirements management.. A web based interface lets you share testing information among team members who are integrated via Verisium's testing solutions. With vManage, you can create projects that correlate tests, requirements that prompted the tests and bugs resulting from those tests.
Mehr…
Shareware Tracker
Version: 1.8.1.10 | Shareware (89,00 USD)
Sophisticated and feature-rich submission software for commercial, demo, freeware and shareware authors and publishers. Supports semi-automated submission to over 600 shareware download sites, software directories and search engines. Numerous submission tools enable the submitter to speed through submissions, increasing link popularity and visitor and download traffic in hours and days instead of weeks and months, tracking progress along the way.
Mehr…