Boxer Text Editor
Dieses Programm wird Ihnen präsentiert von:
Boxer Software
P.O. Box 14545
85267-4545 Scottsdale
United States
| | |
| --- | --- |
| E-Mail: | sales [at] boxersoftware [dot] com |
| Telefon: | 602-485-1635 |
| Telefax: | 602-485-1636 |
| Website: | www.boxersoftware.com |
| | |
| --- | --- |
| Kategorie: | Entwicklung / Quellcode-Editoren |
| Version: | 14.0.0 |
| Release-Datum: | 02.03.2010 |
| Größe: | 6,32 MB |
| Betriebssystem: | Win 98 / XP / Vista |
| Anforderungen: | no special requirements |
| Sprachen: | Englisch |
| Downloads: | 0 im Januar / 152 insgesamt |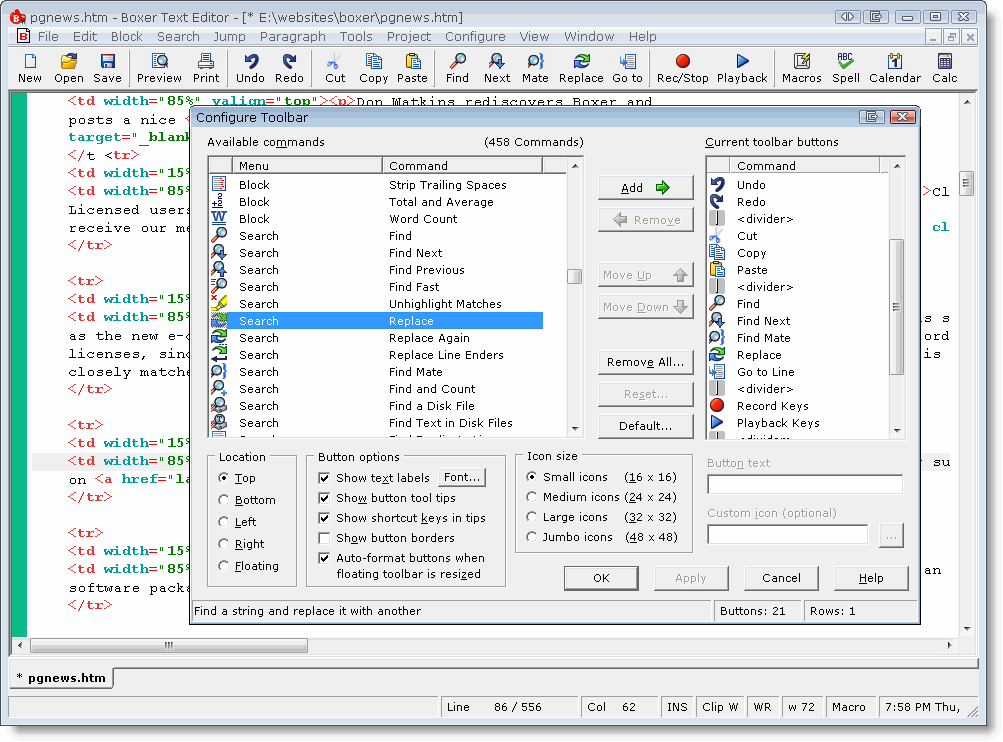 Work smarter with this versatile, full-featured Windows text editor. Boxer is extremely powerful, but remains easy to use for both beginners and experienced users. This award-winning text editor features a very powerful macro language, keystroke recording, 2 GB file size limit, syntax highlighting and printing, Perl-compatible regular expressions for search and replace, file tab interface, project support, FTP, HTML support, column blocking, undo/redo, spell checker, Ctags support and much more! Extensive configuration options are available, including the ability to define key assignments, configure the toolbar, set screen colors/fonts, create templates and define external programs as tools.

Version 14 adds visual wrap, XML formatting, user-defined toolbar icons, and dozens of other features and enhancements.

Boxer's spell checker includes a 140,000+ word American English dictionary, with additional languages available at our site. The optional Active Spell Check feature can underline misspelled words as you type. Open URL and email address directly from within text files. Boxer includes a pop-up, multi-base programmer's calculator with full hex/decimal/octal/binary support, scientific functions, trig, memory, etc. The HTML Color Chart makes it easy to select colors and insert the associated HTML color code into your website files.

Boxer Software has been developing text editors since 1991, and during that time Boxer has earned the respect and affection of countless users around the world. We aim to offer users editing power and versatility without compromising on reliability and ease-of-use. In other words: our editors are feature-packed, but they won't take your focus off your work. Our fully functional evaluation copy allows you to try Boxer within your editing environment to make sure Boxer is right for you.

Hier können Sie die Update-Infos für dieses Programm abonnieren. Sie erhalten dann zukünftig eine Benachrichtigung per Email, sobald ein Update zu diesem Programm eingetragen wurde.
Um die Update-Infos zu abonnieren, tragen Sie nachfolgend Ihre E-Mail-Adresse ein. Sie erhalten dann eine E-Mail mit einem Link, über den Sie das Abo bestätigen müssen.
Sie können die Update-Infos jederzeit wieder abbestellen. Hierzu finden Sie am Ende jeder E-Mail mit Update-Infos einen entsprechenden Link.
Dieser Service ist für Sie vollkommen kostenlos.
Kommentare zu Boxer Text Editor
Bisher gibt es keine Kommentare zu diesem Programm.
Selbst einen Kommentar schreiben