Kategorie Entwicklung / Quellcode-Editoren (Filter: Freeware)
Oceantiger's Editor
Version: 3.6 | Freeware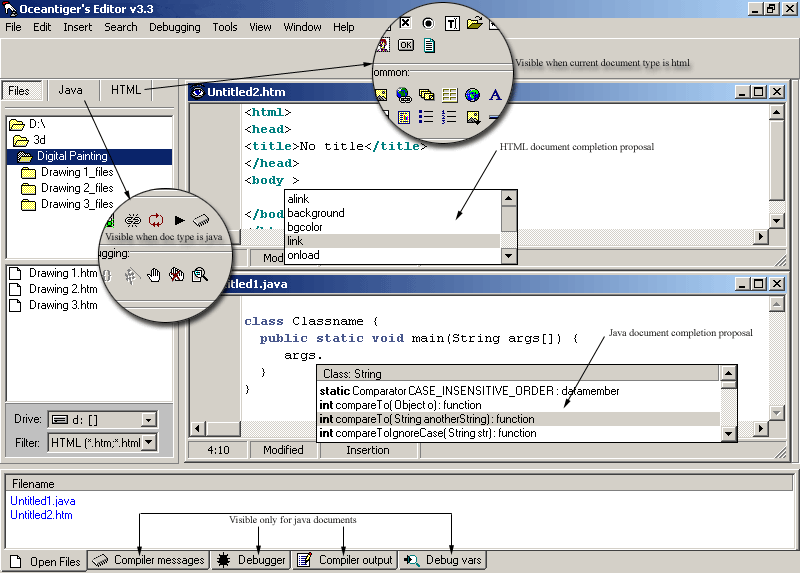 This sourcecode editor has builtin tools to generate html and java code, and additional tools to help in the writing of code, so that you can write more code in less time. It has predefined color highlighting for the java, html, perl, php, xml and css languages and possibility to define your own color highlighting languages. Other features in this program include: compile - debug and run java code, autosave, undo / redo, print preview.
Mehr…
MultiCode
Version: 5.5.1.2 | Freeware
Farbliche Syntaxhervorhebung (vom User definierbar). Zeilennummerierung, Codevorschläge bei der Eingabe (HTML, Javascript und Pascal enthalten). Code direkt aus dem Editor ausführen. FTP Up-/Download integriert. Browser für die Anzeige von HTML Dateien festlegen. Silbentrennung aus Text entfernen. Online Updates u.m.
Mehr…
Free Hex Editor Neo
Version: 5.14.00.4787 | Freeware
Hexagon-Herausgeber-Software, die binär ist und die hexadezimale Akte, die Werkzeug für Windows mit vorgerückte Suche aus und ersetzen Eigenschaften. Downloaden Sie dieses hexedit Dienstprogramm
Mehr…
CudaText
Version: 0.6.4.0 | Freeware
Advanced code editor. Supports syntax highlighting for lot of languages (more than 120 types). Supports many encodings. Multi-carets and multi-selections. Implemented many editing commands found in common text editors. Tabbed interface. Search and replace with regex.
Mehr…
StroyCode
Version: 1.86 | Freeware
StroyCode - Editor für die Programmierung. Erzeugt Module PAS (*.pas) - Quellen in der Programmiersprache Pascal. Diese Module können für die Projekte in Delphi oder Lazarus angeschlossen werden. Darüber hinaus muss der Benutzer nicht benötigen Kenntnisse der Sprache Pascal. Genug, um eine Vorstellung über die Grundlagen der Programmierung haben. StroyCode basierend auf der Technologie multieditor.
Mehr…
Program Maker
Version: 2.9 | Freeware
This program allows you to create programs and games with minimal effort. Perfect for the novice user! Functions in the software creator are united in action, which helps complete the project. It all starts with a general description of the actions and finished product. Advanced options in the software creator add stronger language scripts.
Mehr…
Weaverslave
Version: 3.9.19 | Freeware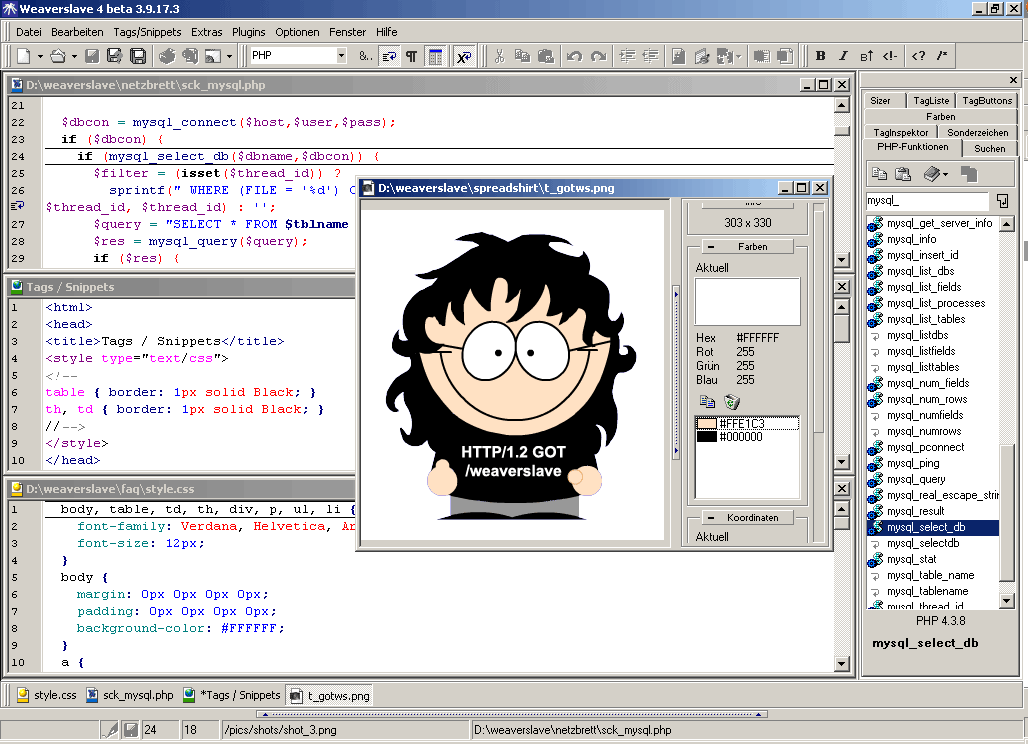 Der Weaverslave ist ein flexibler Editor für verschiedene Sprachen. Das Programm besitzt Syntaxhighlightings für DHTML, CSS, JS, PHP, MySQL, Perl und weitere Sprachen. Neben verschiedenen Toolfenstern für Farben, Sonderzeichen, einem TagInspektor und anderem,sind ein Datei- und Bildbrowser, sowie eine umfangreiche Suchfunktion integriert. Ein einfacher CVS-Client und eine Debugger-Interface für PHP stehen ebenfalls zur Verfügung.
Mehr…
GridinSoft Notepad Lite
Version: 3.3.1 | Freeware
Text editor with highlighting more than 55 formats of files! (C/C++, HTML, ASP, PHP, Perl..) Built-in Spell Checker, HEX editor, UNICODE, Code Templates, Auto Correction, Print preview, Bookmarks, export the text with highlighting to RTF, HTML and LaTeX format, support many character sets, scripting engine, evaluate math expressions, regular expressions, the adjusted interface...
Mehr…