FaceMorpher
Dieses Programm wird Ihnen präsentiert von:
FaceMorpher.com
p.o. 1512
664000 Irkutsk
Russian Federation
| | |
| --- | --- |
| E-Mail: | padsupport [at] facemorpher [dot] com |
| Telefon: | +7(3952)8232000 |
| Telefax: | +7(3952)8232000 |
| Website: | www.facemorpher.com |
| | |
| --- | --- |
| Kategorie: | Grafik / Animation Tools |
| Version: | 2.51 |
| Release-Datum: | 10.04.2009 |
| Größe: | 3,78 MB |
| Betriebssystem: | Win 98 / ME / 2000 / XP / 2003 / Vista |
| Anforderungen: | A standard Windows PC |
| Sprachen: | Englisch |
| Downloads: | 0 im Januar / 64 insgesamt |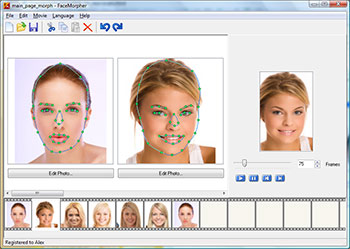 Morphing images of one face into another is great fun. Morphing is the process of creating a smooth animated transition from one picture into another. Using morphing you can add stunning effects into your home-made videos, create visual jokes for your friends, or master a unique animated avatar to represent yourself in on-line communities. You'll easily find many more funny uses on your own. So, let's concentrate on the technical side...

There are many professional applications that can create video effects. They produce great animations that are used in million-dollar movies. But, there is a downside. These programs require a million-dollar operator! You need to spend years studying a professional video editing package to get yourself familiar with its interface and features. Even a simplified morphing program is not suitable for morphing faces just for fun. To correctly morph one face into another, you need to mark numerous spots first. You
have to point the victim's eyes, nose, lips and other notable face areas. Marking the spots manually ensures the highest quality but it may take hours! Who needs fun that requires so many hours of hard work? And is this really a fun? And we all know how much professional video tools cost!

FaceMorpher is a program that turns face morphing into real fun. It guesses the basic spots automatically. You can tune up the spots if you wish. In most cases, though, the automatically guessed spots produce animation that is perfectly acceptable for amateur videos or web graphics.

The program is fully automated too. You simply load a series of pictures and let FaceMorpher automatically recognize the images as faces. Then you start the morphing process and the program renders the animation. You can save the result as an AVI file, create an animated GIF image or a Flash presentation for your web site.

Fast, simple, effortless and inexpensive. MORPH THEM ALL!!!
Hier können Sie die Update-Infos für dieses Programm abonnieren. Sie erhalten dann zukünftig eine Benachrichtigung per Email, sobald ein Update zu diesem Programm eingetragen wurde.
Um die Update-Infos zu abonnieren, tragen Sie nachfolgend Ihre E-Mail-Adresse ein. Sie erhalten dann eine E-Mail mit einem Link, über den Sie das Abo bestätigen müssen.
Sie können die Update-Infos jederzeit wieder abbestellen. Hierzu finden Sie am Ende jeder E-Mail mit Update-Infos einen entsprechenden Link.
Dieser Service ist für Sie vollkommen kostenlos.

Kommentare zu FaceMorpher
Bisher gibt es keine Kommentare zu diesem Programm.
Selbst einen Kommentar schreiben