FaceMorpher Lite
Dieses Programm wird Ihnen präsentiert von:
FaceMorpher.com
p.o. 1512
664000 Irkutsk
Russian Federation
| | |
| --- | --- |
| E-Mail: | padsupport [at] facemorpher [dot] com |
| Telefon: | +7(3952)8232000 |
| Telefax: | +7(3952)8232000 |
| Website: | www.facemorpher.com |
| | |
| --- | --- |
| Kategorie: | Grafik / Animation Tools |
| Version: | 2.5 |
| Release-Datum: | 29.02.2008 |
| Größe: | 5,11 MB |
| Betriebssystem: | Win 98 / ME / 2000 / XP / 2003 / Vista |
| Anforderungen: | A standard Windows PC |
| Sprachen: | Englisch |
| Downloads: | 0 im Januar / 314 insgesamt |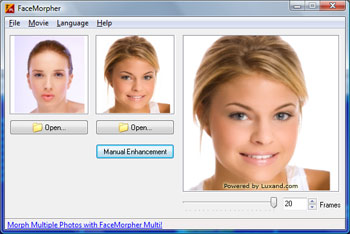 You've seen morphing many times in movies that you'll never forget. Just remember the Terminator's fabulous transformations when it morphed into various people. Morphing is a process of smoothly merging one image into another. In Terminator 2 movie times, they had to use high-end graphic stations to render morph animations and it took days to render only a few seconds of video.
Nowadays, personal computers have more power than million-dollar supercomputers of the past. As such, morph effects are now available to every PC user. They can also be rendered in real-time. It's fun! Imagine your home video enhanced with stunning effects. Filmed a wedding? Try to morph the bride into a little girl and vice versa, or morph the groom and the bride together to see how their kids will look. Amuse your friends morphing them into political celebrities, movie superstars or popular musicians. Express yourself in morphs!
Unfortunately, most morphing programs are not intended for hobbyists. They require a certain level of skill to properly prepare source images and to "mark control points". In order to get a good piece of animation, you can spend much time marking and tuning control points. Not what you want, right? You need a program that does everything with just one click of the mouse...and this is it!
FaceMorpher is the first fully automated image morphing software on the market. It is tuned to work with human faces. No need to manually define control points. FaceMorpher uses its AI to analyze images and to automatically recognize parts of faces that should be morphed into each other. Putting it simply, all you have to do is to load two images and point to the faces you want to morph. And you've got it! Save the resulting animation as an AVI file to integrate it into your home video with your favorite video editing tool, create an animated GIF or a Flash movie to publish it on your site.
Hier können Sie die Update-Infos für dieses Programm abonnieren. Sie erhalten dann zukünftig eine Benachrichtigung per Email, sobald ein Update zu diesem Programm eingetragen wurde.
Um die Update-Infos zu abonnieren, tragen Sie nachfolgend Ihre E-Mail-Adresse ein. Sie erhalten dann eine E-Mail mit einem Link, über den Sie das Abo bestätigen müssen.
Sie können die Update-Infos jederzeit wieder abbestellen. Hierzu finden Sie am Ende jeder E-Mail mit Update-Infos einen entsprechenden Link.
Dieser Service ist für Sie vollkommen kostenlos.

Kommentare zu FaceMorpher Lite
Bisher gibt es keine Kommentare zu diesem Programm.
Selbst einen Kommentar schreiben