Kategorie Grafik / Editoren (Filter: Freeware)
PhotoPad Foto-Editor Kostenlos
Version: 4.14 | Freeware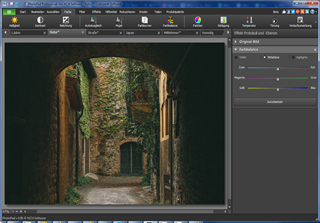 PhotoPad Foto-Editor Kostenlos fuer Windows zur Fotobearbeitung. Sie koennen damit Bilder bearbeiten, Effekte und Filter hinzufuegen und mehr. Zur Bildbearbeitung gehoeren hier beispielsweise Zuschneiden, Drehen, Groessenaenderung, usw., Effekte wie Verzerrung, Cartoon und mehr. Sie haben ausserdem die Moeglichkeit, Farbton, Saettigung und Helligkeit zu aendern, ein Mosaik zu erstellen oder ein Stickmuster auszudrucken.
Mehr…
InPixio Free Photo Editor
Version: 8.5 | Freeware
InPixio hat Free Photo Editor entwickelt, eine kostenloses Bildbearbeitungssoftware für alle, die Fotos ganz einfach in professionelle Bilder verwandeln wollen.
Mehr…
PhotoPad Foto-Editor Mac kostenlos
Version: 3.23 | Freeware
PhotoPad kostenlos zur Bildbearbeitung auf Mac OS X. Ganz leicht Bilder bearbeiten und Effekte und Filter hinzufuegen. Sie koennen Zuschneiden, Drehen, die Groesse aendern sowie Effekte hinzufuegen, Farbanpassungen vornehmen oder kreativ sein und ein Mosaik erstellen, ein Foto in eine Malen-nach-Zahlen-Vorlage oder ein Stickmuster umwandeln und vieles mehr. Dieses Programm zur Bildbearbeitung bietet viele leistungsstarke Tools.
Mehr…
Outliner
Version: 2.0 | Freeware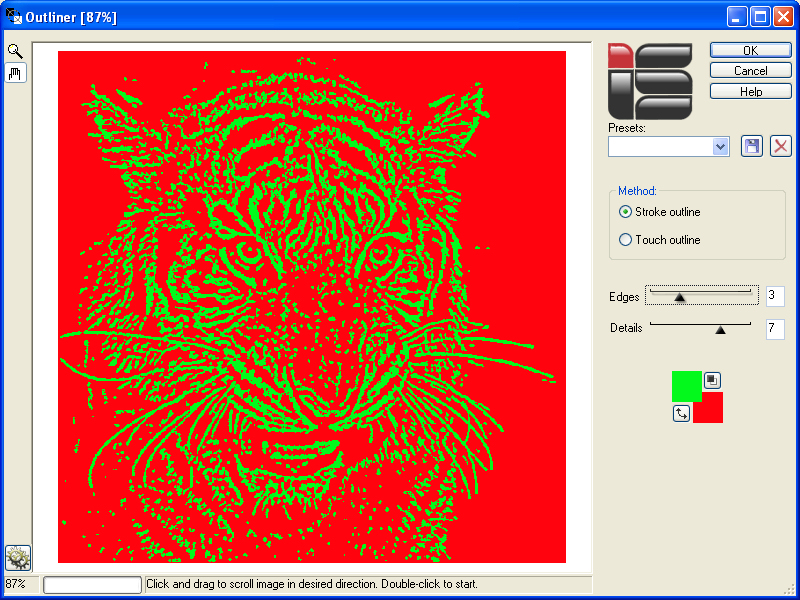 It gives a user the easiest way to get image contouring with desired quality. This plug-in just picks out various edges making them more expressive. The user can easily manage range of edge appearance in the processed image getting fantastic artistic effects. ImageSkill Outliner can be very useful plug-in for web designers creating graphic icons and for artists dealing with engraving. ImageSkill Ouliner is FREEWARE. http://www.imageskill.com
Mehr…
Photo Toolkit
Version: 1.7 | Freeware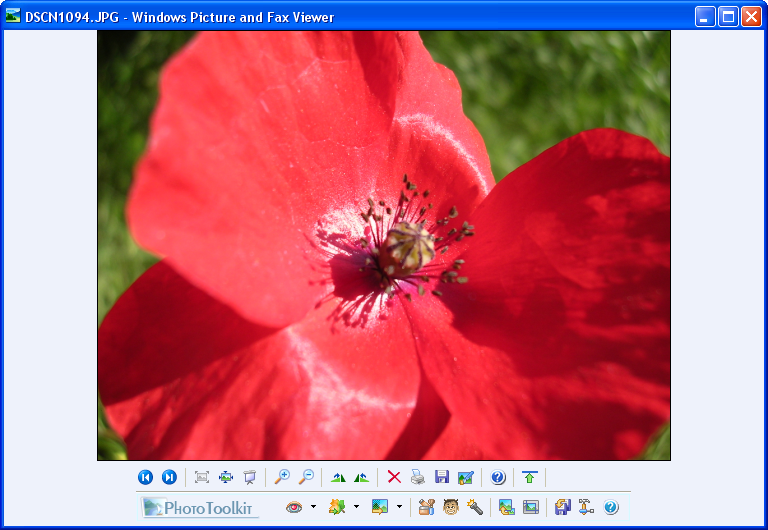 Photo Toolkit is a free powerful and easy-to-use program to improve your digital images. With only a few clicks, you can automatically correct colors and remove red eye from a number of photos, retouch portraits, whiten teeth, add lighting effects, straighten and resize photos and more, directly from the standard Windows picture viewer. Correct your shots while viewing them.
Mehr…
Any#BmpToJpg
Version: 1.1 | Freeware
Any#BmpToJpg ist ein Kommando zum Konvertieren von bmp Dateien
in jpg Format.
Aufruf:
Any#BmpToJpg file_filter
oder mit einer Logdatei
Any#BmpToJpg file_filter > Any#BmpToJpg.log
Beispiel:
Any#BmpToJpg *
Bemerkungen:
Nur Dateien mit der Erweiternung .bmp werden konvertiert.
Die bmp-Dateien werden nicht gel?scht.
Die erzeugten Dateien bekommen den gleichen Namen aber mit der Erweiterung .jpg
Mehr…
Color Correction Wizard
Version: 1.1 | Freeware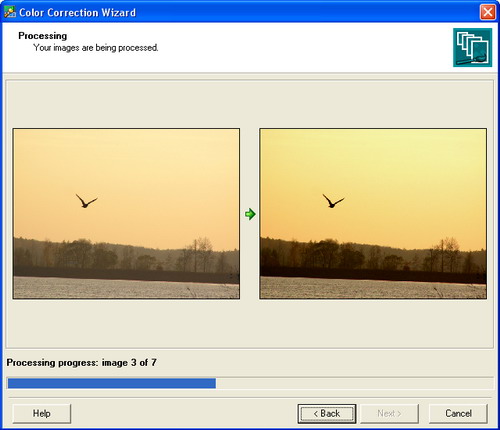 Color Correction Wizard is an all-in-one batch color correction tool. The program effectively solves contrast and color balance problems turning dull digital images into splashes of color. Moreover, the program gives you a unique opportunity to impose one or several parameters of a chosen image (color, contrast and brightness) upon other pictures giving multiple images the same look and feel.
Mehr…
Wood Workshop
Version: 1.0 | Freeware
The Wood Workshop is a free seamless texture editor that specializes in seamless wood textures. Over 100 fully editable preset textures come included in the Wood Workshop. All textures are resolution-independent, allowing designers to simply re-render their textures at different sizes as requirements change. The program contains well over 200 sliders and selectable options, making it the most powerful wood texture generator you'll ever use.
Mehr…
Cartoonist
Version: 1.3 | Freeware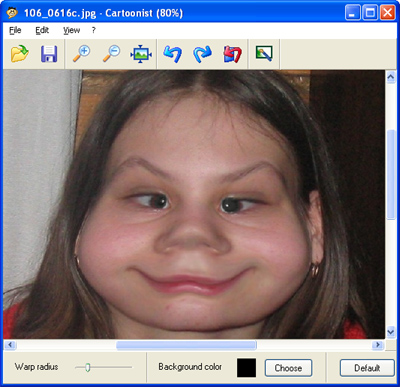 Cartoonist is an image editing tool that lets you add a touch of humor to your digital pictures. This compact and easy-to-use program enables you to create sophisticated caricatures applying warp effects in a matter of minutes. Whether you are a professional designer or a computer novice looking for some fun, make the best use of your creativity or just relieve stress by warping images of your friends and celebrities!
Mehr…
Light Artist
Version: 1.5 | Freeware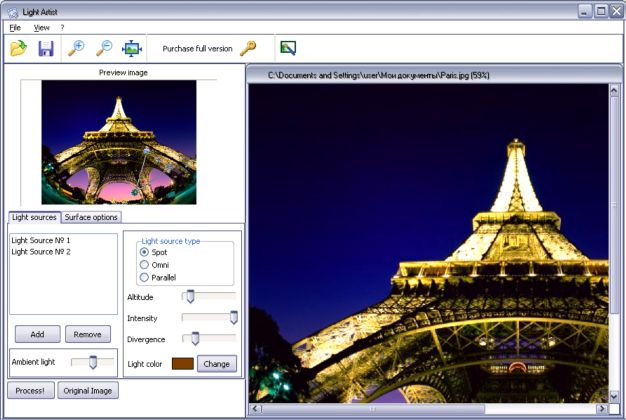 Light Artist is a unique image editing tool that lets you add realistic lighting effects to your photos and create 3D effects. By adding multiple light sources of different color and intensity, you can create various ambient illumination effects, boost color, make dull and unexciting tints warmer or brighter, highlight any image areas and modify the color scheme of an image changing the overall impression it produces.
Mehr…
Orange Photo Editor
Version: 1.00 | Freeware
Orange Photo Editor is an easy-to-use program that allows you to view, manage and publish photos on your website. It create thumbnails, resize photos and generate HTML pages.
Mehr…
Wacker Art RGB Color Mixer
Version: 1.4 | Freeware
Mit dem RGB Color Mixer Applet ist es m?glich, die einzelnen Farbwerte mit 7 Schiebereglern oder per Zufallsgenerator einzustellen. Der Farbmischer zeigt die ausgew?hlte Farbe und die dazugeh?rende Komplement?rfarbe an. Im Download ist eine HTML-Datei vorhanden, die es erm?glicht das Applet ?ber einen Browser zu Starten. Zur Darstellung ist ein Browser mit Java Plugin erforderlich.
Mehr…