Kategorie Grafik / Konverter & Optimierer (Filter: Freeware)
Mobile Photo Enhancer
Version: 1.3 | Freeware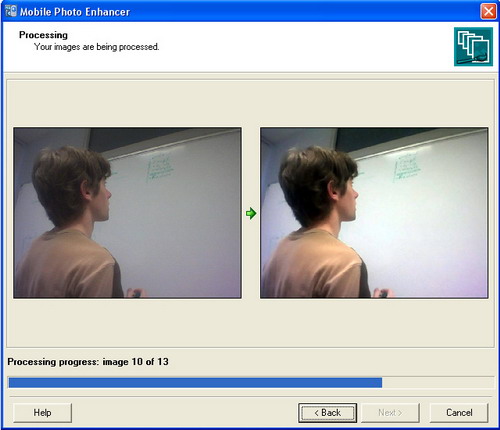 Mobile Photo Enhancer corrects typical defects found in camera phone photos - Jpeg artifacts and digital noise, poor sharpness and color and vignetting (dark corners) problem. The program effectively corrects photos with pronounced defects in no time at all. The product is a two-in-one software package: it contains a tool for processing images one at a time as well as a tool for simultaneous processing of batches of images.
Mehr…
Avi4Bmp
Version: 2.4 | Freeware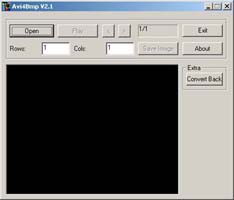 Mainly a conversion tool which reads Avi,Gif and Mpg and converts them to an unique Bmp or Png with all frames from the original animation.
Really handy for game programming. Convert-back feature allow the user to get back the original animation after, for example, the application of filters or retouch.
Perfect for BlitzBasic's LoadAnimImage() function as well as other game developing software which read animated images from a strip or a grid.
Mehr…
JLSoft Picture Resizer
Version: 2.3 | Freeware (10,00 EUR)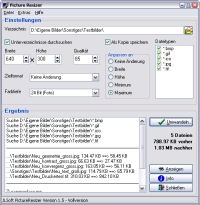 JLSoft Picture Resizer ist ein Tool, um mehrere Bild-Dateien (*.jpg, *.gif, *.tif, *.bmp, *.ico, *.png, etc) in eine andere Auflösung oder ein anderes Format zu konvertieren. Dies ist besonders für Benutzer einer Digitalkamera sinnvoll, um die Bilder bestmöglich zu archivieren. Zusätzlich sind weitere Funktionen, wie das automatische Drehen oder Einfügen von Copyright-Texten möglich.
Mehr…
Jpeg Enhancer
Version: 1.8 | Freeware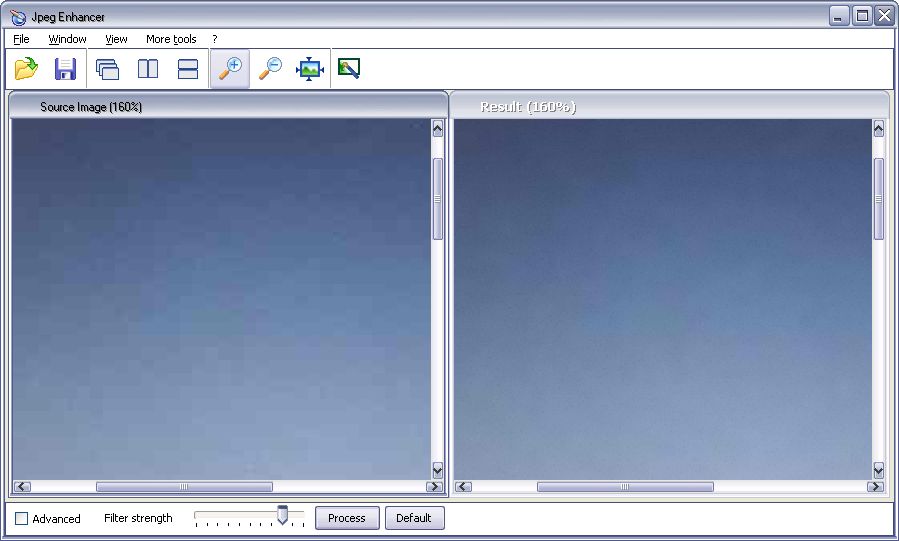 Jpeg Enhancer is an advanced application that lets you remove JPEG artifacts and blotchy look from JPEG images, making them look as if saved with a 100% (super-fine) quality. It is based on advanced science-intensive technology. If you are a home user it will help you improve your digital photo quality. It is also a must-have for publishers, design studios and web pros to help repair over-compressed images supplied by their clients.
Mehr…
AquaSoft Barbecue
Version: 3.2.05 | Freeware (29,90 EUR)
Bearbeiten und optimieren Sie viele Digitalfotos gleichzeitig. Konvertieren Sie Ihre Bilder in eine anderes Format, verkleinern sie dabei, entfernen den Rotstich, fügen ein Wasserzeichen und Aufnahmedatum (EXIF) ein...und alles mit einem Klick. Weitere Funktionen: Mehrfachumbenennen, Makros aufzeichnen, Bildgröße ändern, Farbkorrektur, Bildeffekte, Stapelverarbeitung. Ideal geeignet für Bilder von Digitalkameras. Liest und schreibt EXIF-Daten.
Mehr…
Free Online PDF to DWG Converter
Version: 10 | Freeware
Kostenloser Online-Konverter, der erlaubt, PDF in editierbaren DWG-Dateien umzuwandeln. Außerdem können Sie den Text nach der Umwandlung verändern und dieses Feature ermöglicht einfachere Arbeit mit der erhaltenen Datei. Dank der Ebenheit der Bogenobjekte wird die maximale Identität der Zeichnungsobjekte erreicht. Erfordert keine CAD-Anwendungsinstallation!
Mehr…
Soft4Boost Document Converter
Version: 5.0.3.623 | Freeware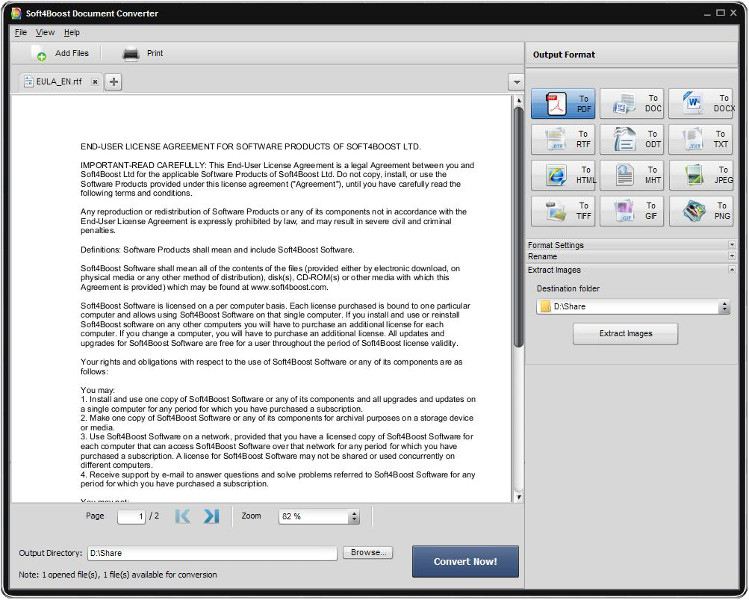 Soft4Boost Document Converter ist eine einfach zu bedienende Software-Anwendung entwickelt, um verschiedene Arten von Dokumenten anzeigen und konvertieren. Es liest Text-Dateien und konvertiert sie in PDF, DOC, DOCX, RTF, TXT, ODT, HTML, JPEG, TIFF und andere Formate. Mit Soft4Boost Document Converter können Sie Ihre PDF-Dateien mit einem Passwort zu schützen, speichern Textdateien als Bilder im JPEG- oder GIF -Dokumente in HTML.
Mehr…
Online PDF Splitter
Version: 1.0 | Freeware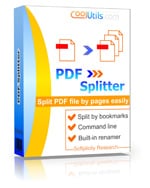 Online PDF Splitter offers you a chance to split multi-page PDF files into pages online absolutely free. You do not have to install anything on your pc, it's safe. You upload your PDF files and get the resulting PDFs in just a few seconds. Online PDF Splitter is truly user-friendly. It requires 2 clicks to split any multi-page PDF file. Try it now, it's free to everybody.
Mehr…
Online PDF Combine
Version: 1.0 | Freeware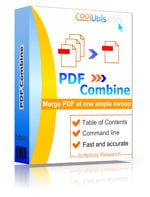 Online PDF Combine offers you a chance to combine several PDF files into one PDF online absolutely free. You do not have to install anything on your pc, it's safe. You upload your PDF files and get the new combined file in seconds. Online PDF Combine is truly user-friendly. It requires 2 clicks to combine up to files PDF files. Try it now, it's free to everybody.
Mehr…
Online Image Converter
Version: 1.3 | Freeware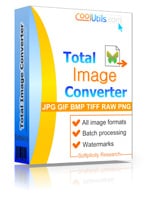 Convert your TIFF, JPG, PNG, ICO, BMP images absolutely free. Get any picture in a new graphic format in seconds - no need to install anything on your pc. The converter works online; it's a safe choice. Are your photos too large? With Online Image Converter you may resize and rotate your images as well. It's very easy to use. Browse for your image, select target format and download the resulting file on your pc. Safe, easy-to-use and free!
Mehr…
Free Image Convert and Resize
Version: 2.1.16 | Freeware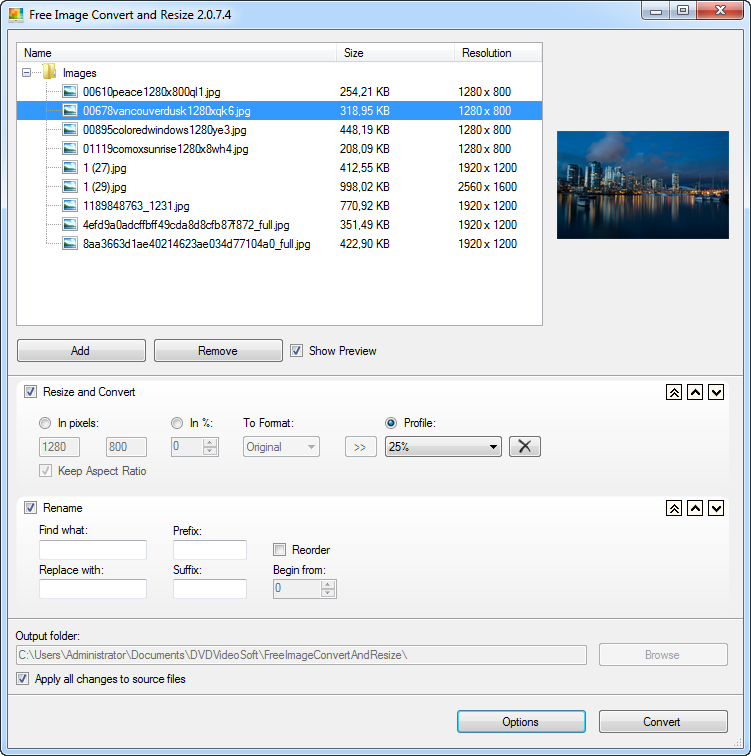 Free Image Convert and Resize ist ein kompaktes und gleichzeitig leistungsstarkes Programm zur Batch-Bearbeitung von Bildern. Das Programm kann sowohl einzelne Bilder, als auch Ordner mit Bildern in verschiedene Formate umwandeln, umbenennen, durchnumerieren und Größe entsprechend den eingestellten Parametern ändern. Unterstützte Formate: jpg, png, bmp, gif, tga, pdf. Es enthält keine Spyware oder Adware. Es ist komplett kostenlos und gefahrlos.
Mehr…
Light Image Resizer
Version: 5.0.7.0 | Freeware (19,99 EUR)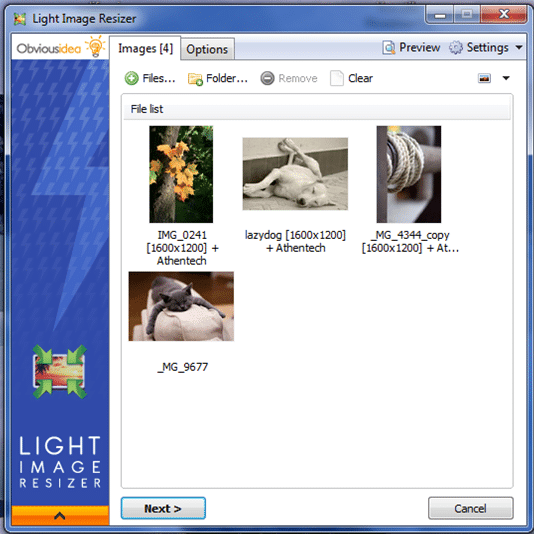 Resize and convert images into different formats fast and easy to use freeware. With Image Resizer you'll be able to send photos via email, move them from one folder to another and free space on your hard drive. This program will convert any image into many formats, even Ipod photo and video, Sony PSP, HDTV and DVD. The reduced file size enables faster loading, better management of the pictures and saves space.
Mehr…