Kategorie Grafik / Screen Capture (Filter: Freeware)
FlashBack Express Screen Recorder
Version: 5.12.0.3858 | Freeware
Free screen recorder for creating compact, high quality AVI and Flash movies with sound. Includes one-click uploading of movies to YouTube, Blip.tv and Revver. Based on the acclaimed FlashBack screen recorder. Radical technology means a perfect capture of your Windows desktop with minimal impact on PC performance. Now includes Vista Capture Driver and webcam capture. Download now and be making movies in minutes.
Mehr…
MouseZoom
Version: 1.5 | Freeware
Mit dieser kostenlosen Software können Sie Ihre Maus als Colorpicker, Bildschirmlupe und Abstandsmesser in jedem Windows-Programm verwenden. MouseZoom stellt die aktuelle Position des Mauszeigers vergrößert bis zum 50-fachen dar und zeigt die Farbwerte (RGB, HEX, HLS, CMYK) und absolute+relative Position des Punktes an, auf den der Mauszeiger zeigt. MouseZoom ist Freeware und nur 28 KB groß.
Mehr…
SRecorder
Version: 2.0 | Freeware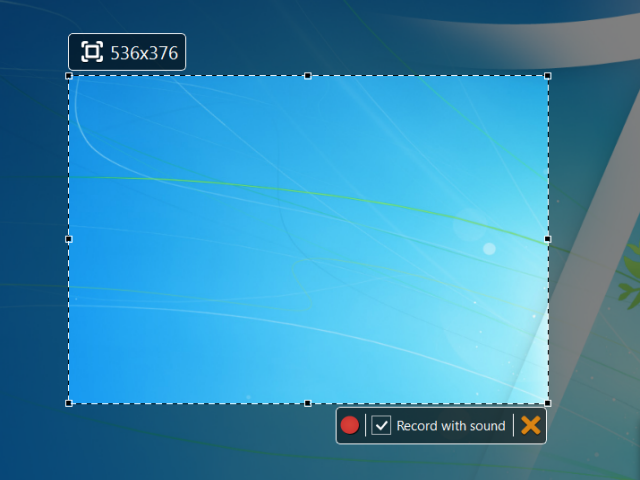 SRecorder ermöglicht es Ihnen, Video mit dem Audio-Stream in hoher Qualität aufnehmen und Lehrvideo mit Tonbegleitung erzeugen. SRecorder speichert die aufgezeichnete Video-Datei auf Ihrem Computer oder auf unserem Server. Letztlich sparen Sie Platz auf Ihrer Festplatte und können Sie problemlos ein Video- Detei von überall in der Welt öffnen.
Mehr…
Free Webcam Capture
Version: 4.4.5 | Freeware
Free Webcam Capture is free webcam recorder program that can webcam audio and video while chatting with your friends or in a conference call. Its cutting-edge technology allows you to record full screen, a window or a specific part of the screen. You can record the video chatting on Skype, MSN and any other software alike, then you can save them on your harddisk, send them to your friends or clients, or burn them to CD/DVD discs as second copies.
Mehr…
Free Screen Video Recorder
Version: 2.5.21 | Freeware

Bildschirmaktivität aufnehmen und alles auf dem Bildschirm inklusive Fenster, Objekte, Menüs, Vollbild und rechteckige Bereiche mit Free Screen Video Recorder einfangen. Sie können die Datei speichern, in die Zwischenablage kopieren oder direkt aus dem Programm ausdrucken. Eingebaute Bearbeitungstools enthalten Basisfunktionen wie Größenänderung, Beschneiden und Drehen. Das Programm speichert Videos als AVI und Bilder als BMP, JPEG, GIF, TGA,PNG.
Mehr…
Jet Screenshot
Version: 3.1 | Freeware
Jet Screenshot ist ein tolles Programm, mit dem ihr in wenigen Sekunden Screenshots via Internet mit anderen teilen könnt. Es erlaubt euch, schnell einen Bildschirmschnappschuss anzufertigen, ihn zu bearbeiten und ins Web zu stellen, so dass ihr sofort einen Link zu dem gerade gefertigten Bild anderen zur Verfügung stellen könnt.
Mehr…
GetColor! - Color Picker
Version: 1.01 | Freeware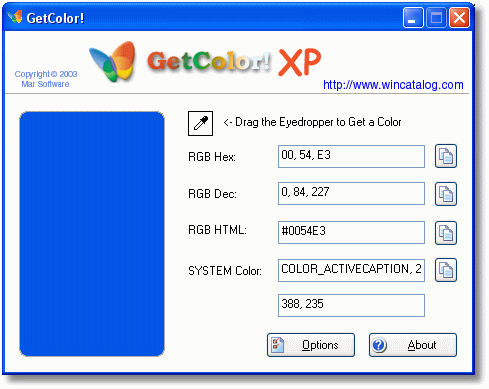 GetColor! allows you to retrieve the color of any pixel on your desktop easily: just move the eyedropper tool into any place of your desktop and GetColor! will show you the color value!
This handy color-picker tool helps you to know the exact value of any color on your desktop. The color value is diplayed in 4 main forms: RGB, HEX, HTML and WinAPI constant (COLOR_*), and you are able to copy one or all of them to clipboard.
Mehr…
Screen Capture + Print
Version: 1.20 | Freeware
Screen Capture + Print ist ein Freeware-Programm für Windows? und kann den Inhalt des Bildschirms oder eines Teilbereiches davon in die Zwischenablage kopieren, direkt ausdrucken oder als Bild abspeichern.
Mehr…
VMN Toolbox
Version: 4.25 | Freeware
VMN Toolbox is a lightweight application that provides you with handy utilities designed to make your life easier on the Web. Screen Capture Tool: Capture anything on your screen in a snap. Sticky Notes Tool: Place sticky notes anywhere on your desktop. Color Picker Tool: Capture a fancy color on your screen. Magnifier Tool: Just select your magnification at 2x, 4x, 8x, and even 10x. Virtual Rulers:Quickly measure anything on your screen
Mehr…
Video Bug Recorder for BaseCamp
Version: 1.00 | Freeware
Screen recorder for BaseCamp. Record video from your screen and send it directly to your BaseCamp account with a few clicks. Intended for recording video bug reports. An easy way to record screencasts from your computer and upload them directly into a new or existing message in your BaseCamp account.
Mehr…
Bytescout Screen Capturing
Version: 2.00.47 | Freeware
Bytescout Screen Capturing can record screen video to AVI video files. It allows you to easily capture full screen, region around the mouse cursor or selected rectangular area. Screen Capturing automatically saves screen recording as AVI video file. The screen recorder also supports audio recording which can be disabled in Settings dialog window if required. Thus, you can capture screen video to AVI with sound.
Mehr…
easy Whiteboard
Version: 2.9.198 | Freeware
Schreiben, skizzieren und zeichnen Sie "auf" den angezeigten Bildschirminhalten, denn ein Bild sagt mehr als 1000 Worte.
Mehr…