Kategorie Grafik / Screen Capture
Movavi Screen Capture
Version: 4 | Shareware (29,95 USD)
With Screen Capture 4 there's no need to use different programs for screencasting and game video capture. This software lets you record any kind of screen activity and provides high quality results. Record PC games, web surfing, video chats, or desktop video to create software tutorials. Save your recordings in all popular video and audio formats, prepare them for viewing on mobile devices, and share with your friends on YouTube and Facebook.
Mehr…
Any Capture Screen
Version: 3.50 | Shareware (24,95 USD)
Screen capture software that can capture and print your desired anything of screen such as active window, menu rectangle, square, ellipse, circle etc., even surfaces of DVD players and video games, long pages with a vertical scroll bar. Copy it to the clipboard, the printer and save it in BMP, JPEG,GIF, PNG, TIFF formats automatically. Moreover, You can editing the image, and undo/redo 10 steps.
Mehr…
Bandicam Screen Recorder
Version: 4.0.0.1331 | Shareware (39,00 USD)
Bandicam ist ein sehr leistungsfähiges Programm für Aufzeichnungen von Spielen/Bildschirm und Videos in hoher Qualität bei minimaler Größe, die direkt und ohne Encodieren auf Seiten wie YouTube hochgeladen werden können. Dank Hardware-Beschleunigung können Nutzer 4K UHD-Videos bis 3840x2160 erstellen und verschiedene Funktionen wie geplante Aufzeichnung, animierten Mausklick-Effekt, Linien zeichnen und Zusammenfügen von Webcam-Videos nutzen.
Mehr…
Auto Screenshot Maker
Version: 3.0 | Shareware (14,95 USD)
Auto Screenshot Maker is a screen capture tool for Windows users. In just a single click or hotkey press, you can make a perfect screenshot for a website, user manual, or a presentation. The tool captures full screen, active window, selected region - anything! The captured image can be saved to most popular formats, such as BMP, JPEG, PNG, or saved as Microsoft Word document, which is really nice if you are writing the How-To document.
Mehr…
Free Screen Video Recorder
Version: 2.5.21 | Freeware

Bildschirmaktivität aufnehmen und alles auf dem Bildschirm inklusive Fenster, Objekte, Menüs, Vollbild und rechteckige Bereiche mit Free Screen Video Recorder einfangen. Sie können die Datei speichern, in die Zwischenablage kopieren oder direkt aus dem Programm ausdrucken. Eingebaute Bearbeitungstools enthalten Basisfunktionen wie Größenänderung, Beschneiden und Drehen. Das Programm speichert Videos als AVI und Bilder als BMP, JPEG, GIF, TGA,PNG.
Mehr…
ACA Capture
Version: 5.50 | Shareware (29,95 USD)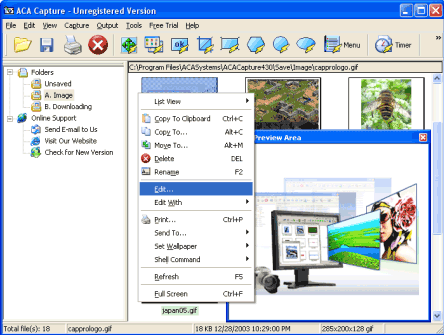 ACA Capture allows you to quickly capture screenshots including desktop, scrolling web pages, web images, menus and more. Getting started is as easy as pressing a hotkey. In addition, you can apply capture masks, including circular, rectangle and other shapes, Captures can optionally include the mouse cursor, or can automatically send the captured images to MS Office applications, such as Word, Excel, PowerPoint.
Mehr…
ScreenShot
Version: 1.0 | Demo (14,99 EUR)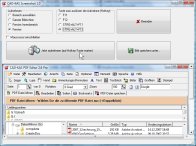 Erstellen Sie Ihre eigenen ScreenShots (Bildschirmschnappschüsse) sei es für eine Bedienungsanleitung, Dokumentation oder einfach nur um Inhalte, die sich ansonsten nicht speichern lassen würden zu erfassen und z.B. ausdrucken zu können. Mit ScreenShots können Sie alles was Sie am Bildschirm sehen quasi abfotografieren. Dabei können Sie den ganzen Bildschirm, nur einen frei wählbaren Teil oder ein Fenster "fotografieren".
Mehr…
12Ghosts Clip
Version: 9.70 | Shareware (12,99 USD)
Easily make screen shots of the whole screen or of single windows. Screen shots can be helpful to store information you come across. You may easily create pictures of what you see on the screen for a documentation about a website or a software program, for example. Screen shots will also help software support to better understand your problem. Just take a snap shot of the problem area and attach it to your e-mail.
Mehr…
CrossGL SnapDraw
Version: 3.15 | Shareware (29,95 USD)
Screen Capture software with High Fidelity Vector Graphics Annotation Tools and Effects. Capture anything, even clean image of transparent Aero Glass windows. Rotate and crop images, add reflections, shadows, 3D perspective and magnifier lens effects. SnapDraw is great for creating a professional looking web-graphics. It is also a very handy for documenting your software projects or for providing a user support.
Mehr…
Simple Screenshot Capture Software
Version: 7.0 | Shareware (19,99 USD)
This software offers a solution to users who want to take screenshots. The software has options to capture the entire screen, the active window or a user-defined rectangle. Screenshots can be saved as JPG or BMP files and there are options to use date and time or a user-defined filename. There are also options to overwrite existing files or to rename by adding a number to the existing filename.
Mehr…
1AVCapture
Version: 1.9.9.00 | Shareware (45,95 EUR)
Erfassung können Sie etwas hören oder sehen Sie auf Ihrem PC. Es spielt keine Rolle, ob Sie das gewünschte Video aus, um Ihre Webcam, dem PC-Bildschirm, aus dem TV-Tuner, oder von innen Websites oder Medien-Player. Auch eine leistungsfähige Audio-Recorder.
Mehr…
MAST ClipPrinter
Version: 1 | Shareware (9,00 EUR)
MAST ClipPrinter ist ein einfaches, aber effizientes Tool um Screenshots (auch Hardcopy, Screencapture genannt) zu erstellen. Beim Drücken einer sogenannten Hotkey-Taste (zb. Print oder F10) können Sie einen beliebigen Rahmen Ihres Bildschirmes ausdrucken, kopieren, speichern oder auch editieren. Dabei wurde stets Wert auf einfache Bedienbarkeit und die wichtigsten Features gelegt. Vor allem für Firmen und Büros ist Effizienz sehr wichtig.
Mehr…