Kategorie Heim & Hobby / Gesundheit & Ernährung (Filter: Shareware)
Gesundheits-Master
Version: 4.11 | Shareware (33,95 EUR)
Gesundheits-Master wird alles rund um Ihre Gesundheit erfassen und verwalten.Erfasst werden alle Arztbesuche mit Diagnose- und Laborwerten, Befunden, Medikamenten, ob die Medikamente hilfreich waren oder ob es Nebenwirkungen gab, Überweisungen zu Fachärzten, Kosten für Arzt und Medikamente.Ebenso können Sie Ihre häusliche Blutdruck-, Diabetes- oder Körpergewichtskontrolle erfassen und auswerten.
Mehr…
Energy Diary
Version: 1.10 | Shareware (19,90 EUR)
Change your mind, Change your body, Change your life. Main goal of program is a logging food and activities during day. You can define goal and you can check its fulfillment.
Mehr…
Beauty Makeover
Version: 2.0 | Shareware (9,95 USD)
Beauty Makeover walks you step by step in learning how to makeover your body and face. For example: complete skin care, how to create a perfect set of smoky eyes, creating symmetry on the face when needed to correct imperfections, body wrapping techniques, South Beach Diet recipies, BMI Calculator, number of burned calories for various activities.It also contains animated workouts and a 20 Day Low Calorie Diet Planner.
Mehr…
Body Mass Index Calculator
Version: 1.1 | Shareware (19,95 USD)
BMI Calculator is an up-to-date software program used to calculate Body Mass Index. The program supports Windows XP, 2000, ME, NT, 98. Choose English or Metric system at your discretion, enter your height and weight into BMI Calculator, and the program calculates your Body Mass Index, which shows the proportion of your weight to height.
Mehr…
Basal Metabolic Rate Calculator
Version: 1.1 | Shareware (19,95 USD)
Basal Metabolic Rate Calculator is a software program used to count the number of calories required to maintain your current weight. BMR Calculator supports both English and Metric systems for your convenience. To calculate the number of calories you need per day, input only three figures: your age, height and weight. The program calculates BMR automatically, and in a second you will know the number of calories your body needs per day.
Mehr…
Aromatherapie und ätherische Öle
Version: 2.6 | Shareware (15,50 EUR)
Aromatherapie Software bietet Informationen über Ätherische Öle, Trägeröle, Indikationen, Bach-Blüten, Reflexzonen der Füße, sowie Vorsichtsmaßnahmen in der Anwendung der Aromatherapie. Ätherische Öle sind in der Wirkung oft stärker wie allgemein angenommen. Nach dem heutigen Wissen haben diese Öle einen weiten medizinischen Wirkungsbereich. Je nach Öl wirken sie bei Pilzen, Bakterien, Viren, Entzündungen und sind oft starke Antioxidanten.
Mehr…
BMI Calculator (Body Mass Index)
Version: 1.0 | Shareware (19,95 USD)
Body Mass Index is used to indicate if you are normal, overweight, obese, or underweight. To calculate your BMI, just download BMI Calculator and enter your height and weight. BMI over 25 is associated with high risk for health problems. If your BMI is 25 or over, it's high time to begin a healthy eating and exercise program. You may also want to see your doctor for a complete evaluation. Download BMI Calculator now.
Mehr…
BMR (Basal Metabolic Rate) Calculator
Version: 1.0 | Shareware (19,95 USD)
Basal Metabolic Rate is the number of calories your body needs when you are resting. Multiplied by your activity level, Basal Metabolic Rate lets you estimate how many calories you need to lose weight or maintain your current weight. BMR Calculator lets you calculate Basal Metabolic Rate without learning any math formulas. Just select your gender and activity level, enter your age, weight, and height. Download BMR Calculator now.
Mehr…
JX Ovulation Calendar
Version: 2.4.278 | Shareware (19,95 USD)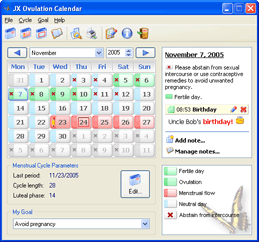 JX Ovulation Calendar is an easy and user-friendly ovulation calculator for women. The program calculates your fertile days and considers your menstrual cycle's possible fluctuations to help you avoid unwanted pregnancy or find out the most prospective days for conceiving a boy or girl. The program will notify you of important changes in your menstrual cycle.
Mehr…
Homöopathie
Version: 5.4 | Shareware (15,50 EUR)
Homöopathie enthält: eine ausführliche Materia Medica, nach Heilmitteln vorsortierte Krankheiten, Zellsalze, Zungendiagnostik und Zusammenfassungen mit Illustrationen für Auge, Herz, Haut, Verdauungssystem, Muskeln, Knochen, Nerven und Gemüt. Die Shareware gibt einen direkten Einblick mit freiem Zugang zu 50 Krankheiten und 50 Heilmitteleintragungen. Registrierung gibt Ihnen Zugang zu über 400 Krankheiten und Symptome und mehr als 430 Heilmittel.
Mehr…
Naturheilkunde
Version: 4.3 | Shareware (20,00 EUR)
Naturheilkunde ist eine umfassende Datei über Alternative Medizin! Die Sharewareversion enthält ausführliche Informationen von über 20 Krankheiten und Kräuter (fast alle Anfangsbuchstaben A), Remedie Databanken, Pflanzentabellen und Artikel. Registrierung ermöglicht den Zugang zu allen 260 Krankheiten, 500+ Kräuter, 70 homöopathische Heilmittel, Farbtherapien, Ernährung, Fußkarte der Reflexologie, Diagnostische Hinweise und mehr!
Mehr…
DDxHub Differential Diagnosis Hub
Version: 4.1.1 | Shareware (69,99 USD)
DDxHub is a concentrator that holds a lot of disease descriptions. DDxHub is useful when you try to find a right diagnosis by comparing several different possible diagnoses. You may enter your own disease definition into DDxHub repository and share the disorder descriptions with other DDxHub users around the world. In turn, you will be updated with disorder descriptions from other DDxHub users.
Mehr…