Kategorie Heim & Hobby / Persönliche Finanzen
Zuzahlungs-Master
Version: 2.00 | Shareware (21,95 EUR)
Zuzahlungs-Master ist ein Programm, mit dem Sie die neue Praxisgebühr beim Arzt oder die fälligen Zuzahlungen bei rezeptpflichtigen Arzneimitteln, Krankenhausaufenthalten, Massagen usw. erfassen, verwalten, berechnen und überwachen können. Niemand muss endlos zuzahlen. Erstellen Sie im Programm anhand Ihres Bruttoeinkommens Ihre persönliche Belastungsgrenze.
Mehr…
Simple Home Money Management 2008
Version: v2008.1 | Shareware (29,95 USD)
Simple Home Money Management 2008 will help you to closely monitor and control your spending habits, credit cards, bill payments and much more. Provides a huge number of income and outgoing categories so you can see where your money goes. You can download your bank statements via QIF v7 format and it auto-codes the transactions for you making your data entry almost redundant. Simple Home Money Management provides easy to understand core reports
Mehr…
My Budget Keeper
Version: 1.1 | Shareware (24,95 USD)
Earning money and having it is not the same! Careless spending and lack of budgeting skills plague millions of families worldwide. My Budget Keeper will help you budget and track all your expenses in order to put you on the path to financial stability. It's compact, brainlessly simple and extraordinary effective. The program can be used both as a personal expense tracker and family budgeting tool. Get your free trial version now!
Mehr…
APSW Budget Planner V3 Pro
Version: 3.0.1.35 | Shareware (19,99 USD)
Learn how to budget effectively to reduce your debt and increase your liquid funds. Features include a loan and mortgage calculator with 'what-if' multiple scenario planning, a loans and savings target goal tracker, due-dates and reminders chart, notes, reporting and graph modelling, internal web browser, context sensitive online help, auto store functionality and a fully customizable categories menu. Real budgeting, real returns!
Mehr…
APSW Budget Planner
Version: 2.1 | Shareware (12,99 USD)
The Budget Planner V2.0 is a real budget manager! You don't have to calculate a thing. The Budget Planner is fully customizable and it allows you to add any item description to your budget with any amount and within any timeframe you choose, weekly, fortnightly, monthly, quarterly or yearly, then generates a budget report for you to learn from or live by.
Mehr…
Budget
Version: 1.7 | Freeware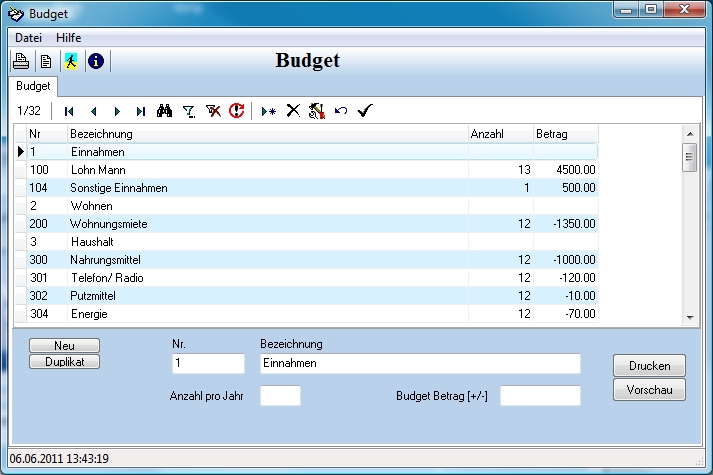 Mit diesem Programm kann schnell und einfach ein Budget erstellt werden.
Mehr…
APSW Budget Planner V4 Enterprise
Version: 3.3.19.0 | Shareware (25,99 USD)
Track your budget by comparing your static budget against your actual budget, with the option of adding in your start balance and choosing any month from which to start your balance. Includes: due dates, reminders and notes, check and bill tracking with checkboxes for items paid, bill numbers and references, plus a multi functional reports menu packed with customizable features, graphs and progress charts.
Mehr…
CreditWin Home
Version: 2.6 | Shareware (29,95 USD)
The hands-down, fastest way to Repair Your Credit- including any Credit Disputes and Scores ... in less than 5 minutes! (No more wasting time and money ) How to put your credit management on autopilot - a "bullet-proof" system that tells you which letters to send, which Credit Agency to send it too, and which day to send it! (Your CreditWin Family software does it all for you, automatically- 4 Users) Exclusive "fool proof" step-by-step method.
Mehr…
FrenzelSoft Stock Ticker
Version: 1.7.2.0 | Freeware
Tool zur Darstellung der prozentualen und monetären Änderung der von Ihnen ausgewählten Aktien sowie Ihres Depotstandes. Darüber hinaus können sie Alarme für das unter- bzw. überschreiten bestimmter Limits ihrer Aktien setzen und erhalten News zu den von Ihnen ausgewählten Aktien. Bei den von Ihnen ausgewählten Aktien erfolgt eine Verlinkung zur Yahoo! Finance Seite sodaß sie per Mouseclick ebenfalls Charts zu Ihren Aktien einsehen können.
Mehr…
Haushaltsbuch
Version: 2010 | Shareware
Das Haushaltsbuch fuer den privaten Gebrauch. Einfach zu bedienen. Mit allen ueblichen Funktionen wie Neueingabe, aendern, loeschen. Fuer jeden, der die Uebersicht in der Haushaltsfuehrung nicht verlieren will, lohnt sich das Programm.
Mehr…
Abgaben-und Steuerlast
Version: 1.02 | Freeware
Das Team des Finanzplans stellt auf dieser Webseite ein kostenfreies Computerprogramm zur Verfügung, mit dem jeder deutsche Bürger einmal selbst errechnen lassen kann, wie hoch seine Abgaben- und Steuerquote wirklich ist.
Es ist interessant und erschreckend zugleich, dass der Staat in vielen Fällen durch indirekte Steuern und Abgaben noch einmal soviel vom Bürger einbehält, wie durch die eigentlichen (direkten) Steuern.
Mehr…
zumTVöD
Version: 2005 | Freeware
Assistent für die Überleitung vom Bundes-Angestelltentarifvertrag (BAT) zum Tarifvertrag für den öffentlichen Dienst (TVöD) zum 1.10.2005. Die Ergebnisse werden rechnerisch und graphisch dargestellt. Überleitbar sind Angestellte und Arbeiter des Bundes, der Gemeinden und des KR-Gesundheitsdienstes in Ost und West. Es wird auch der Strukturausgleich ermittelt. Die Überleitungstarifverträge sind beigefügt.
Mehr…