Kategorie Kommunikation / Chat & Instant Messaging (Filter: Demo)
Akeni Secure Instant Messaging - Expert
Version: 2.1.117 | Demo (349,00 USD)
Akeni Secure Instant Messaging IM- Expert Edition, is a secured client/serve instant message solution for business, enterprise and corporate IM use. It supports standard messagingfeatures such as chat, conference (group chat), notification, and file transfer, and a feature rich client. If you require Active Directory integration, please use the Enterprise IM for Intranet or Akeni Social Networking Software
Mehr…
Jitbit Live Chat
Version: 3.1.6 | Demo (9,85 USD)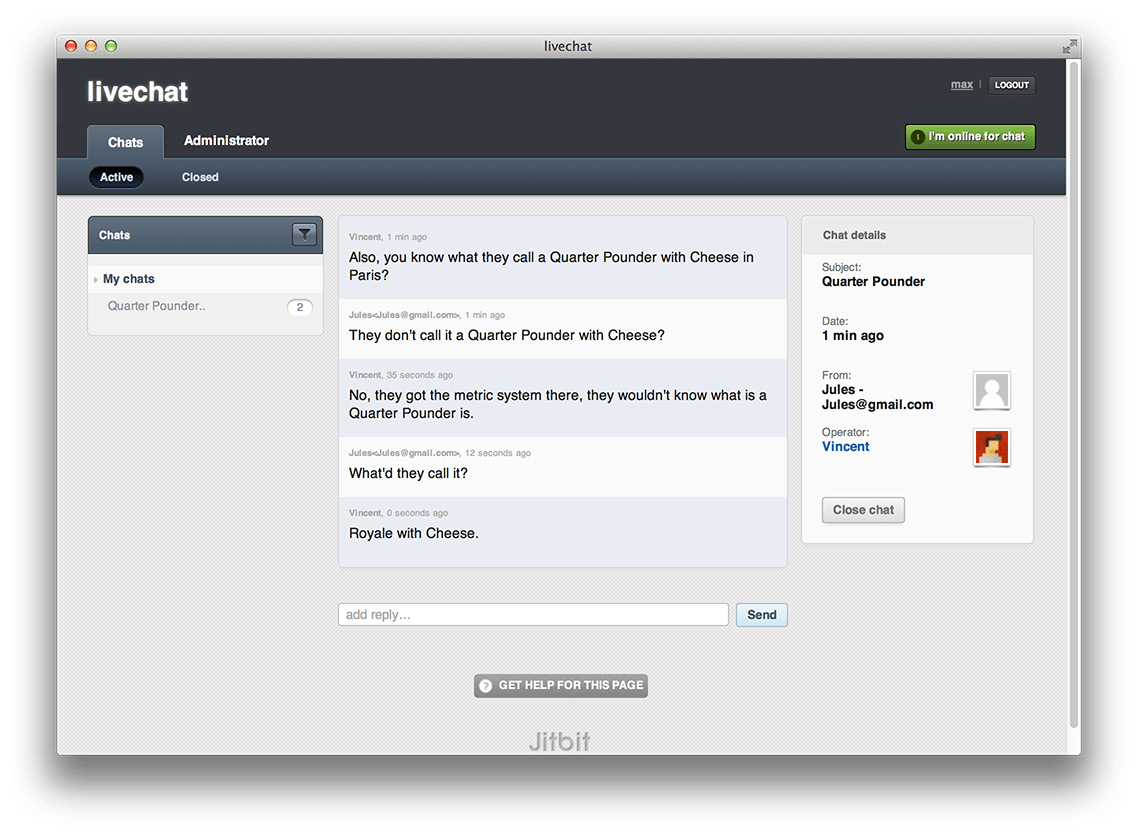 Jitbit Hosted Live Chat - ASP.NET-based live customer support software. Jitbit Live Chat is a hosted web based Live Chat software (also called "live support software" or "online chat software"). No need to install, accessible from anywhere as a Web application and simple to use. Jitbit Live Chat tracks and handles your customers' issues and saves your technicians' time.
Mehr…
Community Chat
Version: 6.0 | Demo (269,00 USD)
Community chat is a cross-platform web application with major engines (PHP/.NET) and video support. The latest version boasts of implementation ultra-modern features for flash based software, namely built-in whiteboard, instant messengers support, online games, MP3 player and more. Number of available plugins brings flexibility in chat configuration and allows meeting requirements of business and entertainment orientated websites.
Mehr…
Chat Zone
Version: 1.0 | Demo (999,00 USD)
ChatZone is a unique flash-based solution for on-site communication and entertainment. Incorporating all Flashcoms applications in one highly dynamic platform with desktop style interface, it brings all-sufficient solution to your website and delivers truly unmatched real-time communication and entertainment experience for site members.
Mehr…
Community Video Chat
Version: 5.0 | Demo (199,00 USD)
Community Video Chat is feature-rich, multi-user real-time video/audio/text flash application that will enable all possible modes of
communication for site users. It supports text messages with all text formatting tools available in other FlashComs applications, moderator
options, custom skins, message history, blacklist and more. Flexible video window positioning allows seeing all chat room users.
Mehr…
3D City
Version: 1.2 | Demo (400,00 USD)
3D City Environment for your Community & Dating Site, Seconf Life of the Members. If you have a community or dating site you need to have something to attract customers. Day by day. Having a real 3D City live chat software will bring you money. A second life model is very popular nowadays. Members are tired of ordinary chats, they need 3d communities, 3d dating sites, online 3d chats, 3d chat worlds. They need more reality to this. They need 3D.
Mehr…
Corporate Chat
Version: 6.0 | Demo (349,00 USD)
Corporate Chat is a text/video/audio communication solution to deploy at corporate networks. It combines all the advantages of flash architecture to provide secure approach in on-site or internal network communication. Corporate Chat easily fits into any segment of a system to provide the most effective way in communication. Cutting-edge functionality, clear-cut design, and advanced management options benefit businesses with great solution.
Mehr…
LIVECHAT Communicator
Version: 5.5 | Demo
LIVECHAT Communicator makes corporate instant messaging easy- Communicator is a multi protocol instant messenger- application is ICQ, MSN, Skype, Gadu-Gadu and LIVECHAT ready, allows sharing and sending files. Chats and conferences are SSL encrypted. Communicator helps in internal communication expanding all advantages of instant messaging with centralized shared chat history and IM communication monitoring.
Mehr…
SMSgate
Version: 3.0 | Demo (98,00)
SMSgate ist ein Programm zum professionellen Versenden von Kurzmitteilungen an große Empfängergruppen. Damit sind Sie in der Lage schnell und preisgünstig Ihre Kunden über Angebote Ihrer Firma zu informieren. Die Kundendaten werden dazu in Empfängergruppen gespeichert. Zu jedem Empfänger können neben dem Namen ,der Rufnummer , des Geburtstages und eines Aktivierungsdatums 6 Felder zur freien Beschriftung oder Gestaltung angelegt werden. Nach dies
Mehr…
ISSB Chat Server
Version: 1.1 | Demo (29,00)
ISSB Chatter besteht aus dem clientseitigem Chat-Applet und dem serverseitigem Chatserver. Der Chatserver wird auf einem MS Windows NT- Computer installiert und kann als Dienstprogramm ausgeführt werden. D. h., eine Useranmeldung am Server ist nicht notwendig. Das Dienstprogramm wird nach der Installation automatisch beim Systemstart gestartet.
Mehr…
GG Pro
Version: 5.5.3.89 | Demo
GG Pro makes corporate instant messaging easy and manageable- GG Pro is a multi protocol instant messenger (ICQ, MSN, Skype, Gadu-Gadu and Jabber ready). It offers shared contact list and chat history, SSL encrypted communication and chat statistics. GG Pro gives the company management an insight into instant messaging activity of their employees.
Mehr…
Sonork Instant Messaging Server
Version: 1.7.0-5 | Demo
Der Sonork Instant Messaging Server erlaubt es Firmen und geografisch verstreuten Arbeitsgruppen, ihr eigenes privates Instant Messaging Netzwerk zu erstellen und zu kontrollieren. Bis zu 50.000 gleichzeitigen Anwendern, SOCKS, Verschlüsselung bis zu 1024bit, zentrale Verwaltung, Access, MS-SQL, MySQL, Sybase, Oracle und Informix Datenbankzugriff. Client im Download mit eingeschlossen. Kostenlos für bis zu 5 Anwendern.
Mehr…