Virtual Modem
Dieses Programm wird Ihnen präsentiert von:
FabulaTech
5 Percy Street, Office 4
W1T 1DG London
United Kingdom
| | |
| --- | --- |
| E-Mail: | submit [at] fabulatech [dot] com |
| Telefon: | +44 (0)151 324-3249 |
| Telefax: | +44 (0)151 324-3249 |
| Website: | www.fabulatech.com |
| | |
| --- | --- |
| Kategorie: | Kommunikation / Dial Up & Verbindungs-Tools |
| Version: | 2.2.2 |
| Release-Datum: | 27.05.2016 |
| Größe: | 4,53 MB |
| Betriebssystem: | Win XP / 2003 / Vista |
| Anforderungen: | no special |
| Sprachen: | Englisch |
| Downloads: | 1 im Februar / 220 insgesamt |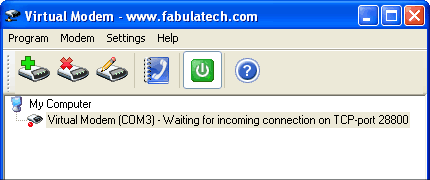 There are many old data-centric applications that, for historical reasons, use direct modem connections to exchange data between Client and Server. Nowadays, local and global TCP/IP networks have made the direct modem connection obsolete.

Here's why: When you use a direct modem connection, you need to have a physical modem installed on each PC that needs to exchange data. You also must use a physical phone line. This makes the line busy and may even be costly, if long distance calls are required. Modem transfers are also not secure. A hacker doesn't even need to have an access to your phone line. Your data can be easily intercepted with a remote phone line scanner. In a TCP/IP network, on the contrary, you can use the power of a VPN (Virtual Private Networking), SSH or any other secure tunnel to ensure privacy and security.

There are a lot of reasons to move from a direct modem connection to TCP/IP networking. But, how can you do this without investing thousands into new software? Virtual Modem from FabulaTech provides a cheap and effective solution. This program creates virtual modems that use your local network or the Internet instead of a physical phone line.

How does it work? The virtual modems are accessible to all the applications that work through a direct modem connection. Setup is no different from setting up a physical modem. You simply select a virtual COM port in your communication application settings. The application can control the virtual modem directly by sending AT commands or with TAPI (MS Windows Telephony API). Thus, Virtual Modem should work out-of-the-box for all your communication programs.

One of the very useful Virtual Modem features is its "Address Book". The Address Book allows you to transparently translate phone numbers into IP addresses. You don't even have to change the phone numbers in your communication programs. Just put them into your Address Book.

Hier können Sie die Update-Infos für dieses Programm abonnieren. Sie erhalten dann zukünftig eine Benachrichtigung per Email, sobald ein Update zu diesem Programm eingetragen wurde.
Um die Update-Infos zu abonnieren, tragen Sie nachfolgend Ihre E-Mail-Adresse ein. Sie erhalten dann eine E-Mail mit einem Link, über den Sie das Abo bestätigen müssen.
Sie können die Update-Infos jederzeit wieder abbestellen. Hierzu finden Sie am Ende jeder E-Mail mit Update-Infos einen entsprechenden Link.
Dieser Service ist für Sie vollkommen kostenlos.
Kommentare zu Virtual Modem
Bisher gibt es keine Kommentare zu diesem Programm.
Selbst einen Kommentar schreiben