Kategorie Kommunikation / E-Mail Clients (Filter: Shareware)
GcMail
Version: 10.0.7.0 | Shareware (21,95 EUR)
GcMail ist ein sehr flexibler Mailclient mit einer Vielfalt von Konfigurationsm
Mehr…
Outlook PST Repair
Version: 7.10 | Shareware (49,00 USD)
DataInfoTools Outlook PST repair tool is designed to repair corrupted Outlook PST files. It has the capability to fix all error regarding PST file and it can convert damaged PST file into new and error free PST file.
Mehr…
MONewsletter
Version: 2.61 | Shareware (15,50 EUR)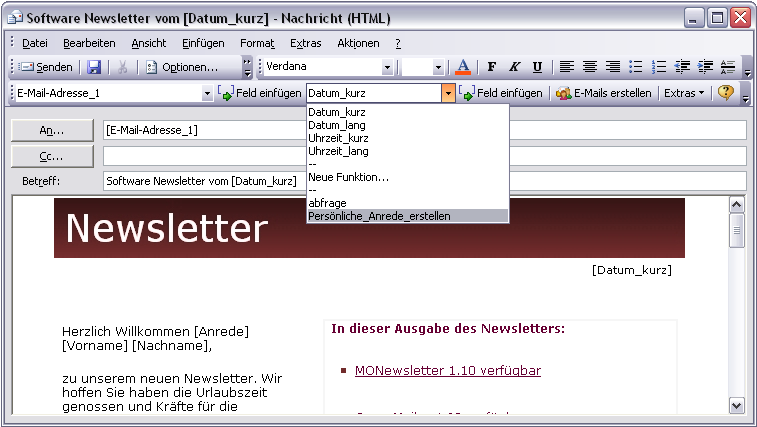 Mit dem Outlook Add-In MONewsletter können Sie einfach Newsletter, personalisierte Serien-Mails und E-Mails mit Kopien-Empfängern direkt in Microsoft Outlook im HTML- und Text-Format inkl. etwaiger Anhänge erstellen. Die Empfängerdaten können direkt aus den Outlook-Kontakten oder den öffentlichen Kontakten des Exchange-Servers übernommen werden. Die E-Mails lassen sich sofort, zu einem späteren Zeitpunkt oder nach und nach versenden.
Mehr…
Mac Mass Mailer
Version: 4.25 | Shareware (97,00 USD)
Full-featured mass mailer for the Apple Macintosh computer. It offers everything you need to create and maintain mailing lists for different needs and send mass messages directly form your Mac at a very high speed. It uses Apple Mail's message delivery framework to deliver your messages. This means that 100 percent of your email messages will get delivered properly to recipient mailboxes as if they were delivered by Apple Mail in a regular way.
Mehr…
Public WEB PST für Outlook
Version: 1.4 | Shareware (48,69 EUR)
Public Web PST für Outlook ermöglicht den mobilen Zugriff auf Outlook ohne Microsoft Server und ohne speziellen Provider. Mit diesem Addon für Microsoft Outlook kann man von jedem internetfähigem PC die Daten in Outlook, live über das Internet bearbeiten. Der Zugriff erfolgt lesend und schreiben. Auch E-Mails können so über das Internet mit Ihrem Outlook verschickt werden oder ein Gruppenkalender im Internet veröffentlicht werden.
Mehr…
RoboMail Mass Mail Software
Version: 4.2.1 | Shareware (94,50 USD)
RoboMail is a comprehensive mass mail software, which has a built-in e-mail server to send out e-mail without using ISP's server. You can prepare personalized e-mail easily. You can send newsletter, product release, and promotion to customers easily and stands out from tons of junk mails. Enjoy email marketing with RoboMail and explore business opportunities.
Mehr…
Newsletter Software SuperMailer
Version: 10.33 | Shareware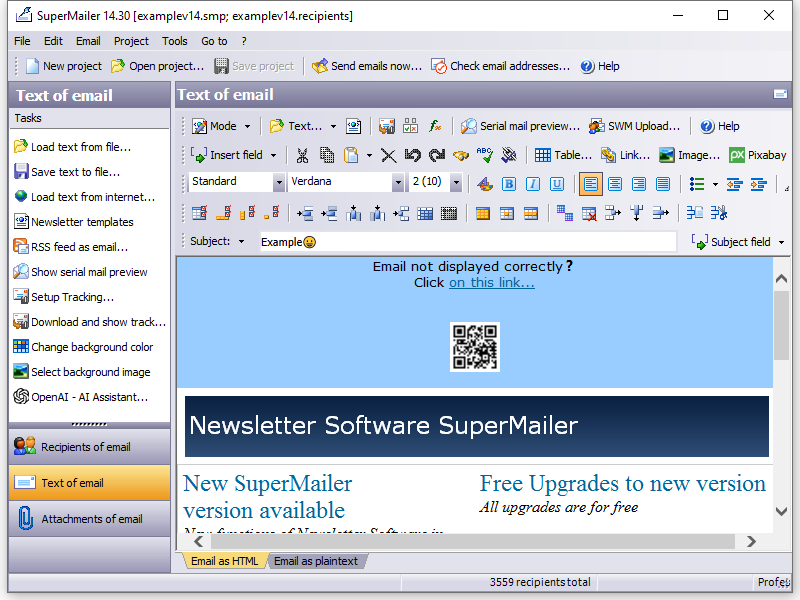 This software can send personalized serial mails (for newsletters, marketing campaigns etc.) as plaintext or HTML (with WYSIWYG editor) with attachments using up to 10 threads simultaneous. It is managing the recipients of the message, the email content and the attachments as projects so you can reuse it. It uses a SMTP server, Microsoft Outlook, a MAPI capable client or a PHP script to send emails.
Mehr…
WikMail
Version: 1945 | Shareware (39,95 EUR)
Wikmail ist Kompatibel mit POP3, SMTP, IMAP4, WebMail Konten. Untertuezt HTML-Mails. Mit Spam-Erkennung, digitale Signatur und Verschlueselungs- funktion. Eine weitere Besonderheit stellt das Starcenter dar, von dem aus auf die wichtigsten Funktionen einschliesslich dem Abrufen von Mails zugegriffen werden kann, ohne gleich das gesamte Programm zu oeffnen. Neben dem Mail- Versand und -Empfang enthaelt das Programm eine Ordnerveraltung.
Mehr…
MAPILab NNTP for Outlook
Version: 1.50 | Shareware (24,00 USD)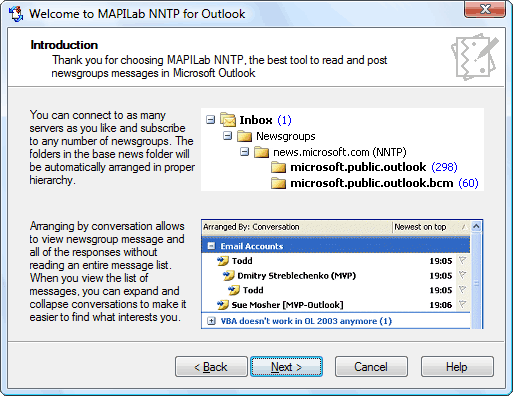 MAPILab NNTP allows you to read and post to newsgroups from Microsoft Outlook. This product is a MAPI transport. This means that a news server account works the same as an account for Exchange Server or POP3/SMTP, supports remote mail headers and is managed through the Send/Receive menu. Supports all formats (plain text, RTF, HTML) and encodings which are supported by Outlook; public folders and newsgroups sharing.
Mehr…
Contacts Clinic for Microsoft Outlook
Version: 3.0 | Shareware (49,00 USD)
Update MS Outlook Contacts Automatically without manual typing,and in 3 steps, saving great deal of time and manual effort. Users can extract emails from Internet Explorer (IE) webpages and add to Outlook Contacts, Extract emails from Outlook mails, Scan bounced emails and remove invalid Contacts, Remove duplice Contacts,Import Mass emails, Backup Contacts. Contacts Clinic is 100% Risk Free,because it involves no 3rd Party data handliing.
Mehr…
Rich Mailer
Version: 3.1 | Shareware (69,00 USD)
Maintain subscribal mailing lists and broadcast personalized email messages with Rich mailer. Easy and fast subscription based email mass mailer. This mass mailer is handy for various internet professionals and on-line store owners to notify their customers of significant events or promote new products. Almost no configuration is necessary. It can either works directly with the mailing boxes or via outgoing server.
Mehr…
RSS Captor
Version: 3.05 | Shareware (19,95 USD)
RSS Captor is an easy-to-use RSS client that allows you to receive and manage news feeds in a searchable database. It can check your feeds automatically and notify via sound when new items arrive. Watches, a special filtration mechanism, can filter messages you are interested in and put them into special folders. Newsbins allow to store your favorite message. To simply read full versions of articles you can use user-friendly tabbed web browser.
Mehr…