Newsletter Software SuperMailer
Dieses Programm wird Ihnen präsentiert von:
Mirko Böer Softwareentwicklungen
Malachitstraße 16
04319 Leipzig
Deutschland / Germany
| | |
| --- | --- |
| E-Mail: | info [at] wt-rate [dot] com |
| Telefon: | 0179 1317529 |
| Telefax: | 0341 8632843 |
| Website: | www.wt-rate.com |
| | |
| --- | --- |
| Kategorie: | Kommunikation / E-Mail Clients |
| Version: | 10.33 |
| Release-Datum: | 26.07.2017 |
| Größe: | 22,16 MB |
| Betriebssystem: | Win XP / Vista |
| Sprachen: | Englisch |
| Downloads: | 1 im Februar / 194 insgesamt |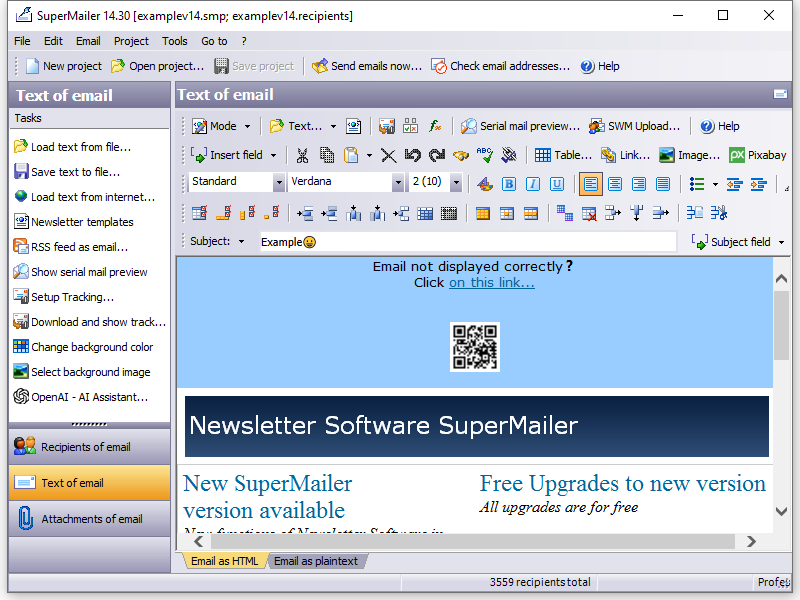 With SuperMailer you can send personalized serial mails (like newsletters) as plaintext or HTML with additional attachment using up to 10 threads simultaneous. The recipients of the message can be imported from a text file, the Windows addressbook, from Microsoft Outlook, Excel or a SQL database. SuperMailer manages the recipients of the message, the email content and attachments in a project, so you can easily reuse the data. Emails as HTML can be easy created with the integrated WYSIWYG editor, so you can insert images, hyperlinks and tables on the fly in your email. While sending the emails you can see live the progress. After done you can save a protocoll as plaintext or HTML file. SuperMailer uses a SMTP server, Microsoft Outlook, a MAPI capable client, sends the messages directly to the recipient or uses a PHP script to send newsletter over your server/web space. Additional it integrates a function to check email addresses, hyperlinks, correct spelling and tracking for success control. With a subscription / unsubscription script (for free) you can manage your newsletter subscriptions and unsubscriptions very easily.

Hier können Sie die Update-Infos für dieses Programm abonnieren. Sie erhalten dann zukünftig eine Benachrichtigung per Email, sobald ein Update zu diesem Programm eingetragen wurde.
Um die Update-Infos zu abonnieren, tragen Sie nachfolgend Ihre E-Mail-Adresse ein. Sie erhalten dann eine E-Mail mit einem Link, über den Sie das Abo bestätigen müssen.
Sie können die Update-Infos jederzeit wieder abbestellen. Hierzu finden Sie am Ende jeder E-Mail mit Update-Infos einen entsprechenden Link.
Dieser Service ist für Sie vollkommen kostenlos.

Kommentare zu Newsletter Software SuperMailer
Bisher gibt es keine Kommentare zu diesem Programm.
Selbst einen Kommentar schreiben