Kategorie Kommunikation / E-Mail List Management (Filter: Freeware)
Direct Mail Robot
Version: 1.5 | Freeware
Freeware mass emailer and email list manager. Direct Mail Robot allows you to send personalized emails to your customers, subscribers and friends. You are also be able to manage mailing lists.
Mehr…
Mail Them Pro
Version: 9 | Freeware (79,95 USD)
Mail Them Pro is designed for newsletter mailings and mailing lists management. It has own high performance built-in SMTP server. But if you want you still can use your an external SMTP mail server to send emails with an incredible speed. Personalize and merge individual information into any message allows you to create really personal e-mails. You can merge up to 10 different custom fields.
Mehr…
1st Subscription Manager
Version: 2.55 | Freeware
1st Subscription Manager - is a simplest, way to extract business emails from your regular POP 3 mailbox. When your clients subscribe or unsubscribe using an email with a certain subject, you can use This utility to grab the messages they produced from any POP3 mailbox and then feed them to a mass mailing program such as Advanced Emailer
Mehr…
E-MailVerifier
Version: 2.10 | Freeware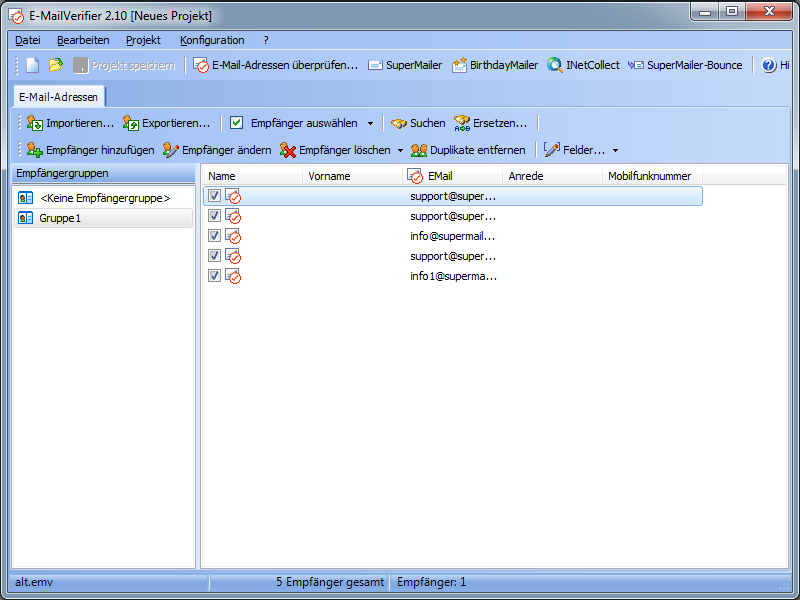 Mit E-MailVerifier importieren Sie beliebige E-Mail-Adressen inkl. zusätzlicher Daten zum E-Mail-Empfänger aus Textdateien, aus Microsoft Outlook, aus dem Windows-Adressbuch, aus Excel oder aus SQL-fähigen Datenbanken. Nach dem Import können Sie die E-Mail-Adressen auf korrekten Syntax und mit bis zu 100 gleichzeitigen Verbindungen auf Existenz der E-Mail-Adresse prüfen lassen.
Mehr…
Email Subscriber Pro
Version: 2.504 | Freeware
Email Subscriber Pro helping you make subscription to email lists on Internet websites. It uses POP3 email accounts to receive subscribe and unsubscribe requests from respondents, extracts email addresses and sender names from email messages and creates plain-text files with subscribers wanting to subscribe or unsubscribe. The text files with emails can be used with any bulk mailer as mailing list files to add new subscribers and delete existing
Mehr…
XCross Drag
Version: 2.0 | Freeware
XCross Drag enbles you to copy contacts between two G_mail address books.
It opens two G_mail address books at once. And all you have to do is drag & drop contacts.
Photos are also copied together.
XCross Drag is available for the Google Apps, too.
Mehr…
Photo Drag
Version: 2.0 | Freeware
Photo Drag enables you to add/Overwrite photos to G_mail address book only by drag and drop from a browser.
The easiest photo manager for G_mail address book.
Photo Drag is available for the Google Apps, too.
Mehr…
GroupMail Gratis Edition
Version: 5.2.076 | Freeware
Diese eMail Marketingsoftware minimiert den Zeit- und Arbeitsaufwand, erleichtert das Senden von eMail Newsletter, das Ankündigen von neuen Produkten oder Dienstleistungen und die Durchführung von eMail Marketingkampagnen. GroupMail ist auch ideal zur Kundenbetreuung oder um einfach in Kontakt mit Familie und Freunden zu bleiben. GroupMail vereinfacht mit hoch personalisierten Nachrichten die Kommunikation mit großen Empfängerlisten.
Mehr…