Kategorie Kommunikation / Sonstige E-Mail Tools
EmailExtractor
Version: 7 | Shareware
Viele Telefon- oder Branchenverzeichnisse beinhalten Hunderttausende von Emailadressen. Meist gestaltet sich bei diesen CD's das exportieren jedoch schwierig oder ist sogar unmöglich. Der EmailExtractor durchsucht einzelne Dateien, CD's oder sogar ganze Festplatten nach Emailadressen und speichert diese ab.
Mehr…
Atomic CD Email Extractor
Version: 4.00 | Shareware (24,85 EUR)
Atomic CD Email Extractor is a unique and ideal solution for collecting previously unusable e-mail addresses from all of your CDs and DVDs. You have total control - specify which files and folders to search and which ones to skip as there are various filters and limiters for each search. By default, Atomic CD Email Extractor skips graphic, music and some other file types that never contain any email addresses.
Mehr…
Process Them
Version: 2 | Shareware (99,95 USD)
Process Them is a unique email processor that allows you automatically process all emails you have in your POP3 or in Thunderbird, Outlook Express or Microsoft Outlook e-mail client so you don't have to do it manually any more. This is a great timesaver for people who receive a lot of e-mail and need to sort out it quickly and systematically. You can filter messages by email, subject, size, then parse them for the information you need
Mehr…
LANMailServer
Version: 2.65 | Shareware (14,95 EUR)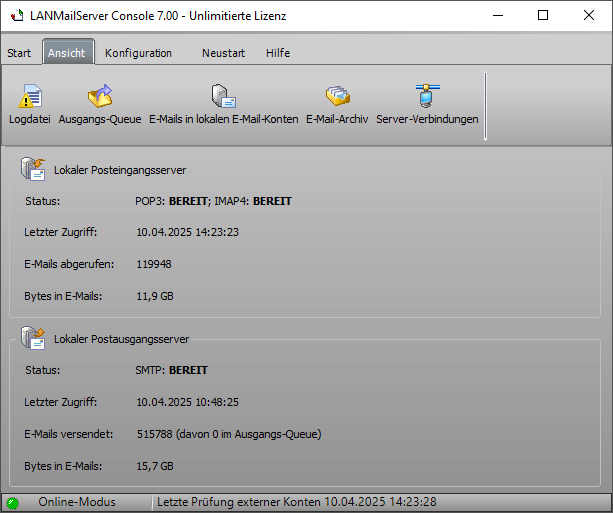 LANMailServer ermöglicht den Versand und den Empfang von E-Mails innerhalb eines LAN wobei nur ein PC über einen Internetzugang verfügen muss. Es können ebenfalls E-Mails an andere Nutzer oder Gruppen im Netzwerk oder ins Internet versendet werden. Mit einem herkömmlichen E-Mail-Programm können E-Mails empfangen und versendet werden. Zusätzlich bietet die Software Autoresponder-Funktion, SMS-Benachrichtigung und E-Mail-Archivierung.
Mehr…
DataNumen Outlook Express Undelete
Version: 2.2 | Demo (49,95 USD)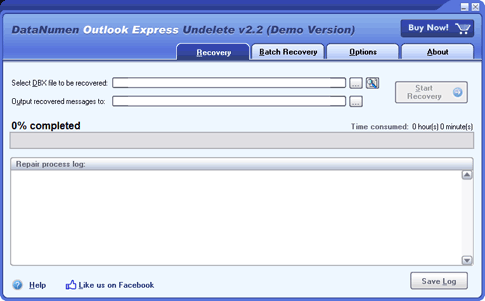 DataNumen Outlook Express Undelete (DOEU) is a powerful tool to recover deleted email from Outlook Express mail folders. It uses advanced technologies to scan the mail folders and retrieve deleted email in them as much as possible. Currently DOEU supports to undelete email from Outlook Express 5/6 dbx files. Moreover, it has integrated with Windows shell, supported drag & drop operations, which will make you recover emails easily and efficiently.
Mehr…
G-Lock SpamCombat
Version: 3.0 | Shareware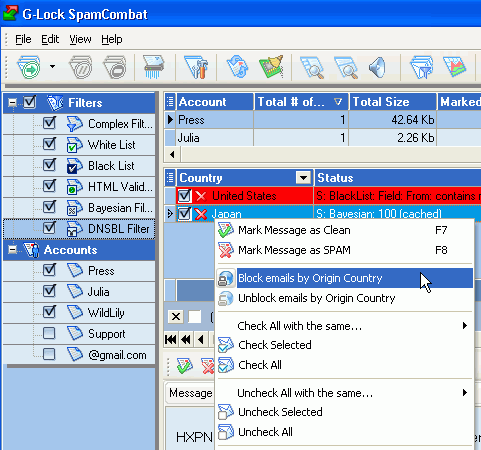 G-Lock SpamCombat is your powerful solution for clearing Inbox from spam, virus, and junk emails. G-Lock SpamCombat is antispam software that lets you eliminate all unwanted messages at the server level without receiving them with your email client. G-Lock SpamCombat uses a powerful set of filters to prevent spam from entering your inbox: Complex Filter, Whitelist, Blacklist, HTML Validator, DNSBL filter, and the Bayesian filter.
Mehr…
Outlook Password
Version: 2017.03.16 | Shareware (29,95 USD)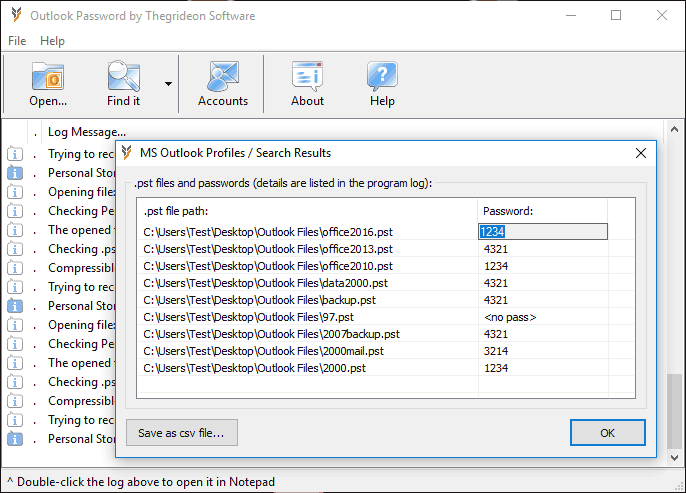 Outlook Password by Thegrideon Software is a very easy to use password recovery tool for MS Outlook. It recovers Outlook pst files passwords instantly. Password protection can be removed from pst file as well. Large '.pst' files (4Gb+) are supported. It lists Outlook Profiles and associated '.pst' files. Outlook Password also recovers e-mail accounts details (logins, passwords, server settings) from MS Outlook records. All versions are supported.
Mehr…
DataNumen Outlook Express Repair
Version: 2.2 | Demo (49,95 USD)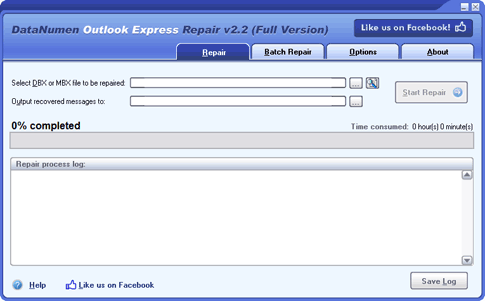 DataNumen Outlook Express Repair is a powerful tool to recover Outlook Express emails from corrupt dbx files. It can scan the corrupt dbx files and recover emails in them as much as possible. Currently DataNumen Outlook Express Repair can repair Outlook Express 5/6 dbx files. Moreover, it is integrated with Windows Explorer, supports drag & drop operations and commandline parameters, which will make you repair dbx files easily and efficiently.
Mehr…
CheckMail
Version: 5.14.4 | Shareware (20,00 USD)
CheckMail is a powerful POP3 email checking program, which notifies you when you have received new email. It allows you to check all your email accounts for new messages and preview or delete them before downloading to your computer. CheckMail saves time and money by allowing you to delete unwanted or large emails directly from the server without downloading them and you can even compose and send new emails directly with CheckMail.
Mehr…
Easy2Sync f?r Outlook
Version: 9.10 | Freeware
Haben Sie Outlook auf dem Desktop und Laptop? Mit Easy2Sync f?r Outlook ist es ganz einfach und schnell Ihre E-Mails, Kontakte, Termine, Kalender, Aufgaben und Notizen zu synchronisieren. Der Sync ist vollautomatisch ?bertr?gt alle neuen / ver?nderten Outlook Objekte in die andere PST-Datei oder den anderen Exchange-Server. Sogar, wenn die Ordner unterschiedliche Namen wie Inbox und Posteingang haben. Testen Sie jetzt die Freeware Edition!
Mehr…
Ablebits.com Auto BCC for Outlook
Version: 3.5.0 | Shareware (29,95 USD)
This wonderful add-in for Outlook automatically adds BCC (blind carbon copy) or/and CC to your outgoing e-mails based on simple rules you create. It can send BCC of all email messages to the specified addresses, send message copies if subject or attachment name contains certain words, or if e-mails are sent from all or some of your accounts. You can create rules for every occasion, introduce exceptions and use several keywords in one field.
Mehr…
MailTalkX
Version: 3.60 | Shareware (29,95 USD)
MailTalkX ist ein Spam Filterungs- und ein E-Mail Überwachungswerkzeug. Es unterstützt mehrere Mailboxen, erlaubt die automatische Überprüfung, nach festgelegten Intervallen, für jede Mailbox und benachrichtigt Sie über neue Mails mittels Pop-Up Fenster, Töne und Video. Es enthält auch eine Rechtschreibprüfung.
Mehr…