SoftAmbulance Live Mail Recovery
Dieses Programm wird Ihnen präsentiert von:
SoftAmbulance data recovery company
str. 15 Line
91016 Luhansk
Ukraine
| | |
| --- | --- |
| E-Mail: | sales [at] softambulance [dot] com |
| Telefon: | 380502394816 |
| Website: | softambulance.com |
| | |
| --- | --- |
| Kategorie: | Kommunikation / Sonstige E-Mail Tools |
| Version: | 5.53 |
| Release-Datum: | 21.04.2017 |
| Größe: | 19,1 MB |
| Betriebssystem: | Win 2000 / XP / 2003 / Vista |
| Anforderungen: | Standard PC, Free space to save recovered databases |
| Sprachen: | Englisch |
| Downloads: | 1 im Februar / 183 insgesamt |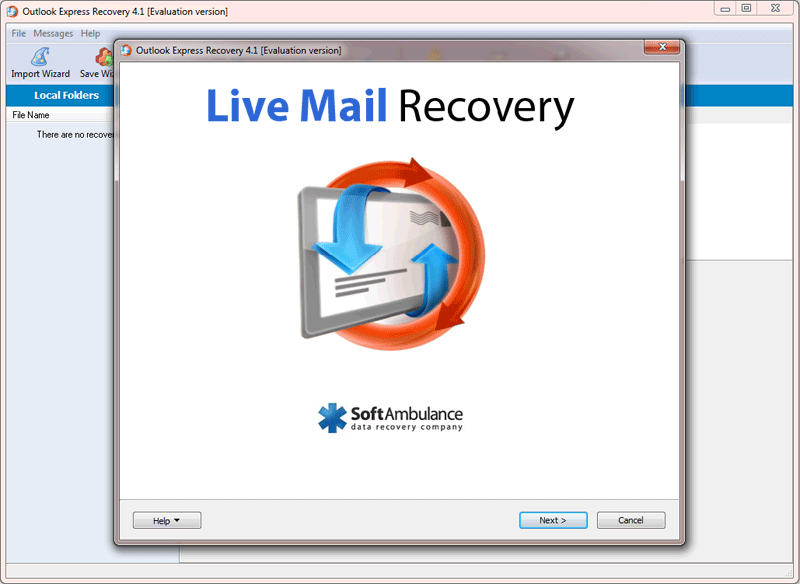 Permanently deleted important messages? Lost access to email after a system failure? Corrupted DBX database? Get back your email and restore Outlook Express operation in a matter of minutes!

If Outlook Express crashes while accessing a DBX file, you'll lose access to your email archive - but not your messages! SoftAmbulance Live Mail Recovery effectively recovers lost email and repairs corrupted DBX files completely automatically. Can't access your mail? Outlook Express does not open? Empty mail folders? No problem! SoftAmbulance Live Mail Recovery fixes major problems as effectively as it handles minor issues.

Deleting a message from Inbox does not erase the message permanently. All messages you delete go into the Deleted Items folder where they can stay indefinitely unless you remove them from there. Once you purge the Deleted Items or erase a particular message, there is no easy way to get it back if you change your mind.

Don't panic SoftAmbulance Live Mail Recovery recovers deleted messages along with any attachments. But don't wait for too long as Outlook Express optimizes its database regularly, purging the deleted messages from the folders to optimize the speed of access and the size of its databases. It's in your best interest to download and run SoftAmbulance Live Mail Recovery right away!

Can't access a folder? Maybe it's because the DBX file is over 2 Gigabytes in size. Fix the 2GB problem easily and automatically! The product is well aware of the Outlook Express limitations, and splits DBX files that are too large to be handled correctly into smaller databases, effectively solving the 2-gigabyte problem.

Have a bunch of messages and want them in a stand-alone DBX file? Use SoftAmbulance Live Mail Recovery to export email into DBX format recognized and accessible with Outlook Express! Want to export your messages into a set of separate EML files? That's easy if you use SoftAmbulance Live Mail Recovery!
Hier können Sie die Update-Infos für dieses Programm abonnieren. Sie erhalten dann zukünftig eine Benachrichtigung per Email, sobald ein Update zu diesem Programm eingetragen wurde.
Um die Update-Infos zu abonnieren, tragen Sie nachfolgend Ihre E-Mail-Adresse ein. Sie erhalten dann eine E-Mail mit einem Link, über den Sie das Abo bestätigen müssen.
Sie können die Update-Infos jederzeit wieder abbestellen. Hierzu finden Sie am Ende jeder E-Mail mit Update-Infos einen entsprechenden Link.
Dieser Service ist für Sie vollkommen kostenlos.
Kommentare zu SoftAmbulance Live Mail Recovery
Bisher gibt es keine Kommentare zu diesem Programm.
Selbst einen Kommentar schreiben