Kategorie Kommunikation / Sonstige Tools
SMS XL
Version: 1.5 | Freeware
User friendly Menus and buttuns,Get delivery reports, sent reports by date.Easy to create templates for personalized SMS messages.Fast and accurate, can work on back ground mode (multi threading and multi tasking).Supports Microsoft Excel® 2000, 2003 and 2007 versions.
Mehr…
Advanced Modem Data Logger
Version: 3.1.9.1006 | Shareware (55,00 EUR)
Advanced Modem Data Logger uses RS232, USB, PCI or GSM modems to dial and collect a data from remote devices to disk or to other targets. The program can use both AT and TAPI interfaces and aquisite the data from several devices simultaneously. Advanced Mode Data Logger: an all-in-one solution for data aquisition and monitoring at an affordable price!
Mehr…
Advanced OPC Data Logger
Version: 3.2.6.711 | Shareware (55,00 EUR)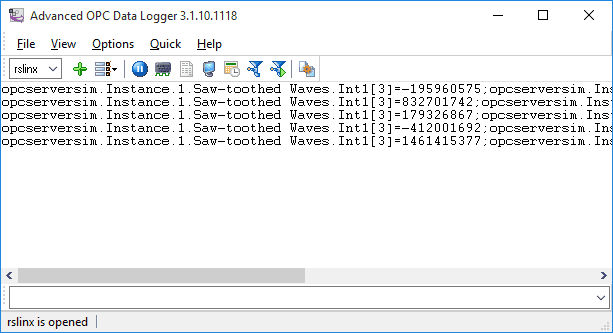 Advanced OPC Data Logger interacts with OPC servers, combines and writes real-time data to files, MS Excel, SQL Server, mSQL, ODBC database or to other targets. The program can be integrated to a suitable industrial system and work together with your SCADA. Advanced OPC Data Logger: an all-in-one solution for OPC data collecting and monitoring at an acceptable worth!
Mehr…
Advanced NMEA Data Logger
Version: 3.2.6.802 | Shareware (55,00 EUR)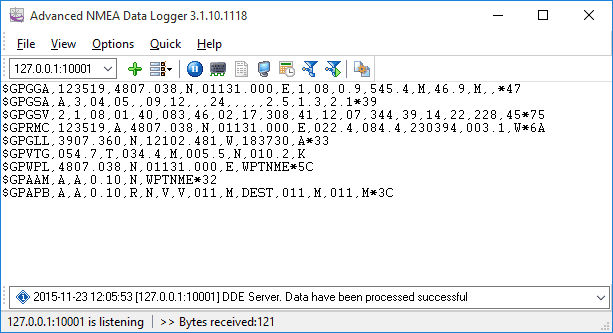 No need to expend years creating your own NMEA data acquisition software - NMEA Data Logger is here to help! The program collects NMEA sentences from any talker or instrument in real time, sends and receives NMEA bytes across RS232. Parse your dataflow the way you want with a built-in parser and transfer it to Excel or database. It will always be there capturing your data, receiving every character. Good functionality at an affordable price!
Mehr…
Serial Printer Logger
Version: 3.2.5.802 | Shareware (55,00 EUR)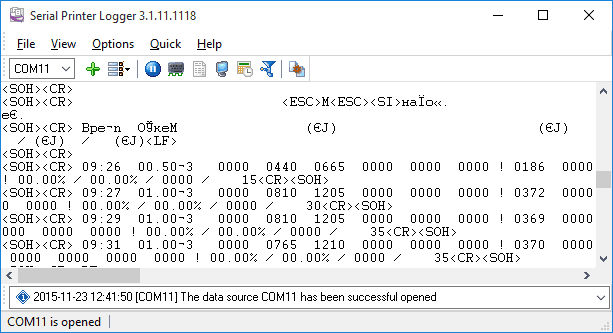 Don't miss our logger utility! Serial Printer Logger can displace your senile dot-matrix printers and receive data in real time to a binary log file, a PDF or a MS RTF file. This replacement will save your money (paper, consumables, maintenance). The software parses ESC/P escape characters and decodes graphics, fonts from a data flow. Therefore you can reprint documents later or make a backup copy. Good functionality at an acceptable price!
Mehr…
WLAN Expansion
Version: 2.0 | Demo (29,95 EUR)
WLAN Expansion ist die optimale Komplettlösung für die Einrichtung und Verwaltung drahtloser Netzwerke. Das Programm ermöglicht mit wenigen Klicks die Einrichtung und bestmögliche Absicherung Ihres drahtlosen Netzwerks. Auch unterwegs verhilft Ihnen WLAN Expansion jederzeit zu reibungslosem Anschluss an ein Netzwerk. Eine weltweite Hotspots-Datenbank zeigt Ihnen die Hotspots in Ihrer Nähe - in nahezu jeder Stadt der Welt.
Mehr…
SmartCallMonitor
Version: 2.0.1 | Freeware
SmartCallMonitor, die Telefonsoftware für alle TAPI-fähigen Geräte (z.B. ISDN-Karte, Telefonanlagen etc.). Nutzen Sie die Rückwärtssuche in Ihren Outlook Kontakten oder eines Online Dienstes, um zu wissen wer anruft. SmartCallMonitor zeigt eingehende Anrufe in einer übersichtlichen Liste und mittels Popup-Fenster an. Ebenso können Sie Anrufe aus der Software heraus starten.
Mehr…
JumpBox for the MediaWiki Wiki System
Version: 1.0.2 | Demo (69,99 USD)
MediaWiki is a powerful wiki engine originally developed for the Wikipedia project and now deployed on many sites around the world. This JumpBox is a self-contained, preconfigured instance of MediaWiki version 1.10.0.
Mehr…
Leawo Blu-ray Ripper for Win
Version: V7.7.0.0 | Shareware (44,95 EUR)
DVD und Blu-ray rippen und in gebräuchliche Formate umwandeln
Mehr…
ECTlistener
Version: 2.8.2 | Freeware
The program was created for disabled people (paralyzed or those with extremely reduced mobility) and works in conjunction with other programs (e.g. ECTkeyboard symbol matrix). By using a personal computer with a microphone and both ECTlistener and ECTkeyboard, patients can type text letter-by-letter by using individualized vocal prompts such as moans, loud breathing, sniffing, blowing and many other sounds. This allows them to communicate!
Mehr…
Notizzettel - Notizen sichern und chat im LAN Netzwerk, eine Desktop Kommunikationsl?sung
Version: 3.90 | Shareware (12,90 EUR)
Notizzettel ist ein Programm in dem Nachrichten gespeichert werden k?nnen. Notizzettel m?chte zu jedem Programm einen "Zettel" mit programmbezogenen Informationen anlegen. Diese Funktion l?sst sich deaktivieren, so dass Notizzettel auch als einfaches Informationsspeichermedium genutzt werden kann.
Einzelne "Zettel" lassen sich ?ber Netzwerk versenden, dadurch k?nnen Sie im LAN eine Kommunikation zu anderen Teilnehmern aufbauen.
Mehr…
Automatically Log WiFi Signal Strength Over Time Software
Version: 7.0 | Shareware (19,99 USD)
This software offers a solution to users who want to automatically log WiFi signal strength at specific intervals. The user chooses the required interval from a list: 30 seconds, 1 minute, 5 minutes, 10 minutes, 15 minutes, 20 minutes, 30 minutes, 1 hour, etc. There is a button to stop the program running automatically and another to run it during the interval. The history log can be viewed or copied to the clipboard.
Mehr…