Kategorie Kommunikation / Sonstige Tools (Filter: Freeware)
Skypeman
Version: 2.1 | Freeware
Skypeman is a program to replace the standard ringtones of Skype. The uniqueness of the program is that it provides an opportunity to establish a separate ringtone for each contact.
Mehr…
Call Center CRM
Version: 9.0.5 | Freeware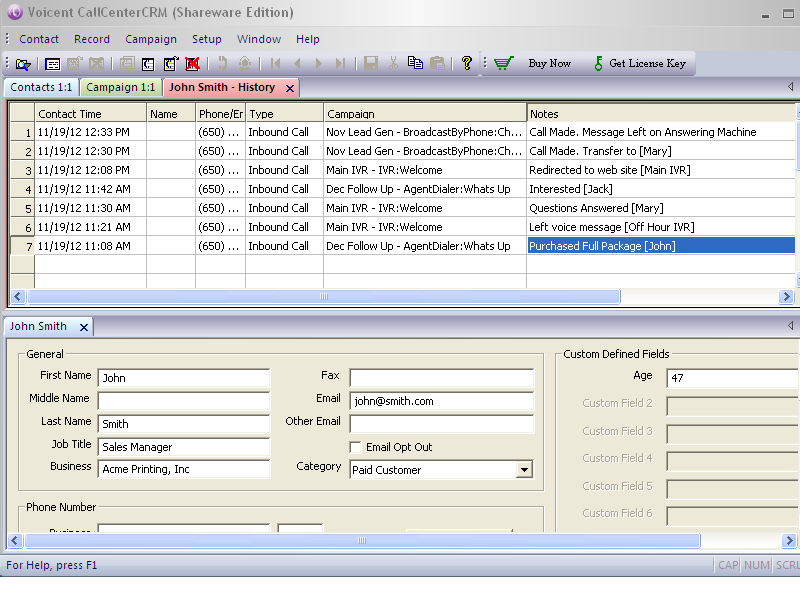 Callcenter CRM von Voicent ist eine mächtige Software zur Verwaltung von Kundenbeziehungen in Callcentern oder Handelsunternehmen. Sie können damit automatisch den gesamten Kundenverkehr nachverfolgen, Opt-Outs und Kontaktinformationen von Kunden automatisch speichern oder Mitarbeitern Kundeninformationen anzeigen, Anrufer intelligent und effizient erkennen und entsprechend betreuen, sowie Verkaufs- und Marketingkampagnen entwerfen und verwalten.
Mehr…
AnswerDome
Version: 2.3 | Freeware
AnswerDome is a fast growing community of people that help each other by sharing their knowledge. Ask your question from any field of interest and you will get an instant answer from experienced users. Get in touch with the users that answered if you require more details or clarifications. AnswerDome brings you live assistance when you need a fast solution.
Mehr…
cFos Notifier
Version: 2.5. | Freeware
cFos Twitter Notifier is a program which runs in the background and periodically checks, whether new Twitter Statuses are available. If there is something new, it displays a notification icon in the windows taskbar and a balloon tip. If you click on the balloon or the taskbar icon, twitter.com is started so you can read the new statuses.
Mehr…
Voicent Broadcast By SMS
Version: 8.3.4 | Freeware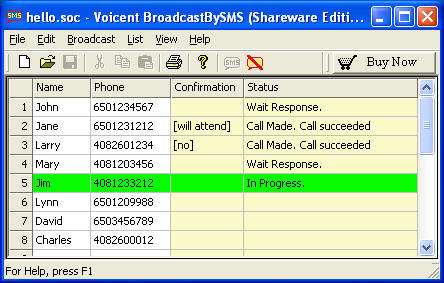 An easy-to-use software for broadcasting personalized SMS (text) messages. Based on Voicent's interactive SMS gateway, it is capable of managing responses automatically. Use your existing Nokia, Sony Ericsson, Motorola mobile phone. Key features: Excel-like spreadsheet GUI, Bulk SMS text messaging with a single click, Message Designer for personalizing SMS message, Automatic SMS response processing, scheduler, and command line interface.
Mehr…
Files To Phones
Version: 2.1 | Freeware
"Files To Phones" - provides free transmission of any files (TXT, MP3, JPG, 3GP, MP4, vCal, vCard) to any Bluetooth devices (mobile phones, smartphones, hand-held devices, communicators, laptops, mini-laptop computers) within coverage over Bluetooth. Does not require any special hardware - only a computer (PC, laptop) and a Bluetooth dongle.
Mehr…
Sent
Version: 1.3.10 | Freeware
Console utility intended for sending 'net send' messages over local area network from command line. It allows to send personal messages using computer's network name, user's login, nickname and to send broadcast messages using workgroup or domain name. Sent supports batch mode of sending and can take messages and recipient list from a text file.
Mehr…
SMS XL
Version: 1.5 | Freeware
User friendly Menus and buttuns,Get delivery reports, sent reports by date.Easy to create templates for personalized SMS messages.Fast and accurate, can work on back ground mode (multi threading and multi tasking).Supports Microsoft Excel® 2000, 2003 and 2007 versions.
Mehr…
SmartCallMonitor
Version: 2.0.1 | Freeware
SmartCallMonitor, die Telefonsoftware für alle TAPI-fähigen Geräte (z.B. ISDN-Karte, Telefonanlagen etc.). Nutzen Sie die Rückwärtssuche in Ihren Outlook Kontakten oder eines Online Dienstes, um zu wissen wer anruft. SmartCallMonitor zeigt eingehende Anrufe in einer übersichtlichen Liste und mittels Popup-Fenster an. Ebenso können Sie Anrufe aus der Software heraus starten.
Mehr…
ECTlistener
Version: 2.8.2 | Freeware
The program was created for disabled people (paralyzed or those with extremely reduced mobility) and works in conjunction with other programs (e.g. ECTkeyboard symbol matrix). By using a personal computer with a microphone and both ECTlistener and ECTkeyboard, patients can type text letter-by-letter by using individualized vocal prompts such as moans, loud breathing, sniffing, blowing and many other sounds. This allows them to communicate!
Mehr…
SpeedSMS
Version: 2.0 | Freeware
Versendet Text SMS, Klingeltöne und VCards (Visitenkarten) an Mobiltelefone ab 6 Cents (0.09 sFr.) pro SMS. SpeedSMS unterstützt normale Text Nachrichten, blinkende und flashende SMS. Auf Wunsch können die SMS zeitverzögert gesendet werden. SMS können gleichzeitig an mehrere Personen aus dem Telefonbuch oder an Gruppen gesendet werden. SpeedSMS benutzt den SMS Service von aspsms.com und benötigt ein entsprechendes aspsms Konto.
Mehr…
CRM Dashboard
Version: 9.0.5 | Freeware
CRM Dashboard is unified agent desktop software that puts the customer at the center of all interactions - phone, text message, email, and social media. By providing customer information accurately and easily integrating with your business processes, Dashboard enables agents to deliver superior customer experiences for your organization. Features an user-friendly interface that allows integration and customization with 3rd party CRM services.
Mehr…