Serial Printer Logger
Dieses Programm wird Ihnen präsentiert von:
AGG Software
n/a
n/a n/a
United States
| | |
| --- | --- |
| E-Mail: | info1 [at] aggsoft [dot] com |
| Telefon: | n/a |
| Telefax: | n/a |
| Website: | www.aggsoft.com |
| | |
| --- | --- |
| Kategorie: | Kommunikation / Sonstige Tools |
| Version: | 3.2.5.802 |
| Release-Datum: | 02.08.2017 |
| Größe: | 7,81 MB |
| Betriebssystem: | Win 98 / ME / 2000 / XP / 2003 / Vista |
| Anforderungen: | one or more RS232 ports or NIC (network interface card) |
| Sprachen: | Englisch |
| Downloads: | 0 im Juni / 92 insgesamt |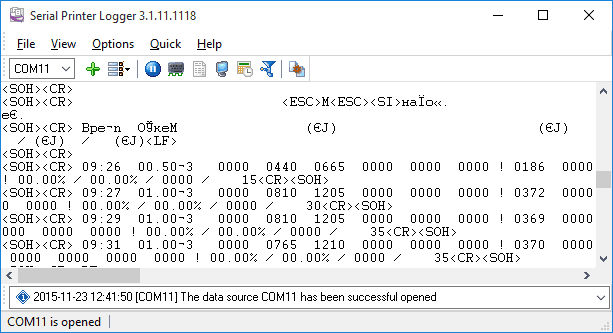 You may be a professional hardware or network designer, an system maintenance person, or a gifted technology lover illuminated by a new bright technical idea and looking for a handy utility for fine-tuning your hardware-software system. Whichever the case may be, look no further than this software, for it may well satisfy all of your technical needs. The utility can displace your senile dot-matrix printers and receive data in real time to a binary log file, a PDF or a MS RTF file. This deputizing will economize your money (paper, consumables, maintenance). If you have few devices working at the same time - the utility provides real-time data collection from printers that connected via RS232, RS485 or Ethernet and can handle manifold ports at once and record the data to a hard disk or any specified location! The software parses ESC/P control codes and decodes graphics, fonts from a data flow. So you can reprint documents later or create a backup copy. Serial Printer Logger can work as a Windows service, which means that you may use it on servers or users may log on and off the PC, and the software will be there collecting your information. Perfect functionality at a less-than-affordable price!

Key features:
* potentiality to log manifold printers at once. Each port may have fully different parameters;
* supports most ESCP and ESC/P2 escape codes, except user characters;
* acquires and decodes BMP or raster images;
* supports various fonts types and sizes;
* supports various paper sizes;
* supports date/time stamping;
* outputs received data without any changes to a log file;
* data exporting to ready-to-use MS Word (RTF) or Adobe PDF files;
* program messages logging;
* simple, step by step configure - experience isn't essential to set-up the utility to collect data;
* some plug-in modules that extending program features;
* works on all Windows versions.
Hier können Sie die Update-Infos für dieses Programm abonnieren. Sie erhalten dann zukünftig eine Benachrichtigung per Email, sobald ein Update zu diesem Programm eingetragen wurde.
Um die Update-Infos zu abonnieren, tragen Sie nachfolgend Ihre E-Mail-Adresse ein. Sie erhalten dann eine E-Mail mit einem Link, über den Sie das Abo bestätigen müssen.
Sie können die Update-Infos jederzeit wieder abbestellen. Hierzu finden Sie am Ende jeder E-Mail mit Update-Infos einen entsprechenden Link.
Dieser Service ist für Sie vollkommen kostenlos.
Kommentare zu Serial Printer Logger
Bisher gibt es keine Kommentare zu diesem Programm.
Selbst einen Kommentar schreiben