Gate-and-Way Voice
Dieses Programm wird Ihnen präsentiert von:
Gate-and-Way
Viale Tre Martiri, 61
45100 Rovigo
Italy
| | |
| --- | --- |
| Kategorie: | Kommunikation / Telefon |
| Version: | 2.2 |
| Release-Datum: | 11.05.2004 |
| Größe: | 927 KB |
| Betriebssystem: | Win 98 / ME / 2000 / XP / 2003 |
| Anforderungen: | PIII, 128Mb RAM, 5Gb HD |
| Sprachen: | Englisch |
| Downloads: | 4 im Mai / 40 insgesamt |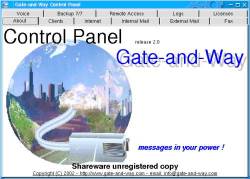 Automatic voice autoresponder. More personalized messages for more hour bands. It Can be turned on/off automatically or manually.

Other modules included on the Gate-and-Way Package are:

- MAIL: Powerful and integrated with shared folders and personal folders for internal use only. Authomatic download of mail from the Internet.

- FAX: Reliable and automatic, integrated with the e-mail. A unique environment where you can find all the information in the easiest and fastest way.

- INTERNET: Quiet navigation, with the safety of a powerful firewall, using only one account with your ISP for all the users on the LAN. Redundant connections in order to obviate to possible inefficiencies of the ISP without stopping working.

- BACKUP 7/7: Each day of the week will have its own online backup, automatically copying the data contained also in the network computers. You will never lose any data due to hard disk crashes either at the server side or at the client one.

- REMOTE ACCESS: Password protected remote connections to access the LAN and all the Gate-and-Way services. Imagine "being" at the office while at home, away on business or on vacation.

All the modules could be integrated in a unique environment and centrally managed.
Hier können Sie die Update-Infos für dieses Programm abonnieren. Sie erhalten dann zukünftig eine Benachrichtigung per Email, sobald ein Update zu diesem Programm eingetragen wurde.
Um die Update-Infos zu abonnieren, tragen Sie nachfolgend Ihre E-Mail-Adresse ein. Sie erhalten dann eine E-Mail mit einem Link, über den Sie das Abo bestätigen müssen.
Sie können die Update-Infos jederzeit wieder abbestellen. Hierzu finden Sie am Ende jeder E-Mail mit Update-Infos einen entsprechenden Link.
Dieser Service ist für Sie vollkommen kostenlos.

Kommentare zu Gate-and-Way Voice
Bisher gibt es keine Kommentare zu diesem Programm.
Selbst einen Kommentar schreiben