Kategorie Kommunikation / Telefon (Filter: Freeware)
GMJ
Version: 2.22 | Freeware
Free information portal on your mobile phone ? news, weather, jokes and gags, toasts, blogs, dictionaries, horoscopes, polls, advice, scam alerts and other important information. It?s much faster, more convenient and more compact than a mini-browser. High degree of data compression lessens the payment for mobile internet access. GMJ is suitable for all types of mobile devices and has traffic tens of times lower than when using mini-browsers.
Mehr…
Pamela for Skype - Basic Version
Version: 4.8 | Freeware
Pamela Basic allows you to record Skype calls for free. In addition Pamela can play audio files during a call, take notes during or after a call, transfer a call to a contact or group and many more cool features. Pamela looks and works like Skype! Pamela Basic is 100% freeware and allows you to record each Skype call for up to 15 minutes. Free of adware, spyware and other nasty things we do not support.
Mehr…
PhonerLite
Version: 2.55 | Freeware
Softphone mit TLS, SRTP und ZRTP-Unterstützung, sowie IPv6 und diverse HD-Codecs. Google-Kontakte können importiert werden.
Mehr…
Firmen-SMS
Version: 2.4.92 | Freeware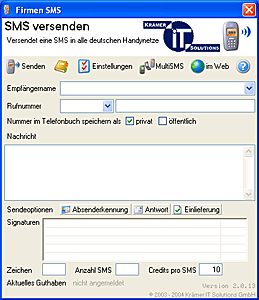 Firmen-SMS ist eine Software, die es erm?glicht, durch Nutzung einer normalen Internetverbindung SMS-Kurznachrichten mit bis zu 160 Zeichen zu ?u?erst g?nstigen Konditionen anzubieten. Vorbei ist die Zeit des m?hsamen Tippens ?ber die kryptische Handy-Tastatur. Mit Firmen-SMS k?nnen Sie bequem SMS-Nachrichten am PC erstellen.
Mehr…
ActiSIP LITE
Version: 1.11.05 | Freeware
COMIRELs ActiSIP LITE - VoIP Internet Telefon mit intuitiver Bedienung - :
Makeln, Umleiten, Weiterleiten, 3 Profile ... .
Managen Sie mehrere parallele Telefonanrufe mit ActiSIP LITE.
Ein Klick - ein Anruf - wird durch individuelle Schnellwahl Buttons gew?hrleistet.
ActiSIP LITE bietet ein integriertes Kontaktmanagement.
Es pr?sentiert wer anruft bevor der Anruf entgegengenommen wurde.
Signalisierung basiert auf dem Protokoll SIP.
Mehr…
TERAVoice Server
Version: 2004 | Freeware
TERAVoice ist eine skalierbare Telefonie-Server-Plattform für Windows, mit der sich beliebige Arten von Telefonie-Anwendungen realisieren lassen, darunter Voicemail, IVR (Interactive Voice response), W
Mehr…
PhoneSuite CTI Client light
Version: 2.2.054 | Freeware
Mit PhoneSuite light bedienen Sie Ihr Telefon einfach per Mausklick vom PC aus. Alles was Sie dafür noch benötigen, ist ein Telefon oder eine Telefonanlage mit TAPI-Treiber oder im einfachsten Fall ein Modem. Wesentliche Programmfunktionen sind das integrierte Rufjournal, Anruftermine, Notizen, Wahl von Rufnummern per Hotkey und ein Geburtstagswarner.
Mehr…
OfficeSIP Softphone
Version: 1.0.5 | Freeware
OfficeSIP Softphone is the ideal audio / video communications tool for you to use in your business, supporting a wide range of VoIP SIP servers. The softphone is also offered for free, providing you with a simple yet effective solution with minimal hassle. Audio and video quality is exceptionally good and the program is highly compatible and easy to set up. It does not utilize any unnecessary extra controls and gives you everything you need.
Mehr…
OfficeSIP Messenger
Version: 2.2.5 | Freeware
OfficeSIP Messenger provides enterprises with advanced instant communications for free. Compatible with Office Communications Server and Office Communicator, OfficeSIP Messenger delivers reliable performance combined with trouble-free deployment and management. Supporting text, voice and video chats, the free softphone implements ICE, STUN, and TURN protocols to easily traverse NAT, and supports TLS for ultimate communication security.
Mehr…
Voicent Flex PBX
Version: 9.0.5 | Freeware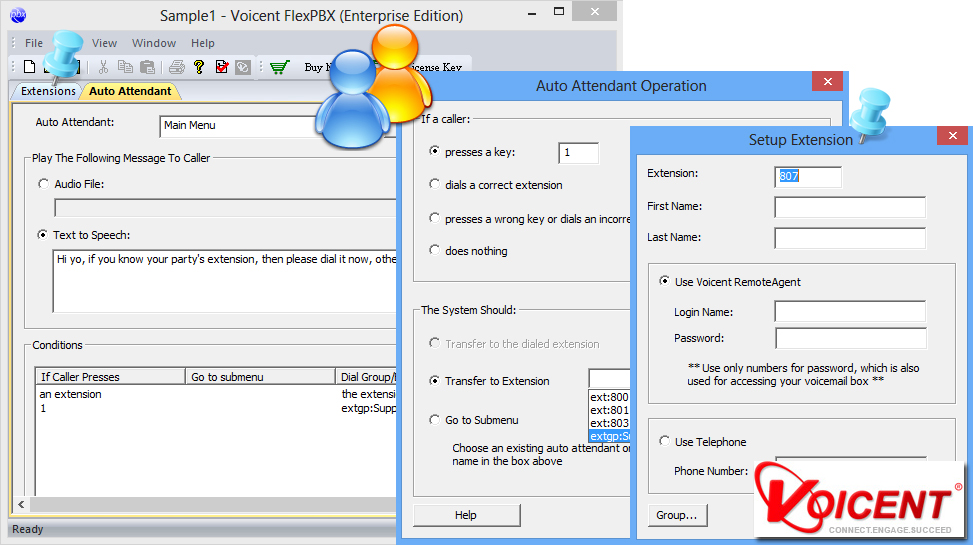 Voicent Flex PBX is an easy-to-use software-based PBX system for small and large business alike. It supports both analog phone services and VOIP services. Besides the basic PBX features like auto attendant, unlimited call queues, configurable extensions, and call forwarding, it is also extensible through Voicent IVR Studio for more advanced features like database access and email processing. Point-n-Click design, easy installation and affordable.
Mehr…
Voicent Predictive Dialer
Version: 9.0.5 | Freeware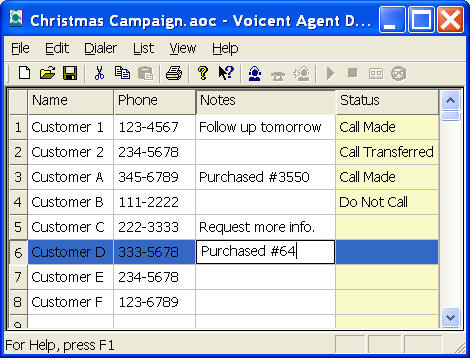 Voicent Agent Dialer is a predictive dialer and a semi auto dialer combined. It assists marketing or sales agents for telemarketing campaigns. Agent Dialer supports SIP based VOIP, Skype, and traditional phone services. Automatic dialing can play audio messages, transfer calls, and record conversations, all by the press of a key. It helps you to generate leads, reduce work load, save your voice, and increase productivity.
Mehr…
3CX Phone FREE VoIP Phone
Version: 4.0 | Freeware
Free VOIP / SIP phone (softphone) for Windows. Use your PC as a phone. Works with popular VOIP providers and SIP PBX's (including 3CX Phone System). The interface is easy to use and similar to that of popular Smartphones. 3CXPhone is compact and easy to install across a network. Features include Call Transfer, Call Recodrding, Hold, Headset support, Call History. Full version, not a lite version! Free download from http://www.3cx.com
Mehr…