Kategorie Lernen / Sprachen
Virtual Teacher Background Panel
Version: 1.1 | Freeware
Are you one of millions out there who are trying to learn foreign language, but never have enough time? Get Virtual Teacher Background Panel a tool that displays words and phrases you are trying to learn and their translation. Learn foreign language in passive mode. Aslo you get VT Vocabulary Builder and you will be able create your own vocabularies.
Day by day, month by month...Do not waste your time!
New product, 100% free to try!
Mehr…
Cursor Translator
Version: 3.2 | Shareware (17,95 EUR)
Pick words from anywhere on screen and get the translation with your mouse cursor moves on it. You can perform translations between such 53 languages as English, French, German, Italian, Spanish, Portuguese, Dutch, Greek, Russian, Japanese, Korean, Simplified Chinese, Traditional Chinese, Hungarian, Danish, Dutch, Finnish, Swedish, Arabic, Catalan, Croatian, Czech, Hebrew, Norwegian, Afrikaans, Albanian, Belarusian, Bulgarian, Estonian etc.
Mehr…
Han Trainer Digital Flashcards (Chinesisch-Deutsch)
Version: 4.59 | Demo (14,95 EUR)
Han Trainer Digital Flashcards sind die optimale Loesung fuer alle, die an jedem beliebigen Ort auf effizientem Weg chinesisch-Vokabeln lernen moechten, ohne sich dabei mit Buechern oder Lernkarten zu belasten.
Mehr…
Arabic Keyboard Typing Tutor
Version: 5 | Shareware (27,99 USD)
Diese Software wurde für Leute entworfen, die lernen müssen arabische Texte zu tippen. Zuerst lernen Sie die Grundbegriffe wie die Positionierung der Hände auf der Tastatur und dann werden die Fähigkeiten in einer Reihe praktischer Übungen nach und nach gesteigert. In jeder Übung kommen 2-4 neue Tasten hinzu. Ergänzt wird das Programm durch zwei grafische Spiele. Im ersten fallen ausgewählte Buchstaben von oben herab
Mehr…
Round text reading
Version: 1 | Freeware
Words experiment. Round reading. Type a words. Then read it around a center. Ability to concentrate on the problem is one of the constituent parts of the successful mental work.
Mehr…
Die Peitsche des Cicero
Version: 1.5 | Demo
Universeller Vokabel- und Formentrainer für den Grundwortschatz Latein (1.500 Vokabeln). Wortschatz gruppiert nach Themen, Wortfamilien und Wortarten. Flexible Abfrage-Einstellungen und Druckfunktion. Oberfläche komplett zweisprachig: Deutsch und Latein.
Mehr…
AlbionXP
Version: 1.2 | Shareware (39,00 USD)
English explanatory dictionary enables you to easily look up the meanings of English words, and can be used as a convenient tool for creating word lists for learning with our vocabulary builder Vocabilis. Here are some of the key things you can do with AlbionXP: you can look up definitions of over 145,000 English words, listen to them spoken, create word lists and learn them with our vocabulary builder Vocabilis.
Mehr…
Vokabel King
Version: 1.00 | Shareware (10,00 EUR)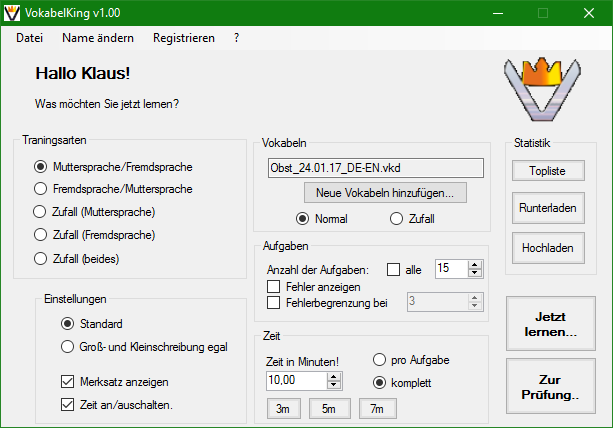 Mit diesem Programm können Sie beliebig viele Fremdsprachen lernen.
Neue Vokabeln, schnell und einfach selbst hinzufügen oder für andere Benutzer online veröffentlichen.
Dank der verschiedenen Traningsarten wird das Lernen zum Spaß.
Mit der Prüfungsfunktion können Sie einfach und schnell herausfinden, wie gut Sie bereits geworden sind!
Außerdem gibt es eine Topliste um Ihre Leistungen zu protokollieren!
Mehr…
Croatian-English Mini Dictionary
Version: 1.1 | Freeware
Free English to Croatian dictionary with recorded pronunciation. It contains frequently used words and expressions with English translation and ready-made excercises to master the material. Ideal if you go to Croatia and want to speak some Croatian. The dictionary is organized by topic in small units. Each unit contains two excercises to practice and memorize the material. Originally distributed by www.dubrovnik-secrets.com , 100% free.
Mehr…
LearnWords WM5
Version: 3.4.1 | Shareware (29,95 USD)
LearnWords - highly effective training program for learning foreign languages (Windows, WM6, WM5, Pocket PC, Palm OS, Symbian S60, Smartphone editions): 12 exercises, 20 languages, transcriptions, pronunciation, editor, statistics, scheduling repetitions, moving of words, study phrases. LearnWords WM5 is edition for Windows Mobile 6, Windows Mobile 5 devices.
Mehr…
LearnWords Palm
Version: 1.7.4 | Shareware (17,95 USD)
LearnWords - highly effective training program for learning foreign words and various facts (Windows, PocketPC, PalmOS editions) 6 exercises, 20 languages, transcriptions and pronunciation, editor, virtual keyboard, study of phrases and grammar!
For each word of dictionary it is necessary to execute a sequence of six exercises ("Card", "Mosaic", "Select translation", "Guess translation", "Select word", "Writing").
Mehr…
LearnWords Windows
Version: 6.0 | Shareware (19,95 USD)
LearnWords - highly effective training program for learning foreign words 14 exercises, 20 languages, transcriptions and pronunciation, editor, system of scheduling repetition. There are special editions for Android and iOS. For each word of dictionary it is necessary to execute a sequence of six exercises ("Card", "Mosaic", "Select translation", "Guess translation", "Select word", "Writing")
Mehr…