Source Code Browser
Dieses Programm wird Ihnen präsentiert von:
Rebrand Software, LLC

22315 Alexandria
United States
| | |
| --- | --- |
| E-Mail: | shareware [at] rebrandsoftware [dot] com |
| Telefon: | 800-555-5555 |
| Telefax: | 800-555-5555 |
| Website: | www.RebrandSoftware.com |
| | |
| --- | --- |
| Kategorie: | Netzwerk & Internet / Browser |
| Version: | 2.1 |
| Release-Datum: | 16.12.2008 |
| Größe: | 2,71 MB |
| Betriebssystem: | Win 98 / ME / 2000 / XP / Vista |
| Anforderungen: | Internet Explorer 4+ |
| Sprachen: | Englisch |
| Downloads: | 0 im Januar / 89 insgesamt |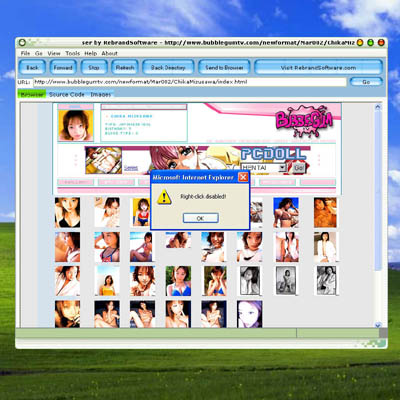 Don't you hate those webpages that try to prevent you from viewing their source code or saving images by disabling Right-Click? Now you can view the source of any webpage, as well as save any image from a webpage, using this source browser software!

It works just like internet explorer, and can even be added to the internet explorer toolbar!

Gets past any form of "right click" protection, no matter what script or programming language the author used!

As you browse, the source code for each page you view is loaded into the "Source Code" section of the program!

As you browse, each image on the page is displayed in the "Images" section, where they can be saved to your computer!

Each image displayed in the Images section is shown with the image name and full URL to the image!

The program can be added to the "Tools" menu in Internet Explorer!

When viewing the source code, all references to images are hyperlinked!

Does not Contain any Adware, Spyware, or other Third Party Software.

A brandable (a.k.a. Private Label) version of this software, with full resell rights, is available at www.rebrandsoftware.com.

Hier können Sie die Update-Infos für dieses Programm abonnieren. Sie erhalten dann zukünftig eine Benachrichtigung per Email, sobald ein Update zu diesem Programm eingetragen wurde.
Um die Update-Infos zu abonnieren, tragen Sie nachfolgend Ihre E-Mail-Adresse ein. Sie erhalten dann eine E-Mail mit einem Link, über den Sie das Abo bestätigen müssen.
Sie können die Update-Infos jederzeit wieder abbestellen. Hierzu finden Sie am Ende jeder E-Mail mit Update-Infos einen entsprechenden Link.
Dieser Service ist für Sie vollkommen kostenlos.
Kommentare zu Source Code Browser
Bisher gibt es keine Kommentare zu diesem Programm.
Selbst einen Kommentar schreiben