Kategorie Netzwerk & Internet / Browser Tools (Filter: Shareware)
HM WebCopy
Version: 1.2.0 | Shareware (15,00 EUR)
HM WebCopy ist eine Erweiterung f
Mehr…
Internet Explorer Password
Version: 2014.01.12 | Shareware (19,95 USD)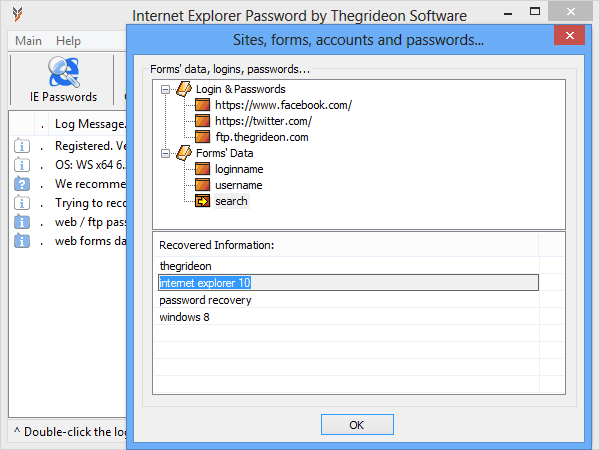 Internet Explorer Password is advanced MS Internet Explorer password recovery tool. It allows you to recover website and domain passwords as well as form data saved in IE cache. These passwords and data are used when Auto filling is on and when you say "Yes" to save your password for future use. All version up to Internet Explorer 10 are supported. Another great feature of this program is the ability to remove IE Content Advisor password.
Mehr…
SmElis WebData Extractor
Version: 1.8 | Shareware (29,95 USD)
SmElis WebData Extractor enables you to extract and save multimedia items, images, Flash, scripts and other web objects from the page you are currently viewing in your browser. It can either extract and save all or only selected items from a page. The available files and data are automatically categorized, so they can be easily browsed.
Mehr…
A1 Website Download
Version: 8.1.0 | Shareware (39,00 USD)
Download and archive entire websites such as forums, galleries, online books and articles. Website downloader can perform website login and handle cookies. Copy and store websites on portable media such USB and CD. Convert dynamic database driven websites into static. Present websites to clients in offices with no internet access. Automate download of websites at times convenient to you. Quickly download websites using multiple connections.
Mehr…
IE Screenshot Pro
Version: 2.6.0 | Shareware (19,95 USD)
Save an entire Web page as an image file in one click (it scrolls around the page taking shots and stitches them together), in the most popular formats. Can even create thumbnail images of Web pages. Stamp desired text (specified text, date, URL, etc.) on screenshots each time you make a screenshot of a visited Web page. The Send by E-mail feature makes a screenshot of the Web page with one click and mails it to others via the Internet.
Mehr…
SV Bookmark
Version: 2.9 | Shareware (34,95 USD)
SV Bookmark is a visual bookmark manager that allows you to associate screenshots of a web site with each entry. Hovering your mouse over an entry displays a small popup screenshot of the site, making it easy to remember the content. The program provides advanced features such as thumbnails and full-size screenshots, searching, duplicate checking, URL validation, password protection and more.
Mehr…
Acmeta Fragmento
Version: 1.0 | Shareware (19,95 USD)
Have you ever wanted to print, save, or otherwise use only a part of a web page, without wanting the navigation interface, banners, and other stuff? Fragmento allows you to visually select a part of a web page, and transform it into a new, separate page, automatically launched in a new browser window so you can use it in any way you like. It is easy-to-use and integrates into your browser (IE 6.0 or higher).
Mehr…
Feedbar
Version: 2.0 | Shareware (7,00 EUR)
Feedbar - die Neuigkeitenleiste. Konfigurierbarer Newsticker als Internet Explorer Toolbar. Zeigt beliebige RDF und RSS Newsfeed Quellen aus dem Internet an.
Mehr…
WebSurfing History
Version: 2.1 | Shareware (29,95 USD)
WebSurfing History allows you to store a visual web surfing history, independently from the Internet Explorer history data. It stores detailed information about each web site you have visited and automatically captures a screenshot of every web page. The program works in background and can be stopped or started at any time. You can easily locate a Web site you visited any days ago.
Mehr…
Capture Text
Version: 13.5 | Shareware (29,95 USD)
Recognizes and saves any text that normally cannot be saved or printed. You can select text with the regular (rectangular) selection tool and let the character recognition solution do the rest! In less than a second Capture Text automatically scans the selected area, recognizes the text and saves it to the clipboard. All you need to do then is to paste it into any document! You don't need to re-type the text you see on the screen.
Mehr…
IE Contacts Spy
Version: 2.22 | Shareware (29,85 EUR)
IE Contacts Spy automatically extracts and saves contact information from every web site visited. The contacts include e-mail addresses, telephone and fax numbers, ICQ, Yahoo Messenger, AOL Instant Messenger and MSN Messenger ID numbers. The program works as a plug-in for MS Internet Explorer and builds itself into IE shell. The program comes with filtering and data export options that make managing contact information easy. Download now!
Mehr…
Surfpack
Version: 2.0.135 | Shareware (29,99 USD)
Surfpack is an RSS reader that shows all content as a normal Web page inside Internet Explorer, Firefox and Opera. You can also use Surfpack to access your top favorites, search engines, latest downloaded files, and auto-generated lists of most popular sites right from your home page. Since Surfpack resides locally on your computer, it loads instantly and frees you from corporate-sponsored content and ads.
Mehr…