NeoDownloader
Dieses Programm wird Ihnen präsentiert von:
NeoWise Software
7/138 Mayakovsky
02225 Kiev
Ukraine
| | |
| --- | --- |
| E-Mail: | info [at] robotask [dot] com |
| Telefon: | +1111111111 |
| Telefax: | +1111111111 |
| Website: | www.neowise.com |
| | |
| --- | --- |
| Kategorie: | Netzwerk & Internet / Download-Manager |
| Version: | 3.0.3 |
| Release-Datum: | 08.06.2017 |
| Größe: | 5,5 MB |
| Betriebssystem: | Win 98 / ME / 2000 / XP / 2003 / Vista |
| Anforderungen: | 10 MB on disk, connection to the Internet |
| Sprachen: | Englisch |
| Downloads: | 1 im Februar / 175 insgesamt |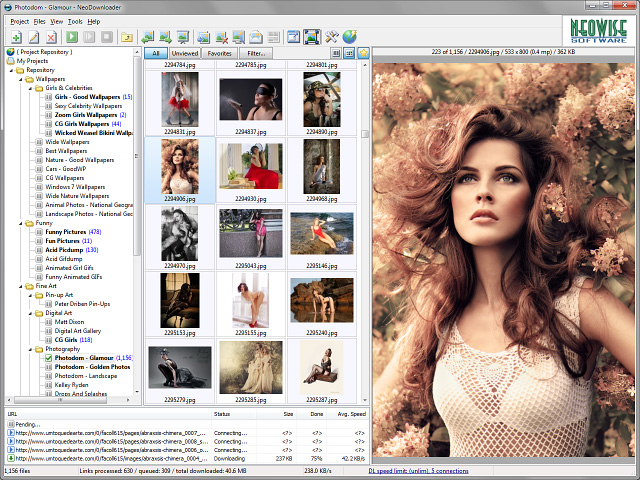 Thousands of pictures, videos, music and other downloadable files are waiting for you. In the past, you could use your browser to download them manually one by one. But, these days, you need more powerful and more specialized tools to download files from the Web.

You may want to give NeoDownloader a try. How is it different from a Web browser? With a Web browser, you need to search and download each file individually. It's not an easy task when you need to download, for example, a collection of several hundred desktop wallpapers. Neodownloader can do this work for you completely automatically. All you have to do is to navigate to a site containing wallpapers (or whatever you wish to download) and drag-n-drop an icon from the browser's address bar to the floating NeoDownloader basket. NeoDownloader will ask you what you wish it to download from this site. There are many predefined choices, such as "Images and Videos" available for you to choose from. You can also define custom file masks. NeoDownloader starts searching the site and downloads files to your PC. A built-in media player allows you to view files immediately as they appear on your hard drive.

OK. But what if you need to download only specific files? For example, a gallery of wallpapers may contain images in a range of different resolutions. You don't want to download all the images. You want only a specific resolution that is good for your desktop. This is not a problem. NeoDownloader allows you to specify which resolution you need. And this is only an example. The program includes strong content-filtering abilities too. You can specify maximum and minimum size of files to download. You can filter specific URLs. For example, you may not want NeoDownloader to search pages containing "thumbnails" or "banners" in their addresses.

Also, there is a big built-in database, where you'll many cool downloads such as celebrity and beautiful girl photos, wallpapers, artworks, funny pictures, and much more.

Hier können Sie die Update-Infos für dieses Programm abonnieren. Sie erhalten dann zukünftig eine Benachrichtigung per Email, sobald ein Update zu diesem Programm eingetragen wurde.
Um die Update-Infos zu abonnieren, tragen Sie nachfolgend Ihre E-Mail-Adresse ein. Sie erhalten dann eine E-Mail mit einem Link, über den Sie das Abo bestätigen müssen.
Sie können die Update-Infos jederzeit wieder abbestellen. Hierzu finden Sie am Ende jeder E-Mail mit Update-Infos einen entsprechenden Link.
Dieser Service ist für Sie vollkommen kostenlos.
Kommentare zu NeoDownloader
Bisher gibt es keine Kommentare zu diesem Programm.
Selbst einen Kommentar schreiben