P2P Share Spy
Dieses Programm wird Ihnen präsentiert von:
Rebrand Software, LLC

22315 Alexandria
United States
| | |
| --- | --- |
| E-Mail: | shareware [at] rebrandsoftware [dot] com |
| Telefon: | 800-555-5555 |
| Telefax: | 800-555-5555 |
| Website: | www.RebrandSoftware.com |
| | |
| --- | --- |
| Kategorie: | Netzwerk & Internet / File Sharing | Peer to Peer |
| Version: | 4.0 |
| Release-Datum: | 16.12.2008 |
| Größe: | 4,38 MB |
| Betriebssystem: | Win 98 / ME / 2000 / XP / Vista |
| Anforderungen: | ISP that does not block ports 139 and 445. or VPN to bypass blocked ports |
| Sprachen: | Englisch |
| Downloads: | 1 im Dezember / 175 insgesamt |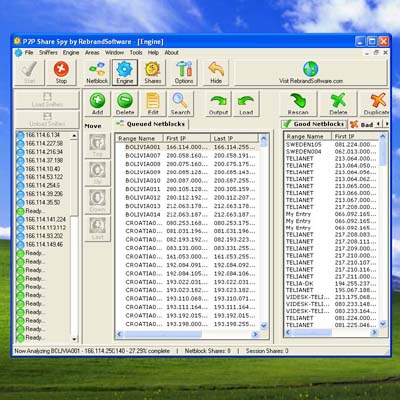 Scan the internet for computers with shared files! Browse/download files from remote computers all over the world! Can handle any file type: MP3, MPG, AVI, DIVX, JPG, Etc!

Did you know that millions of computer users are voluntarily sharing files to the whole world?

When you use Napster/Kazaa/Morpheus, you can only download files that were shared specifically for that program. Our share finding software allows you to find computers with open shares and browse them using Windows Explorer, allowing you to download any file type and giving you access to files no matter what program they are being shared for!

Scan through thousands of IP Addresses per hour looking for shared files!

Use the IP Address search engine to find IP Addresses by keyword or region!

Automatically saves a list of all the shares found!

Download shares that other users have found using the built in "Share Trade"!

Rate content based on keywords!

Browse through shares on remote computers, using Windows Explorer, with the click of a button!

Built in search engine lets you search for files on remote computers just like you are sitting in front of them!

Lets you sort results based on the number of shares found, the number of keywords matched, and much more!

Generate statistics as you scan for shares that show you the number of computers found, the number of computers with shares, and the number of shares found!

Auto-saves all your data, even if your power goes out!

Stop and resume scanning with the click of a button!

Unlimited scanning power only restricted by your computer's resources!

Does not Contain any Adware, Spyware, or other Third Party Software.

A brandable (a.k.a. Private Label) version of this software, with full resell rights, is available at www.rebrandsoftware.com.
Hier können Sie die Update-Infos für dieses Programm abonnieren. Sie erhalten dann zukünftig eine Benachrichtigung per Email, sobald ein Update zu diesem Programm eingetragen wurde.
Um die Update-Infos zu abonnieren, tragen Sie nachfolgend Ihre E-Mail-Adresse ein. Sie erhalten dann eine E-Mail mit einem Link, über den Sie das Abo bestätigen müssen.
Sie können die Update-Infos jederzeit wieder abbestellen. Hierzu finden Sie am Ende jeder E-Mail mit Update-Infos einen entsprechenden Link.
Dieser Service ist für Sie vollkommen kostenlos.
Kommentare zu P2P Share Spy
Bisher gibt es keine Kommentare zu diesem Programm.
Selbst einen Kommentar schreiben