Kategorie Netzwerk & Internet / Netzwerk Monitoring (Filter: Freeware)
Antamedia HotSpot Software
Version: 6.0.2 | Freeware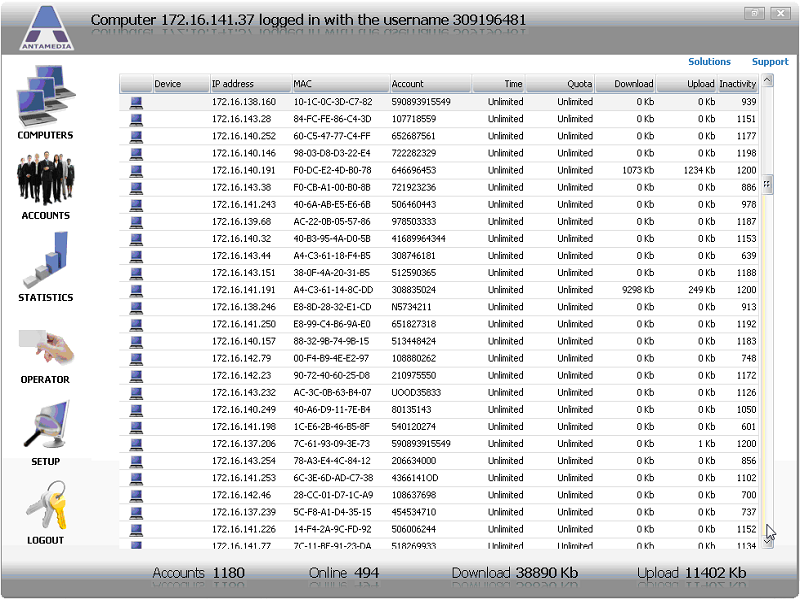 Hotspot software die Ihnen ohne Client-Software-Installationen bei der Kontrolle und Abrechnung Ihrer Kunden für die Internetnutzung hilft. Kunden werden an die Login-Seite weitergeleitet, um einen gültigen Benutzernamen und ein Passwort einzugeben. Sie eignet sich für ISPs, Hotspots, Flughäfen, Hotels, Internet- und Cybercafés. Aktivieren Sie Ihren Hotspot automatisch, indem Sie Zahlungen per Kreditkarte akzept
Mehr…
EtherSensor PCAP Edition
Version: 5.0.3 | Freeware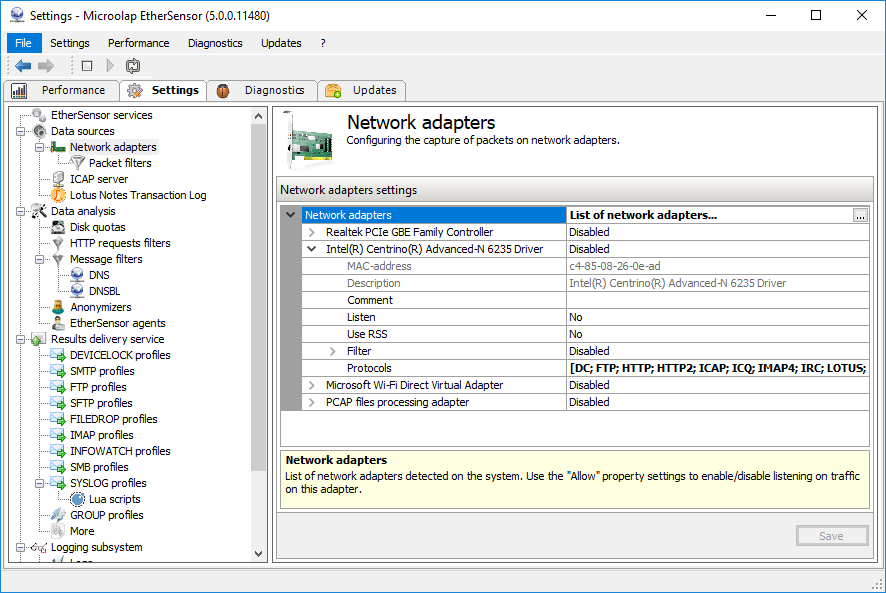 EtherSensor is a high-performance platform for extracting events and messages from network traffic in real time. The main properties of the EtherSensor are: Several thousand of Internet services known to EtherSensor; High performance: streamed processing over 20Gbps+ links; Delivery of events, messages and metadata to any subsystems of SOC, DLP, SIEM, UEBA, etc., as well as various Compliance Archiving/Enterprise Archiving and eDiscovery systems.
Mehr…
DeviceLock Plug and Play Auditor
Version: 5.72 | Freeware
DeviceLock Plug and Play Auditor is a non-intrusive clientless software solution that generates reports displaying the USB, FireWire and PCMCIA devices currently connected to computers in the network and those that were connected. Its multithreaded engine ensures fast, unobtrusive auditing of all activity on any computers in an organization. DeviceLock PnP Auditor stores, compares and filters the data it receives from all the computers.
Mehr…
Cymphonix Speed-O-Meter
Version: 4.1 | Freeware
Speed-O-Meter is a program that measures the TCP/IP speed of all interfaces on your machine including network adapters and modems. Use it to test your internet connection speed! It displays the TRUE transmission speed and does not average it like IE. This program is freeware.
Mehr…
NetWorx
Version: 6.0.3 | Freeware (25,00 USD)
Über ein Icon im Tray des Computers können Sie mit dieser Software auf einfache Weise verschiedene Informationen zu Netzwerkverbindungen abrufen. Sie können sich die übertragene Datenmenge, die Geschwindigkeit und eine Übersciht über offene Ports anzeigen lassen. Alle Statistiken werden gespeichert so dass diese täglich, wöchentlich und monatlich gruppiert angezeigt werden können. Diese Daten können zudem in verschiedene Formate exportiert werden
Mehr…
SoftPerfect Network Scanner
Version: 7.0.9 | Freeware (29,00 USD)
SoftPerfect Network Scanner ist ein zügig IP-, NetBIOS- und SNMP-Scanner. Das Tool pingt Computer an, sucht nach wartenden Ports und zeigt welche Ressourcen-Typen über das Netzwerk verteilt werden. Außerdem könne Freigaben als Netzwerklaufwerke gemountet werden. Weitere Features von Network Scanner: Filtern der Ergebnis-Listen, Auflösen von Host-Name, Automatisches Ermitteln des lokalen IP-Adressenbereichs, Erkennen von MAC-Adressen.
Mehr…
Dynasoft Cybercafe SurfShop Free
Version: 2.04 | Freeware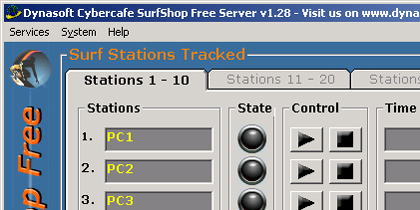 Cybercafe SurfShop Free ist die neue Cybercafé-Freeware-Generation, die nicht nur mit den erwünschten Standartmöglichkeiten ausgestattet ist wie man es von einer solchen Packung erwartet, sondern auch mit starken Sicherheitsmassnahmen, die sonst nirgendwo anders auffindbar sind. Dynasoft Surfshop Free ist die endgültige Verwaltungsfreeware in Europa.
Mehr…
SterJo Fast IP Scanner
Version: 1.1 | Freeware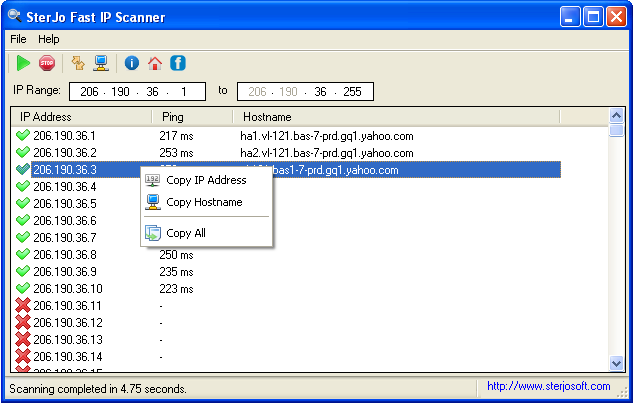 SterJo Fast IP Scanner could be one of the world's fastest IP scanner available for free. This tool could ping any IP range with an incredible speed and get a response if the IP addresses are available.
Mehr…
Response Time Viewer For Wireshark®
Version: 1.0 | Freeware
Wireshark's powerful deep packet capture provides a wealth of information to help you troubleshoot performance problems, but analyzing that data can frighten even the most hardened IT pro. Now there's no need to be afraid of the shark when you have SolarWinds FREE Response Time Viewer for Wireshark.
Mehr…
LizardSystems LanSend
Version: 2.6.0 | Freeware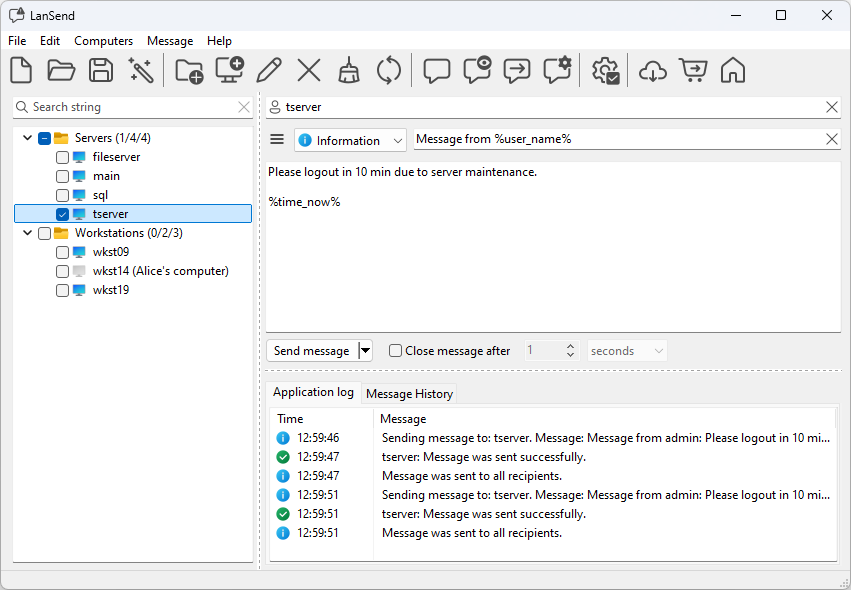 Messages can be sent to all active remote computer users connected both locally and remotely (terminal session). Message templates are included, allowing you to compose and send messages fast.
Mehr…
SolarWinds Alert Central
Version: 1.1.0 | Freeware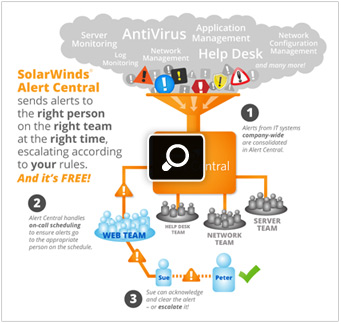 SolarWinds Alert Central is FREE alert aggregation & management software with an integrated on call calendar. This allows for easy, accurate and automated alert distribution, quick and efficient alert resolution, and greater visibility into the workflow of your companies alerts. Alert Central gets your alerts to the right person, on the right team reducing the number of alerts that get into your inbox, yet ensuring they all get handled.
Mehr…
Free WiFi Hotspot
Version: 4.6.3 | Freeware
Free WiFi Hotspot is a super easy solution to turn your laptop or notebook into a portable Wi-Fi hotspot, wirelessly sharing your internet connections like DSL, Cable, Bluetooth, Mobile Broadband Card, Dial-Up, etc. through the built-in wireless card. By a click of a button, you can get a Wi-Fi Router without the need of buying new hardware from store. It allows you to set the hotspot ID (SSID) & password and select the connection you want.
Mehr…