Kategorie Netzwerk & Internet / Remote Computing
PC Commander
Version: 4.0 | Shareware
PC Commander gves you total control over anything running on your Windows PC, all conveniently from your web browser. Stop processes, manipulate services, download files, log off or disconnect users, view event logs, restart the computer and much more. Take advantage of our free 30-day trial and experience it for yourself!
Mehr…
Ammyy Admin
Version: 3.0 | Freeware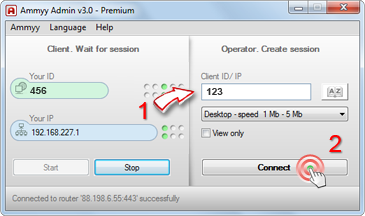 Ammyy Admin ist eine zuverlässige, vertrauenswürdige und erschwingliche Software, die Remoteunterstützung, Remoteverwaltung, Remote Desktop-Freigaben und Fernschulungen von jedem Ort der Welt aus ermöglicht. Starten Sie einfach Ammyy Admin, und Ihnen stehen alle Funktionalitäten zur Verfügung wie Remoteverwaltung, Remoteunterstützung, Online-Präsentationen ? ohne Probleme mit Firewalls, IPs, Porteinstellungen, NATs oder Sicherheitsrisiken.
Mehr…
VNN
Version: 6.0 | Shareware (40,00 USD)
A simple to use and easy to setup VPN. A Plug & Play VPN service. On-Demand VPN service. No need for a fixed public IP address. Create a VPN in less than 5 minutes. Access home and office PC from anywhere. Extends LAN based business applications over the Internet. Connection multiple offices securely. Allow remote support engineers to access the enterprise servers. Remtoe troubleshooting a remote employee's PC. Support IP-Camera, SOHO NAS.
Mehr…
iRAPP Client for Windows
Version: 2.7.0 | Shareware (79,00 USD)
Do you occasionally have to use your Mac and PC at the same time? Now you can do it, and effectively. iRAPP is an innovative software, which enables you to do just that - sit on your PC and work on both your PC applications as well as on your Mac applications at the same time. Use iRAPP Client or any RDP compliant application for the remote access. If you have several Macs, you can control and work on all of them simultaneously.
Mehr…
Online Desktop Presenter
Version: 1.9.13.6 | Shareware (35,00 EUR)
Präsentieren Sie Ihren Windows-Desktop anderen Benutzern einfach über das Internet, ohne Probleme mit Firewalls und anderen sicherheitsrelevanten Installationen.Übermitteln Sie online Ihren Bildschirminhalt für Präsentationen, Schulungen, Verkaufsgespräche etc. über das Internet oder Intranet an einen oder mehrere Zuschauer. Ihr Bildschirminhalt wird laufend automatisch via FTP auf Ihren eigenen Web-Server oder freien Webspace übermittelt.
Mehr…
USB over IP Connector
Version: 6.2 | Shareware (69,95 EUR)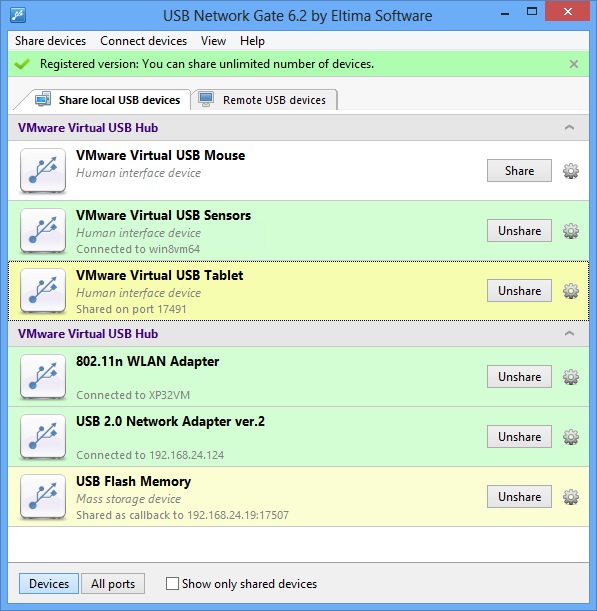 USB over IP Connector ist die perfekte Lösung, wenn sie mit USB Geräten arbeiten müssen, die sie nicht direkt mit ihrem Rechner verbinden können. Es wird ihnen auch beim Verbinden und Verwalten von USB Geräten innerhalb einer virtuellen Umgebung helfen. Installieren sie USB Network Gate auf einem Computer mit einem lokalen USB Gerät (Server) und auf dem Computer, auf welchem sie das entfernte USB Gerät benutzen wollen (Client).
Mehr…
Net Monitor for Employees
Version: 3.8.30 | Shareware (69,95 USD)
The Network LookOut Administrator allows you to see live screens of remote computers. This way, you can always watch what users are doing on the remote computer. Additionally, you have the ability to take control of a remote computer by controlling the mouse and keyboard; this is especially useful when you need to assist the person who uses the remote computer. If you are an administrator, you can easily administer remote computers.
Mehr…
EMCO Remote Shutdown
Version: 5.0.9 | Shareware (99,00 USD)
EMCO Remote Shutdown is automatic power management software. It allows you to manage remote PCs from the central location and perform Shutdown, Wake-on-LAN, Reboot, Power Off and other operations automatically on schedule or manually on demand. By using advanced scheduling options, you can completely automate power management in your organization. The effective network engine enables control of even large networks of thousands of PCs.
Mehr…
Remote Desktop Control
Version: 3.0.0.21 | Shareware (25,00 USD)
Remote Desktop Control allows you to control any remote computer from another computer. Such task is no longer just for network administrators, now you can have the same control. Imagine, you can work on your office computer right from your home computer without leaving the house! You won't even have to leave your cozy chair :) Try Remote Desktop Control and you will gain incredible mobility and save time too!
Mehr…
FlexiHub for Linux
Version: 3.0 | Freeware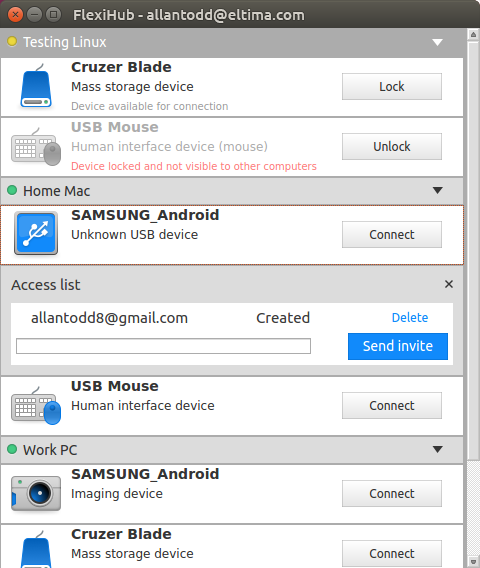 FlexiHub ist eine vielseitige Software Lösung für Linux OS. Es arbeitet als eine Schalttafel für alle USB Geräte, die an Netzwerk-Computer angeschlossen sind ? Scanner, Drucker, USB Dongle, Kameras, usw. ? und bietet entfernten Zugriff auf Inhalte und Funktionen. Ihr geteiltes Gerät kann durch andere eingeladene Flexihub Nutzer aufgerufen und genutzt werden.
Mehr…
Wayk Now
Version: 1.0 | Shareware (59,99 USD)
Wayk Now lets you take control of a remote computer, or allow an authorized user to take control of your computer. Wayk Now is free for personal use and currently available on Windows, Max OS X and Linux.
Mehr…
FlexiHub for Mac
Version: 3.0 | Freeware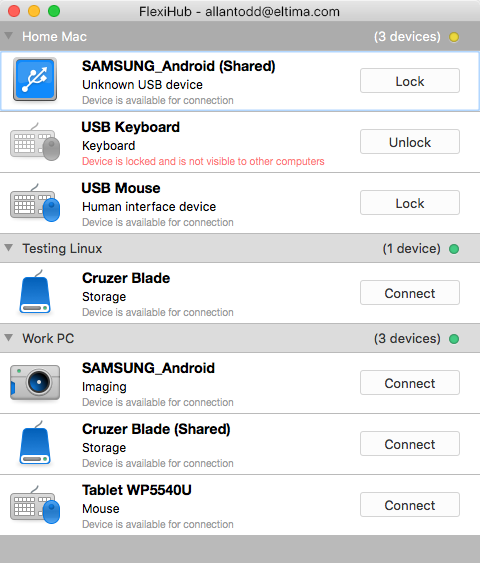 FlexiHub ist designt worden, um den Zugriff und die Verwaltung entfernter USB Geräte über das Netzwerk zu ermöglichen. Sie konnen auf Inhalte von USB Dongles zugreifen, die mit Ihrem Heimcomputer vom Büro aus verbunden sind. Zudem können Sie Jahresberichte zum Ausdrucken an einen Drucker in einem Sitzungssaal senden, während Sie unterwegs sind. FlexiHub Nutzer können andere einladen, um auf Ihr geteiltes Gerät zuzugreifen und darauf mitzuarbeiten
Mehr…