Kategorie Servers / Mail-Server (Filter: Shareware)
Enterprise Mail Server
Version: 5.26 | Shareware (69,00 USD)
This is a high-performance SMTP POP3 server program designed for large enterprises and Internet Service Providers. It has a lot of security features and options that allow you to protect the server from DDoS attacks as well as safely block SPAM and spammer. As a personal solution, it is ideal for laptop PC users who travel a lot and have to use different ISP on the run. Using the program, you will never encounter a sending problem.
Mehr…
MailDetective for Exchange Server
Version: 2.2f | Shareware (499,00 USD)
MailDetective is an effective tool for corporate mail flow monitoring. MailDetective analyzes Microsoft Exchange Server logs and creates comprehensive reports on sent and received mail, traffic distribution, and amount of mail for particular e-mail addresses. Reports are delivered in the form of easy to read charts and can include information on the whole corporation or on individual mail accounts.
Mehr…
Best SMTP Server
Version: 5.26 | Shareware (69,00 USD)
Durable SMTP/POP3 server program. Can be used as a corporate or personal server. Use with any SMTP compliant mail client. Accept mail on behalf of your users. Simple, powerful and bullet-proof. Lots of security features to protect the server from DDoS attacks and block SPAM. Multiple SMTP gateways in case you cannot deliver your email directly to the destination. Use parameterized mailing to send customized messages to many recipients
Mehr…
Best Mail Server
Version: 5.261 | Shareware (69,00 USD)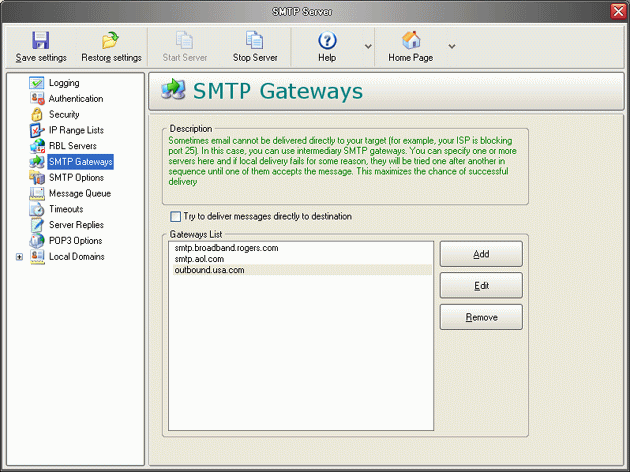 Best Mail Server - SMTP - POP3-Mail-Server mit verschiedenen Sicherheits- und Antispam-Werkzeugen, soll DDOS-Angriffen widerstehen, unterstützt Mailinglisten. Die moderne Oberfläche erlaubt es Ihnen alle Einstellungen in wenigen Schritten vorzunehmen. Der Best Mail Server kann als NT Dienst gestartet werden. Der Download der Software ist kostenlos! Für die dauerhafte Nutzung gelten die Lizenzbedingungen des Herstellers...
Mehr…
Corporate SMTP Server
Version: 5.261 | Shareware (69,00 USD)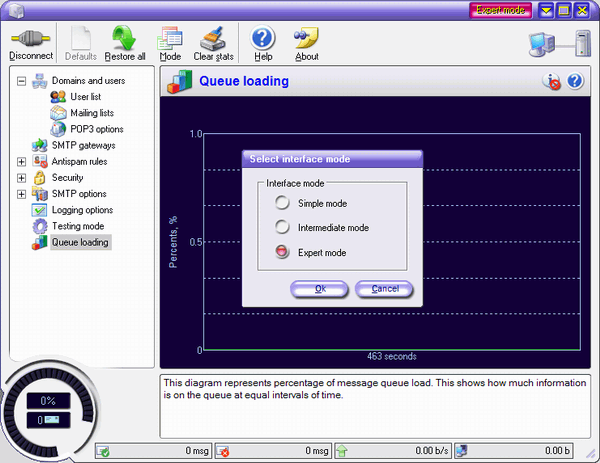 Corporate SMTP Server ist ein leistungsfähiges SMTP Server Programm für den Versand und das Empfangen von E-Mails. Die Software kann mit allen gängigen E-Mail Programmen wie z.B. Outlook, Outlook Express, Eudora, Netscape und The Bat verwendet werden. Der Server ist einfach zu installierten, bietet Ihnen aber trotzdem höchstmöglichen Schutz gegen Angriffe. Ebenfalls integriert ist ein SPAM Filter. Mehr Infos erhalten Sie auf der Seite des Anbie..
Mehr…
Exchange Server Toolbox
Version: 5.5.5 | Shareware (119,95 USD)
Exchange Server Toolbox ist ein Plugin für den Microsoft Exchange Server 2003-2013. Mit ihr können Sie E-Mails, die über den SMTP Dienst des Exchange Servers ankommen, mit den gleichen Technologien verarbeiten lassen, welche sich schon in SmartPOP2Exchange bewährt haben. Filtern Sie Spam mit dem bewährten SpamAssassin, nutzen Sie einen beliebigen Virenscanner zum Überprüfen der E-Mails und lassen Sie sich ein Backup jeder E-Mail erstellen.
Mehr…
MAPILab Rules for Exchange
Version: 2.4 | Shareware (249,00 USD)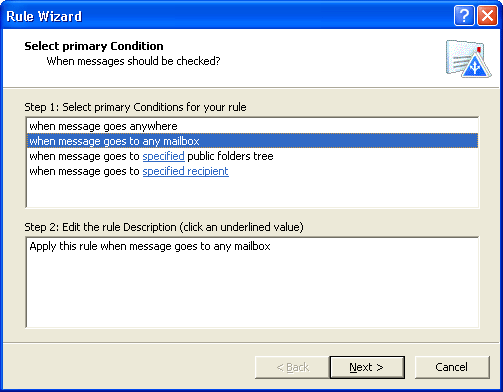 MAPILab Rules for Exchange ist ein Programm für Microsoft Exchange Server und Small Business Server 2000/2003. Damit können Sie auf eine einfache Weise die Regeln zur Bearbeitung eingehender Nachrichten erstellen und verwalten. Dieses Produkt bietet eine wesentlich größere Flexibilität und Funktionalität, als die Standardserverregeln, die über Microsoft Outlook aufgestellt werden können und setzt dabei eine völlig andere Technologie ein.
Mehr…
Native POP3 Connector
Version: 2.6.0 | Shareware (79,00 USD)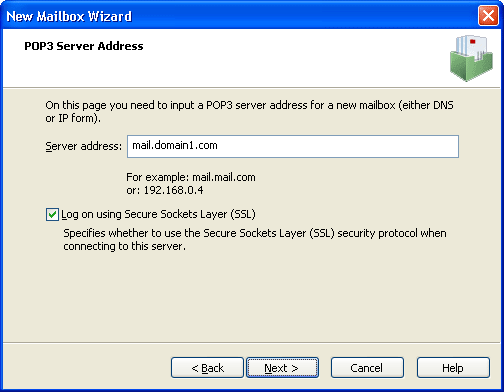 Standardlösung für das Problem mit dem Posterhalt über POP3-Protokol mit Microsoft Exchange Server 2000/2003 und Microsoft Business Server 2000/2003 mit installierten Exchange Server (SBS 2000/2003). NPC ist eine verwandte Lösung zu Microsoft Exchange Server 2000/2003- und SBS 2000/2003-Connector.
Mehr…
Complete Mail Server
Version: 1.7 | Shareware (95,00 USD)
Complete Mail Server is high-performance professional SMTP/POP3 server software engineered for corporations and ISPs to satisfy business needs in ultra fast, flexible and reliable mail server. It works along with any email program or mailer and offers a lot of security features and options to allow you to protect the server from the outside and restrict the SPAM activity.
Mehr…
MailDetective
Version: 2.1h | Shareware (199,00 USD)
MailDetective is a monitoring tool to report on inbound and outbound email flow in corporate networks. Reports inform you of email traffic generated by particular employees in order to expose abusers who waste working hours and corporate bandwidth on sending and receiving private emails. Supports Microsoft Exchange Server 2000 and 2003, MDaemon, Kerio Mail Server, QMail, SendMail, Communigate and many other servers.
Mehr…
Advanced SMTP Server
Version: 5.263 | Shareware (69,00 USD)
Advanced smtp Bediener ist ein System-Behälter lokales smtp Bedienerprogramm für Windows, das Sie email Anzeigen direkt von Ihrem Computer zu den aufnahmefähigen Briefkästen schicken läßt. Zusammen mit einer Massenwerbung, die das Programm als Relaisbediener für das Schicken der Rundschreiben verwendet werden kann und Anzeigen verteilen zur unterschiedlichen Postsendung, verzeichnet und schickt Ihren Kunden.
Mehr…
SmartPOP2Exchange
Version: 8.4.6 | Shareware (99,95 USD)
SmartPOP2Exchange bindet bestehende POP3/IMAP Konten an einen MS Exchange oder jeden anderen STMP Server an. Es lädt E-Mails von POP3/IMAP-Konten herunter und leitet sie an den SMTP Server weiter. Ein übersichtliches Konfigurationsprogramm erlaubt das Einstellen der Optionen und das Verwalten der Konten. Es enthält außerdem einen leistungsfähigen Spam-Filter, ein flexibles Regelsystem und (in der umlimitierten Version) den integrierten ClamAV.
Mehr…