Kategorie Sicherheit & Datenschutz / Verschlüsselungs-Tools (Filter: Freeware)
jFileCrypt
Version: 0.3.0 | Freeware
With the easy-to-use application jFileCrypt you can encrypt your files fast and very secure with a password. It's written in Java 5 and runs under nearly every operating system. The encryption standards Blowfish, DES, 3DES, AES and RC4 are supported.
Mehr…
Crypt4Free
Version: 5.67 | Freeware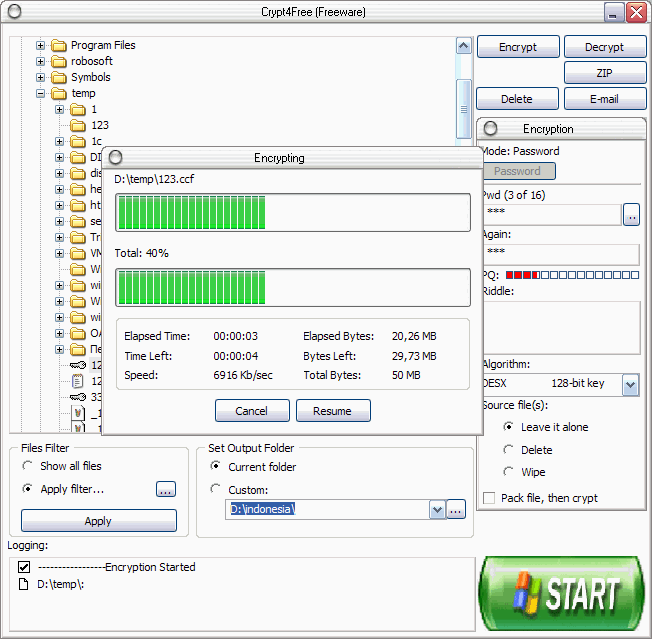 Crypt4Free (freeware) is files encryption software with ability to encrypt files and text messages. Support for ZIP files and ability to secure delete sensitive files. Skinnable user friendly interface.The latest version includes "Privacy Master" tool to erase all personal traces on computer.
Mehr…
Idea crypting module for BestCrypt
Version: 7.20 | Freeware
Idea crypting driver for BestCrypt version 6.0b or newer. The module performs encryption using well-known IDEA algorithm. Works in Bestcrypt Environment in any Windows system.The IDEA driver is installed simply enough - you need to place the driver's distributive in some directory, then run BestCrypt Service Manager from the BestCrypt Program Group and use the "Add.." button to add new encryption driver to the list of available drivers.
Mehr…
DP Multicrypt
Version: 2.0 | Freeware
With this program you can crypt your files easy and fast secure with:Blowfish, Cast256, IDEA, Mars, RC4, Twofish, RC6, Rijndael with the full keysize from this cipher and the CBC-MODE. DP-MULTICRYPT support DRAG and DROP
Mehr…
abylon READER
Version: 15.90.1 | Freeware
Die Verschlüsselung mit der Software von abylonsoft ist keine Einbahnstraße! Die kostenlosen Reader-Version ermöglicht signierte, verschlüsselte oder SME-Dateien zu entschlüsseln und / oder verifizieren. Zur Zeit werden standardisierte Dateien mit folgenden Dateierweiterungen (Symmetrisch Verschlüsselt: CR2 / Asymmetrisch Verschlüsselt: CRP, PK7, P7M, VSP7, ASC, TBE / Signiert: P7M, VSP7, TBS, SGN / Digital Envelope Datei: SME) unterstützt.
Mehr…
CryptoExpert 8 Lite
Version: 8.27 | Freeware
Freeware, CryptoExpert system mounts a volume file to create a "virtual drive" that appears to applications and users like any other physical drive. Any data that the user attempts to write to this drive is intercepted by CryptoExpert, encrypted, and written to the volume file. Attempts to read from this volume are also intercepted, and the relevant data is read by CryptoExpert from the volume file, decrypted, and presented to the application.
Mehr…
SecExMail SOHO
Version: 1.5 | Freeware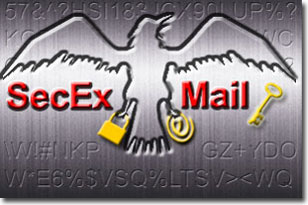 SecExMail makes e-mail encryption as easy as sending a message. There are no plugins necessary and it will work
with any standard email client including Microsoft Outlook, Outlook Express, Calypso, Eudora and many more. Now
includes automatic key exchange and powerful html filtering to protect from malicious email. Free for personal and
commercial use.
Mehr…
Guardian Of Data
Version: 2.2 | Freeware
Unter Verwendung des Rijndael Encryption Algorithm verschlüsselt Guardian Of Data Ihre vertraulichen Dateien und Dokumente mit 256-Bit und kombiniert dies optional mit ZLib-, BZip- oder PPM-Komprimierung - so schützen Sie Ihre Daten nicht nur vor den Blicken neugieriger Dritter, sondern verringern gleichzeitig den benötigten Festplattenspeicher Ihres Systems auf ein Minimum.
Mehr…
Crypto Anywhere - OpenPGP Edition
Version: 2.0 | Freeware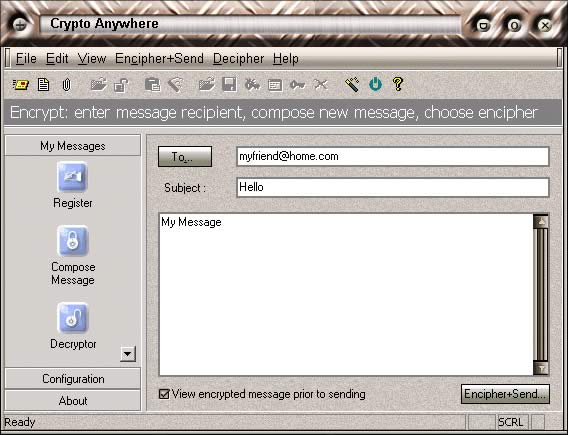 Free Secure Email . Standalone or integrated with Outlook Express or Outlook. Can decrypt and encrypt messages
to friends using PGP, OpenPGP, SecExMail and many more. Crypto Anywhere allows you to make a travel floppy
which can be used in internet cafe's or at work. You don't even need to install the software - just run it from the
floppy disk or USB thumb drive. Now free for personal and corporate use. Visit our website to get a registration
Mehr…
AssureFiles Secure File Sharing
Version: 4.2.7.2 | Freeware
Secure File Sharing With Digital Rights Management.Safeguard file sharing without boundaries. AssureFiles Secure File Sharing combines AES 256 bit encryption with digital rights management to give businesses persistent control over all stages of its life,enable employees to share files safely. Dynamically control file access,grant or revoke the file access control at any time even files were shared. Keep tracking and auditing to the shared files.
Mehr…
USB Flash Security
Version: 4.1.12.17 | Freeware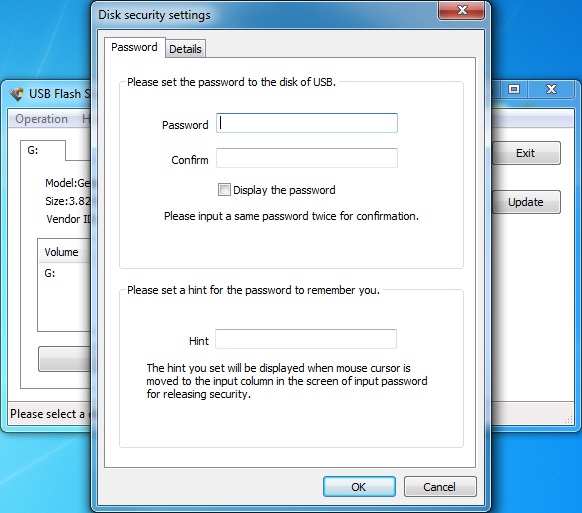 Verschlüsselung zu USB-Stick auf dem Markt hinzufügen. USB Flash Security ist eine Software, die Daten auf einem USB-Stick mit einem Passwort schützt. Wird beim Entfernen mit Passwort gesperrt! Nützliches Sicherheits-Tool. Es gibt 5 Editionen von USB Flash Security für Privatnutzer. Kostenlos: bis zu 4GB 1 USB; +: bis zu 4GB 1 USB; ++: bis zu 8GB 2 USB; #: bis zu 16GB 2 USB; ##: bis zu 2000GB 3 USB. USB Flash Security mit einer Lizenz pro Person.
Mehr…
PowerCryptor Free Edition
Version: 1.05 | Freeware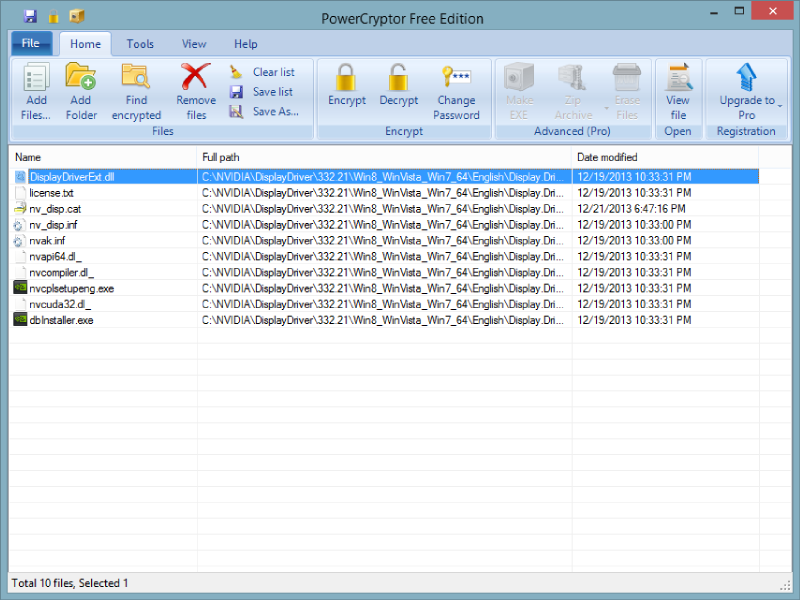 PowerCryptor Free Edition ist eine fortgeschrittene, jedoch einfach zu benutzende Verschlüsselungssoftware, die euch beim Schützen eurer wichtigen Dokumente, Fotos, Musik, Videos usw. hilft. Das Tool bietet euch ein modernes Interface und die sichersten Verschlüsselungsalgorithmen.
Mehr…