Kategorie Spiele & Unterhaltung / Abenteuer & Rollenspiel (Filter: Shareware)
Mr. Robot
Version: 1.0 | Shareware (11,95 GBP)
Asimov is a lowly service mechanoid aboard the interstellar colony ship Eidolon. Carrying hundreds of frozen human colonists to a new world. When the Eidolon's computer brain malfunctions, it falls to Asimov to undertake a perilous journey through the bowels of the massive ship to save his robot friends and the precious human cargo. Solve puzzles.Overcome obstacles. Hack hostile networks. Evade crazed robots. Save the mission.
Mehr…
Bonez Adventures:Tomb of Fulaos
Version: 1.1 | Shareware (19,95 USD)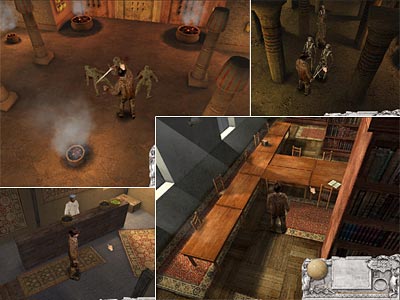 3D RPG/Adventure game from the third person view with:
-Incredible story taking place on a historical Earth in 30's
-Fast paced combat in a rich and detailed world, where dialogue interaction and story play equally large roles.
-Many enemies to challenge your combat and magic abilities
-Many items to upgrade your skills
-Special rules system adapted to a real-time setting with 8 base skills
-Special sub-games which are included in the story
Mehr…
Teudogar and the Alliance with Rome
Version: 1.02 | Shareware (12,50 EUR)
historisches Rollenspiel * 12 v.Chr.: Römische Legionen erobern das barbarische Germanien. Kämpfen Sie für die Freiheit Ihres Stammes - oder schließen Sie ein Bündnis mit Rom! * Verhandlungen, Kämpfe, Intrigen, Abenteuer * Krieger, Priesterinnen, Legionäre * germanische Dörfer, Königshallen und Bauernhütten, heilige Haine, Römerlager * klassische Rollenspiel-Features * große Spielwelt * mehrere Lösungswege * Lexikon über Germanen und Römer
Mehr…
Arvale: Treasure of Memories, Ep. 1
Version: 1.05 | Shareware (5,00 USD)
Arvale: Treasure of Memories, Episode I begins the story of an unlikely hero, Duncan Forsythe. Duncan was an adventurer at one time, and it has been rumored that he's already saved the world once. Maybe. You see, he has this memory problem... Features: Easy to Play. Over 25 minutes of original music. Easy to Enjoy.4-8 full hours of story-telling gameplay. It's funny. Atmosphere and variety. Multiple characters in your party. It's risk free.
Mehr…
Fishdom H2O: Hidden Odyssey by Playrix
Version: 1.5 | Shareware (19,95 USD)
Help Jennifer, a young marine biologist, win the Best Aquarium Award. Dive to the bottom of the sea and find various hidden items in numerous eye-teasing locations. Earn cash to buy cute sea creatures, gorgeous ornaments and cool accessories and create three unique aquariums. This dazzling hidden object spin-off of the original Fishdom is absolutely Fishinating!
Mehr…
Feyruna 2 - The Druids
Version: 1.0.3 | Shareware (12,95 EUR)
Help the Druids of the Fairy Forest. Use your skills and intelligent planning to steer the Magic Balls to the Druids. Numerous monsters are out to stop you. Keep collecting gold to be able to buy magic runes. Only the magic power of the runes will protect the Magic Balls against attacks. In exciting duels you can prevent hordes of monsters from invading the Fairy Forest. Enjoy thrilling action strategy and several tricky puzzles.
Mehr…
Drachenblut
Shareware (8,50 EUR)
Nach einem Rockfestival schläft Micha im Zug ein und wacht an der Endstation wieder auf, in einem kleinen Dorf weitab von seinem Zuhause. Eigentlich möchte er hier nur wieder weg, doch das gestaltet sich schwierig. Ein alter Ritterorden und die scheinbar übersinnlich begabte Lydia verwickeln Micha in ein unvergessliches Abenteuer um ein uraltes Geheimnis. Ein skrupelloser Soldat ist dem Schlüssel zur Unsterblichkeit auf der Spur.
Mehr…
Virtual Woman Millennium Beta Test
Version: .95391 | Shareware (29,95 EUR)
Mit Virtual Woman kann man am Rechner eine virtuelle Frau generieren. Diese verfügt über künstliche Intelligenz und kann optisch nach eigenen Vorlieben gestaltet werden. Vom Aussehen bis hin zur Klediung können Sie Ihrer Fantasie freien Lauf lassen. Ist die Traumfrau erst generiert, können Sie sich mit ihr unterhalten.
Mehr…
Bone2.1
Version: 2.1 | Shareware (10,00 USD)
Take drugs in the Zone, puzzle your way through this shooter type game looking for Nerds to take drugs with, there is a wide selection of drugs available for to you to use while you follow the Hitlist, accumulate money and drugs every time you play Bone 2. Beat your own High Scores and see how you measure up to your previouse Sessions. Purchase the serial key from nicholasnel.com to unlock the scooter and more possible High scores.
Mehr…