Kategorie Spiele & Unterhaltung / Arcade
Chicken Invaders 2
Version: 2.90 | Shareware (14,95 EUR)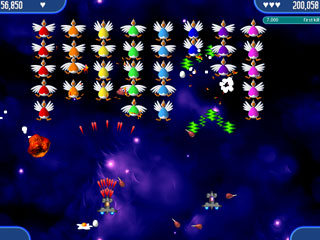 Save the solar system from invading chickens! Just when you thought it was safe to eat chicken again, the chickens have returned with an organized invasion to take over the entire solar system! Journey to each planet and fight your way through to save the world (again)! Advance through waves of invading chickens, avoiding falling eggs and collecting power-ups to boost your spaceship's firepower. Fast-paced arcade action for one or two players.
Mehr…
Blocker Ebenen
Version: 5.0 | Demo (14,90 EUR)
Blocker Ebenen ist ein Reaktionsspiel mit sechs Spielstufen, einer unbegrenzten Kugelanzahl, 50 Steinebenen und einem frei beweglichen Blocker. Ziel ist es, durch schnelles Abräumen der Steinebenen in eine Bestenliste aufgenommen zu werden. Acht spielbegleitende Klangthemen mit verschiedenen Zuhörerpositionen und wechselnde Hintergründe geben Blocker Ebenen eine lang anhaltende Motivation. Sechs Spieler können gleichzeitig am Spiel teilnehmen.
Mehr…
Butterfly Hunt
Version: 1.35.25 | Shareware (12,71 EUR)
Exciting game for children of all ages to teach them the alphabet, math and train their associative thinking. The object of the game is hunting for butterflies and arranging them in a collection bar. The game is very absorbing and can be found useful to not just educational institutions but also to parents concerned about planning their childrens education. The game offers 4 different levels; has a comfortable keyboard control and record board
Mehr…
Coin Planets
Version: 2.4 | Shareware (17,95 USD)
Coin Planets is an addictive platform game that combines arcade action, excellent 3D graphics, animation and exciting gameplay. Colin the Coin is back in his latest adventure. Colins arch-enemy Flash the Cash is up to his old tricks again and has stolen a large amount of priceless coins and scattered them throughout the solar system! Run, jump, bounce, teleport and surf your way through the 45 exciting levels.
Mehr…
MachineHell
Version: 1.1 | Shareware (19,99 USD)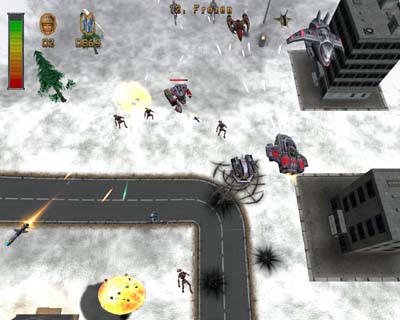 The world has been invaded by an alien race of machine warriors. You are an elite soldier, controlling an advanced military hovercraft. The mission is simple, but tough -search and destroy all the alien Machines and reclaim Earth. Your hovercraft is fully equipped and ready to go. Many different laser, rocket, plasma weapons and bombs are all at your disposal. Fight through the enormous amount of monster Machines and their troops.
Mehr…
Acky's XP Breakout
Version: 2.5 | Demo (19,95 USD)
Put your mind and reflexes to test in the ultimate game of brick busting. The graphics are a dynamic mesh of particle effects and object morphing to keep you mesmerized. The gameplay is enhanced by new power items and bonuses to keep you thinking. Enjoy enhanced gameplay with XP Mode and customize the game to your own personal liking with many options.
Mehr…
Ziggle
Version: 1.6 | Freeware
Ziggle is a simple and intuitive yet infinitely replayable and challenging free arcade strategy puzzle game for the PC. Use your Mouse, Keyboard, Joypad or PC Dance Mat to keep as many of the randomly spawning Blobs on the world map for as long as you can and at the fastest speed. With a download filesize of less than 1 megabyte you will be playing within minutes.
Mehr…
Meteor
Version: 2.1.0 | Shareware (19,95 USD)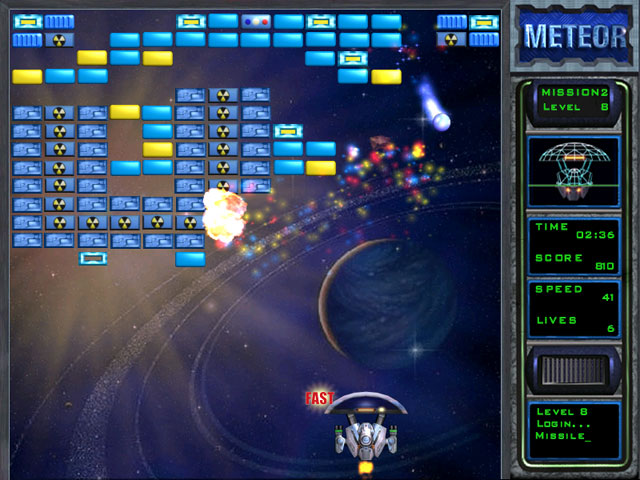 A new challenge for all breakout-style games fans. Game Features: 90 challenging levels, moving bricks, attacking spaceships, several types of balls and weapons. It is a fantastic game for the entire family.
Mehr…
Island Wars 2
Version: 2.74 | Shareware (14,95 EUR)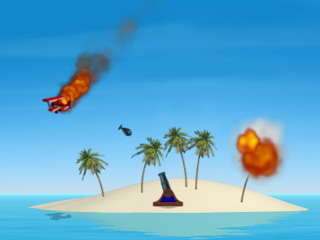 Ah, the South Pacific seas... warm sun, clear skies, crystal waters, and... two islands obsessed with destroying each other's palm trees! Hop in your biplane and bomb the enemy island, or use your cannon to protect your own. Engage in aerial dogfights while collecting bonuses to defeat 10 opposing islands and 50 invasion waves. Features 6 gametypes, 7 mutators, 10 gameplay parameters, 5 skill levels, bonuses, worldwide high scores. 1-2 players.
Mehr…
Island Wars
Version: 1.20 | Freeware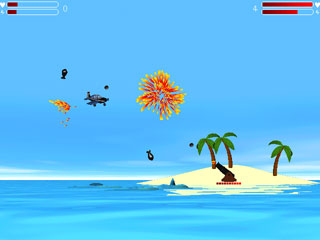 Deep in the South Pacific, two islands are locked in deadly combat for supreme control of... well... their palm trees. Join in the battle! Hop in your biplane to bomb the enemy trees while using your cannon to protect your own, or engage in aerial dogfights to shoot down your opponent's airplane. Easy to pick up, clean gameplay, immensely fun. 1 or 2 players.
Mehr…
1-abc.net Powersnake
Version: 2.30 | Freeware
Snake - wer kennt ihn nicht, diesen Old Skool Klassiker? Es war eines der ersten und verständlichsten Computerspiele aller Zeiten! Je größer die Schlange wird, umso schneller wird sie. Jetzt ist es wieder da ... Diese neue Version im XP Style kommt mit einer absolut ungewöhnlichen Maussteuerung, zusätzlicher Tastatursteuerung und abspeicherbare High-Score-Liste. 1-abc.net Powersnake 2 - spielen und süchtig werden!
Mehr…
Arctic Rush
Version: 1.59 | Shareware (14,95 USD)
Arctic Rush - original game by ArcadeStudio- combines arcade, adventure, puzzle and humor. The main hero - the scientist Dr. Scott - appears on the ice-floe. Rescuer helicopters throw down the boxes with the provision and the aim is to evade and collect them (three identical boxes explode and bring you scores). Splendid 3d graphics (Arctic scenery, polar bears), kind humor and a lot of bonuses make this game attractive, addictive and pleasant
Mehr…